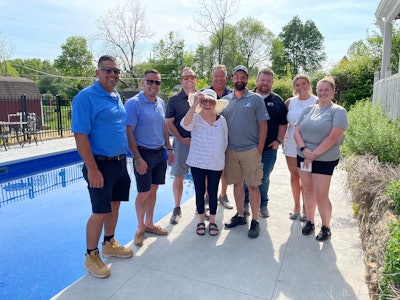 Last November, Kitty Smith discovered her swimming pool had collapsed and her homeowner's insurance wouldn't cover the cost of the repairs and replacement. Some local pool companies heard about the situation and stepped up to help this grandmother get her pool back.
Led by Mike Shadoan and Michael Shebek of Automatic Pool Covers, along with Pablo and Jen Crone of Crone Customs Pool, over 20 different pool contractors and manufacturers in Indianapolis donated the materials and labor to rebuild Kitty's pool, so that she could get her pool back at no cost to her.
Once the group agreed on the scope of the project, the project began. And the group finished the work just in time for beginning of summer. They delivered a brand-new, inground vinyl-liner pool complete with heating, lights and a new automatic pool cover. Not to mention new decks, fencing, electrical and plumbing. The total estimated cost of the project: $110,000, with no expense to Kitty.
As word of this project spread, so did additional donations. In fact, a local pool company volunteered to take care of maintenance for the pool all summer long.
"It started with eight companies that agreed to donate time and materials to build Kitty's pool, but then people started calling and emailing asking, 'How can I help, what do you need," explains Shadoan. "Workers from over 20 different companies donated countless hours to ensure that Kitty and her grandchildren could have a pool for the 2022 summer."
"From when I first saw pool, to what it was transformed into by this summer, it's amazing to me," Shadoan continues. "It was so heartwarming to see so many folks in the pool industry come together to create this pool for this grandmother. We in the pool industry know that swimming pools make memories and create joy for families. And this particular situation reminded me that the pool industry is filled with hardworking, generous people who want to help others to make the best summer memories."
Several of the original companies that came together to make this project happen went over to Kitty's pool to have a party and watch the grandkids play this summer.
"It was so satisfying to see the look in Kitty's eyes and to see her grandkids playing in the pool," says Shadoan. "It was all because of the generosity of the pool industry who came together as a team, even competitors. It makes me proud to be a part of this industry."
This story was reported and televised by local Indianapolis station WHTR. Click here to view it in its original format.
---
Kitty Smith Contributors
1. Automatic Pool Covers, Inc | Mike Shebek, Mike Shadoan | Supplied pool cover, GC Project
2. Cover Care | Jacob Bloss, Jeff Carey | Installed pool cover
3. Crones Customs | Pablo and Jen Crone | Excavated, built new pool
4. Modish Pools | Matt Harms | Supplied concrete
5. Pools of Fun | Tim Colon, Tyler Hermon | Installed pool liner
6. Hendricks Pools | Gary and Johnathan Hendricks | Installed plumbing
7. C-Ray Pools | Chris Ray, Steven Ray | Supplied and ran all electrical
8. Carters Pool Management | Zach Carter | Cleaning and weekly chemical service and providing swimming lessons
9. Imperial Pools | Kyle Gertz | Supplied pool lights
10. Heritage Pool Group | Rick Kendal | Chemicals, sockets and skimmer plate
11. POOLCORP | Paul Fowler, Mike James | Supplied PVC, startup kit and grabrails
12. Only Alpha | Tom Epple, Todd Epple | Supplied pool walls, steps and braces
13. Tara Liners | John Vowels | Supplied pool liner
14. Fairway Finishes | Kevin Ramey | Hauled away dirt and old concrete
15. Concrete Evolution | Ron Ummel | Poured new concrete
16. Hayward Pool Products | Tim Golling | Supplied pump, filter and heater
17. Pentair Pool Products | Scott Cummings | Provided electronic pool cleaner
18. K & K Fence | Fred Poe | Installed new sections of fence
19. Jack Heartless | Ran gas line
20. James Swindle | Relit furnace, water heater and stove