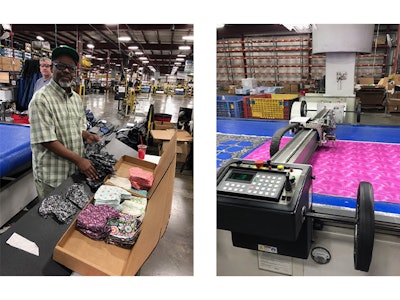 Amidst a nationwide shortage of personal protective equipment, GLI Pool Products of Youngstown, Ohio, has converted its cutting and sewing operations to produce masks for the medical community.
This isn't the first time the company has stepped up: In previous situations of national strife, it has pivoted its operations to produce materials for the Department of Defense. The company — normally a manufacturer of swimming pool products, including custom pool liners and safety covers — was able to make the transition to mask production in just 72 hours.
"We investigated what it would take to fabricate a mask, spoke with a number of medical facilities in the local area to ensure we were manufacturing what they would need, created a prototype, got the thumbs up and started cutting and assembling," says Rich Garbee, vice president of sales and marketing.
GLI is producing masks made of 100% cotton material, with the intention of medical centers adding in the filters of their choice.
"We can cut faster than we sew," says Gary Crandall, president and CEO. "Therefore, we are linking up with the local sewing community to assist us in accelerating the production of masks which will then be donated to medical personnel on the front lines of this battle."
After the first 100,000 masks are produced and donated to a medical center, GLI will continue to produce masks as well as kits for local sewing operations to assemble and return to the company for distribution.
"As a company, our mission is 'Bringing families together and keeping them safe.' We believe this endeavor aligns with our mission," Garbee says. "We have a fantastic workforce that is motivated to be a part of this opportunity to serve the greater good in this fight we are in against the COVID-19 virus."
If you are interested in donating material or receiving mask kits to assemble and return to GLI for distribution, please contact staysafe@glipoolproducts.com.