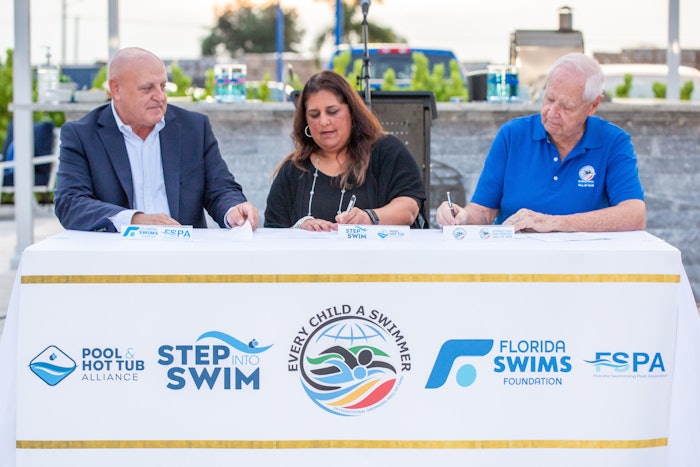 Travis W. Cornwell; Florida Swimming Pool Association
Florida ranks fourth in the nation for unintentional drowning deaths including swimming and boating-related incidents, according to drowning data from the Centers for Disease Control and Prevention. On Friday, Oct. 8, swimming and pool industry leaders from the
Pool & Hot Tub Foundation
(PHTF), the
Florida Swimming Pool Association
(FSPA) and the
International Swimming Hall of Fame
(ISHOF) announced a joint partnership to help combat drowning in the state. The one-year agreement between the three organizations marks a pivotal collaboration to further promote swimming education and share available resources providing free or reduced-cost swimming lessons in Florida communities.
As part of the collaboration, the organizations will work together to advance water safety and support each organization's respective swim education initiatives—Step Into Swim (PHTF), Florida Swims Foundation (FSPA) and Every Child A Swimmer (ISHOF), which all strive to empower people around the water and decrease drowning, particularly with young children who are at an increased risk. Olympian and three-time gold medalist Rowdy Gaines is leading the Step Into Swim initiative on behalf of PHTF.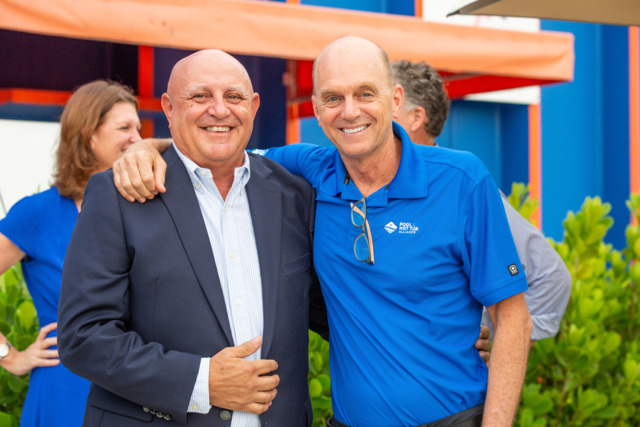 Travis W. Cornwell; Florida Swimming Pool Association
"Drowning is largely preventable and it pains me to see drowning rates increase in the U.S. and for my home state of Florida to be high on that list. This trifecta of support from leading organizations will give Floridian families and communities access to critical water safety skills," says Gaines, vice president of partnerships and development for PHTF. "By teaching our youth the lifesaving gift of learning to swim, we can make a real, lasting impact and instill confidence in people as they take to the water."
"The partnership couldn't come at a better time, as the International Swimming Hall of Fame is building upon the momentum from Florida's Every Child A Swimmer bill, which requires schools to inform parents on the importance of teaching their children how to swim," says Bill Kent, chairman of the International Swimming Hall of Fame. "The more we all advocate for safe water practices, the bigger impact we'll continue to have."
The joint partnership kicked off in October with a formal signing ceremony on Friday, October 8. As part of the agreement, the Florida Swimming Pool Association will become a founding member of the partnership established by PHTA's Step Into Swim and ISHOF's Every Child A Swimmer programs in the summer of 2021.
"We are proud to partner with the Pool & Hot Tub Foundation and International Swimming Hall of Fame to provide learn-to-swim programming to hundreds of thousands of children across the country," says Maurice Bushroe, 2021 FSPA president. "The members of our 16 chapters across Florida will be providing support for critical water safety awareness that will continue to make a difference in the lives of children and their families."