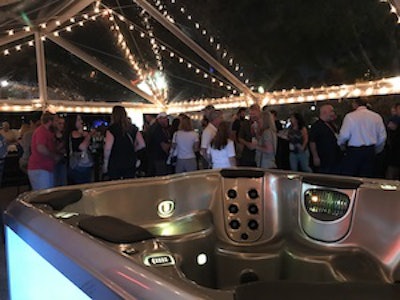 The 2017 PSP Expo is in full swing here in Orlando, and attendees are making the most of it by scoping out new products, taking in education and networking with fellow industry pros. Couldn't make it to the show — or simply want to relive the first day? Below, we share a few glimpses of the show, from special events and cool booths to fun moments on the show floor.
Making an Entrance
You know you're at a pool and spa show when the parking lot is full of trucks and vans...and the occasional fiberglass pool. Now that's an entrance!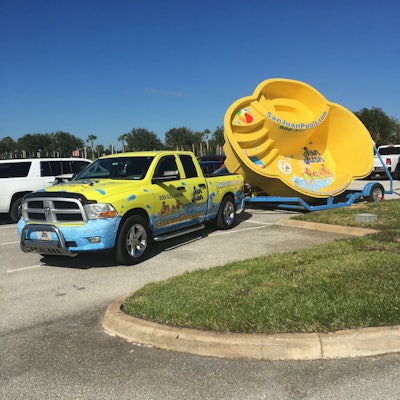 APSP's Fan Favorite Winner
This pool, built by Superior Pools of Southwest Florida in Port Charlotte, won the Awards of Excellence Fan Favorite award at the banquet honoring this year's AOE winners.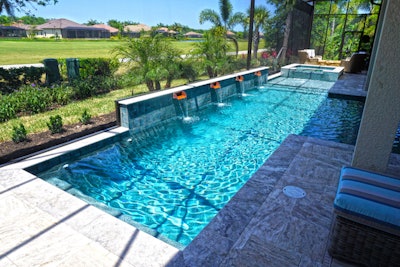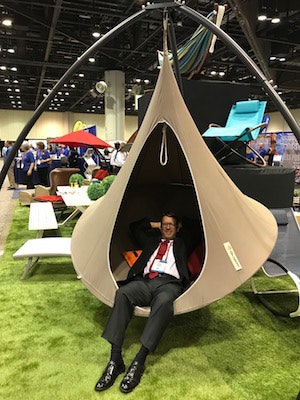 All Nestled Up (right)
The Cocoon from Vivere welcomed attendees to enjoy a moment of luxurious relaxation away from the show floor.



Color Trends (below)
Lucite Spas, the Pantone of the pool and spa industry, debuted its new selection of colors for the coming year. They include Sedona, a blend of warm earth tones that evoke the natural beauty of Arizona's red sandstone; Crimson Night, a color that features a blend of black and pearl, reminiscent of the nighttime sky; and Aegean Sea (pictured), a striking turquoise color with streaks of silver and grey.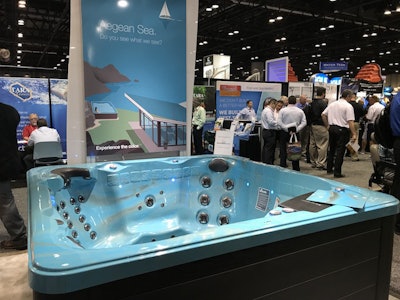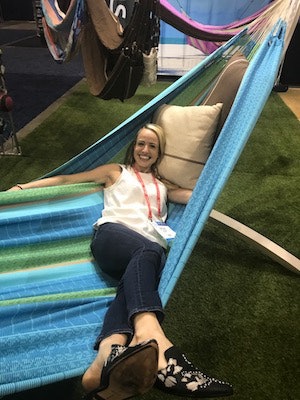 Take Five (right)
Caitlin Miller took a quick siesta after a busy day of sharing the restful benefits of hammock ownership at the La Siesta booth.
Float On (below)
Novelty pool floats are still a boon for industry retailers, especially for those looking to cater to the millennial market. Manufacturers like Swimline are racing to release new concepts for eye-catching, Instagram-worthy floats, like this oversized giraffe (which follows the swan, flamingo and unicorn craze) and bottle of rosé (a millennial mainstay).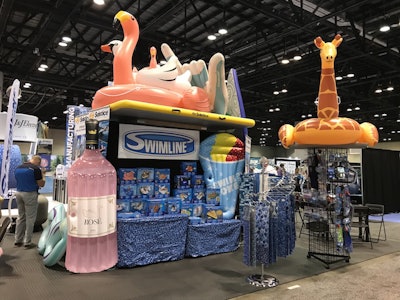 The WAVE of the Future
The APSP WAVE Young Professionals Network gathered at The Pub to discuss the next generation of the pool and spa industry.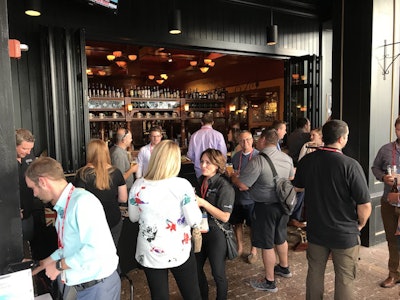 Howlin' it Up
With day one in the books, industry pros went to Howl at the Moon to blow off some steam with drinks, appetizers and dueling pianos.