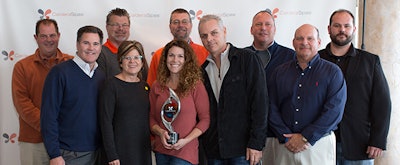 The Caldera Spas Dealer of the Year Award was presented to La Costa Pool and Spa and owners Ian and Michelle Milligan at Thrive, the Caldera Dealer Summit held in Coronado, Calif.
La Costa Pool & Spa was singled out for their excellence in all areas of their business, specifically for their sales consistency and marketing expertise.
"Sales have increased every year since La Costa Pool & Spa brought Caldera onto their sales floor," says Ryan Sessler, vice president of sales, North America, for Watkins Wellness. "In 2013, they received the Western Region Dealer of the Year Award and had the highest Caldera sales volume for a multi-store dealer, a position they have not relinquished since receiving it three years ago. Their commitment to and passion for the Caldera brand, their consistent growth year after year, and their drive to be the best in the industry have brought them to our awards stage once again," Sessler adds.
"It is such an honor to work with Caldera Spas, their professionalism is world class. The icing on the cake was to win The Dealer of the Year Award for 2015. We work hard all year to achieve our goals...the magic of Caldera Spas is making us feel more like family than just a dealer," says Michelle Milligan, owner, La Costa Pool & Spa.