Out With The Old, In With The New
AquaStar launches new program to "buy back" old drains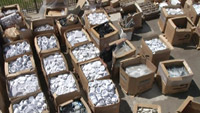 Ever wonder what to do with the old drain covers you've got sitting around?
AquaStar Pool Products, Ventura, Calif., has launched a nationwide "Buy Back Program" for pool product distributors and retailers with large inventories of non-compliant drains. AquaStar will "buy back" the drain covers, replace with them with compliant ones and then recycle the old ones into new material.
"The Buy Back Program has taken tens of thousands of unsafe drains off the shelves of distributors and retailers across the nation over the last few months," says Olaf Mjelde, AquaStar co-founder. "We have been working around the clock to rid the market of these unsafe products.
"When we developed the Buy Back Program, we saw an opportunity to recycle the drains that would otherwise be thrown in the dumpster. The program not only keeps these unsafe drains out of swimming pools, it keeps them out of the landfill."
Sooey!
Lost pig finds its way into pool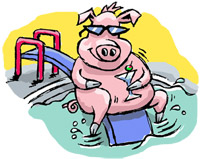 So, say you looked out the window and found a pig submersed in your pool, just lapping up the water. What would you do?
After LeAnn Baldy of Little Rock, Ark., looked out her window and saw her pool overflowing because an 800-pound hog was hanging out in it, she found a local farmer who'd give it a proper name.
It turns out the hog was one of 60 that survived after a trailer carrying 90 hogs overturned on the interstate. Officials thought they had rounded up all of the survivors. Turns out, not so much.
No worries, though, this story does have a happy ending. The farmer can't use the pool-loving hog for sausage products because no one knows what it had been eating while on the run.
It's safe to say this hog sure saved its bacon!
Round Of Applause
Pentair gets international award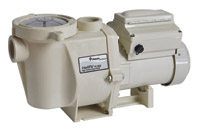 Pentair Water Pool and Spa has received the European Golden Wave Award for best swimming pool engineering innovation for its IntelliFlo VS-3050.
"To receive an innovation award for our technology in Germany is quite an honor," says Carlos Del Amo, vice president of marketing.
Each year, Germany's Schwimmbad & Sauna magazine brings a professional panel together to determine the Golden Wave Award winners in seven categories, recognizing the most genuine innovations that effectively enrich the pool and spa industry.
And The Winner Is...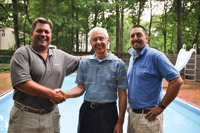 Hayward Pool Products is proud to announce that Joseph Cagnazzi, Smithtown, N.Y., won the Energy Solutions Backyard Sweepstakes.
Hayward sponsored the random-drawing sweepstakes to promote the company's Energy Solutions line. Cagnazzi won a Hayward Energy Solutions Pad containing an energy-efficient two-speed pump, TigerShark robotic cleaner, Universal H-Series heater, SwimClear filter and Pro Logic control.
"I was delighted to discover I was the winner of the Backyard Sweepstakes," says Cagnazzi. "I've had a Hayward pump on my pool for about 24 years, and it has performed flawlessly. While I've been very happy with the Hayward products - and haven't had to replace anything but a filter 20 years ago - I'm excited to see what the new products will do."
No Life Jacket Required
Pool company offers bailout
CNBC recently picked up a story about how LoneStar Fiberglass Pools launched its own bailout program for customers in dire situations.
Much like a current campaign run by Hyundai, the Kingsbury, Texas, pool manufacturer will give buyers a guarantee that should they lose a job within one year of purchasing the pool, the payments will be covered.
"We haven't seen a drop in our Web site traffic over the last six months, but we have noticed the leads and call volume dropping," says Mark Toler, vice president of marketing and sales. "That seems to indicate that there are plenty of potential buyers interested in pools that are researching the options, but they are not quite ready to pick up the phone. We think the fear factor running rampant in the economy is causing them to hesitate."
Lonestar's Payment Guardian program is included in every sale and remains in effect for a one-year period. The buyer then has the option to continue the coverage past the one-year date, for a fee. Individual pool dealers also have the option to include the pools on their program.
Can a program like this work? According to Edmunds.com, a consumer automotive Web site, the Hyundai incentive has increased consumer intention to buy the brand by 15 percent since the Jan. 3 launch date. Furthermore, the company reported a 14.3 percent increase in January auto sales, giving hope that offers like this may be an option to increase sales.
LoneStar feels confident about its program's potential. "We have worked hard to establish a program that will completely cover a typical pool payment should job loss occur," says Chris Owens, president, "and we are proud to be bringing some good news to the pool industry. We know times have been tough and hope our contribution will help jump-start consumer action."
For more information about Payment Guardian, visit www.lonestarfiberglasspools.com.
Million Dollar Listing
Arizona family pool makes debut on The Travel Channel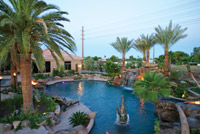 Imagine having a disposable income that allowed you to build whatever you wanted in your backyard. For Tony and Marian Kitchukov, that fantasy is a reality.
After enlisting the expertise of Red Rock Pools & Spas, the Kitchukovs got their dream oasis, much of it designed after places they've fallen in love with during their travels.
"They travel a lot, so they literally wanted to create some of those environments they travel to in their own backyard so they didn't have to go to those places," says Rick Chafey, co-owner of Red Rock in Mesa, Ariz. "They spend time in Vegas and they spend time in Hawaii because they have a residence in both of those states, but they prefer to be able to stay home with their family in that same environment.
"So that's kind of what we created in their backyard. Instead of going to Las Vegas and staying at the Mirage, you can just get up and walk out back."
The resort-style backyard features two saltwater pools, a fully equipped outdoor kitchen, five waterfalls, a 15-person hot tub, a putting green and 3,000-square-foot skate park, an artificial fogging system and nearly 50,000 pounds of real boulders.
The Travel Channel took notice of the oasis and featured it on its Extreme series. Extreme Pools included the Kitchukovs backyard as one of nine it featured, many of which were commercial resorts and natural wonders.
Daniel Schwartz, the show's executive producer, told the East Valley Tribune that it's unusual for the show to include a residential project, but he was intrigued by the couple's story.
The Kitchukovs main goal was to create a special place for their family and friends, and Red Rock succeeded.
Marian told the newspaper that it was a dream come true. "We have it (Las Vegas) right in our backyard," she said.