It's a term that begs a question. Is it a really small swimming pool? Or is it a reference to vessels that combine small pool compactness with the ability to function like a spa?
Then there's the other moniker for these diminutive hybrids, "cocktail pools" — does that mean a pleasure-inducing mixture of pool and spa functions? Or is it something else?
According to Robert Blanda, the New York designer/builder credited with coining the phrase, "A "cocktail pool" refers to a small pool that you entertain and have cocktails around."
RELATED: Cocktail Pool Design
By these and any other names, he says, cocktail pools or spools are without question becoming a popular option, particularly for homeowners looking to meet multiple aquatic needs in small spaces. Blanda's firm, Mill Bergen Pools, located in Manhattan and Brooklyn, serves customers in the Tri-State area where small properties with high price tags are common — a business environment perfect for pools that make the most of available space.
"Many of our clients live in elaborate homes on very tight lots," Blanda explains. "Often they choose to live where they do because it's close to work and they like the feel and buzz of the neighborhood. Mill Bergen's job is to work closely with clients to ensure that we make the best possible use of their space, matching their tastes and lifestyle."
INTO SPACE
While the popularity of spools makes perfect sense in areas such as Blanda's Tri-State, they are also becoming popular in places known for wide-open vistas. Case in point: Mike Carnahan, president of Carnahan's Landscaping and Pools in Houston, Texas, works in a very different type of market than Blanda, with warmer weather and generally more space, but he reports the appeal of the spool is very much the same.
RELATED: The Beautiful World of Pool & Spa Combos
"People are definitely starting to use smaller spaces in their backyards where before they probably felt like they couldn't," he says. "We're getting more requests overall and more requests from higher end areas with larger lot sizes. Often they've seen these smaller pools online and they want that instead of a bigger pool. It's definitely trending up."
In addition to shrinking lot sizes, both Carnahan and Blanda add that setbacks and easements shrink the available space even more. "It makes the area you have to work with even smaller," Carnahan says. "That's definitely one of the big reasons people like the idea of a spool: They can do more with less space."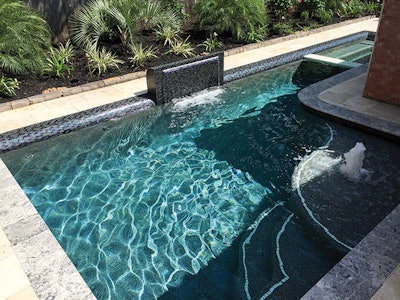 "Sometimes we'll have yards that are 15, 16 or 17 feet wide and you've got set back rules, so if they want water it has to be a small vessel. There's really no other choice, especially if they want to use their yard for other things," Blanda explains. "I'll measure the yard, input it on Pool Studio and show them the envelope we have to work in and what's the biggest we could build. Then I'll pull a table for four and put it in the yard. Then I'll pull a barbecue and put it in the yard, then we can adjust the pool so everything fits comfortably."
RELATED: A Small-Space Fiberglass Pool Installation
Both Blanda and Carnahan's companies focus not only on pools, but the entire setting. Having part of the yard available for the variety of elements that many of their clients want is a big part of a spool's space-saving advantage.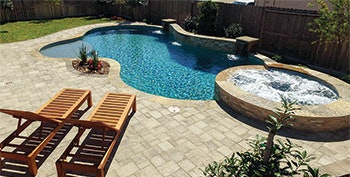 "We just finished a spool for customers who could've afforded a pool 10 times that size," Carnahan says. "But they wanted more room for the dog and other landscape features. They wanted a beautiful little pool where they could jump in and cool off. They didn't want it to take up the entire yard so they could create decking where they could entertain guests. We designed the pool so it looked like and extension of the house, because they also didn't want it to stand out. The whole environment was more important to them than just the pool."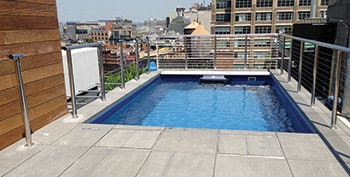 According to Blanda, that flexibility is a big help with husbands and wives who often have different ideas about how to use their limited space. "Most of the time when you sit down with a couple, they have different dreams," he says. "Spools are great for meeting all those dreams. Maybe he's thinking he wants to sit outside and have a cigar with his friends in a hot tub type of environment, but maybe she's thinking she'd like the pool so the kids can swim. With a spool we can give them both."
The small size of a typical spool — 5,000 to 10,000 gallons — with sides that might range from 10 to 15 feet, means clients can often afford to upgrade to more expensive materials compared to larger pools. "In a large pool, it might cost $2,000 to upgrade plaster to the next level," Carnahan says, "where with a spool that might be just a few hundred. Because of the small size they might be able to have thicker coping or more expensive tile. You can be a lot more creative."
TEMPERATURE ISSUES
The small size and overall split personality of a spool also offers greater flexibility when it comes to giving clients both a pool for cooling off and a spa for heating up — and typically at less cost compared to more typical installations.
"If your water is sitting at 85 and a little too cold to get into, kick the heater on for 15 minutes and it's perfect," Carnahan says. "If you have a huge pool, raising the temperature by just a few degrees can take three hours and cost a hundred dollars. The spool means more people will enjoy the water for a longer season with more convenience and at less cost."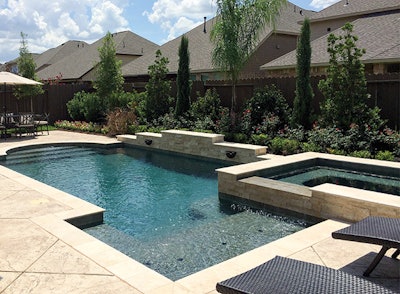 For the most part, he adds, homeowners in the Houston area are far more interested in cooling off than they are with hydrotherapy associated with hot tubs. "There are only so many jets you can use in a pool before you start having to add pumps, which adds quite a bit of cost," he explains. "Some manufactured, prefab spas can come with 60, 80, 120 jets or more, so it's usually not practical to try to do that in a gunite spa."
In Blanda's market, the desire for hot water may be more common given the seasonal nature of the region, but with a spool, it's easy to provide both.
"When you start putting everything in the project, it prompts the homeowner to start asking the important questions about what they really want," he says. "Do they need space for kids to play, or is it about entertaining? Would you like the pool to have benches with fixed jets on one side, so you can sit and heat the whole thing up to 104 degrees and call it a spa? Or maybe they just want to stand in 5 1/2 feet of water up to their neck and cool off. You can have multiple purposes."
SMALL YET VERSATILE
While it might be natural to think of the small size of spools as limiting the way a body of water can be used, Carnahan counters that depending on the design, they can accommodate a surprising number of activities. Part of the reason is due to the fact that most spools are shallow from end to end, which means the entire pool is far more accessible than pools with deep ends.
"No one we're working with now is looking for a pool with a 10-foot deep end like they were in the past," Carnahan says. Now, people don't want a diving board because they think they're unsafe, and you can use the entire pool more comfortably. Most of our pools are four or five feet in depth."
The advent of swim jets often adds another layer of spool flexibility. "We build custom swim jets with a combination of two variable speed pumps to move the water," Carnahan says. "We use the settings on the pumps to accommodate different exercises. We just finished one where the customer wanted four different speeds: one for a breaststroke, another for backstroke, traditional freestyle and a jogging speed."
RELATED: Get Creative With Swim Spas
"We have a lot of clients who are also interested in exercise," Blanda adds. "It's all about developing the right mix of features. If the homeowner wants a water treadmill in their spool, it's not difficult to add, which means you can have a pool that's also a hot tub and a swim spa. You just have to ask the right questions and present the homeowners with a menu. That's true of any project; in a spool you're just doing it on a smaller scale."
UP ON THE ROOF
Finally, Blanda points out that spools are well suited for above-grade applications, such as rooftop pools or indoor pools located in high-rise buildings, projects that are common in the greater New York area. "If they can open up the rooftop where the owner can put a spa or a small pool, it raises the value immensely. Because spools are smaller, they often make that possible," he says.
Still, he points out, above-grade work is challenging and definitely not for novices.
"First you have a structural engineer involved to make sure the building can accept it," he says. "And second, you have to have some type of plan for a catastrophe. If we have a major water loss for some reason, we have to know where the water is going. It can't go into the apartments below it."
Blanda's rooftop spools or spas are typically made of stainless steel or fiberglass. In both cases, his contingency plan for leaks requires a large "pan" and a way to direct water off the roof and not into the building below.
"It's sort similar to what homebuilders do in showers: They build a secondary vault under a shower so the water would have somewhere to go. Also, if there's any way we can direct the water off the roof, we take advantage of those situations. We always try to have a redundant plan."
Clearly, whether on a rooftop in Manhattan or in a stately home in Houston, the advent of spools, the hybrid vessel with the curious name, can be a ready solution to a number of challenges that are either impossible or far more difficult to meet with larger bodies of water.