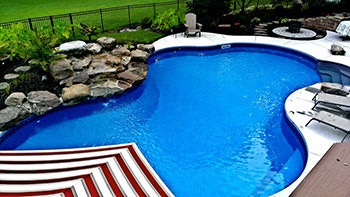 It may have been Robert Blanda who first coined the term "Cocktail Pool" in an article written for NESPA's magazine, The Edge. Blanda described small, often detailed pools built on tight lots. However, the term has certainly expanded into a wonderful description of the most popular and fastest growing segment of swimming pool designs at our company, Browning Pool and Spa — The Cocktail design.
The Cocktail design, much like its namesake, represents a mix of top shelf materials and ideas served in an attractive, compact arrangement.
In recent years we have found our clients have developed a taste for decorative detail. This style inclination has been cultivated through their experiences at theme parks, travel destinations, restaurants and also through their media. They come to us with magazine clippings, travel photos, and web ideas all detailing their desire to have a backyard entertainment oasis for family and friends. These exciting and creative ideas include bonfire rings, cascading waterfalls, outdoor pergolas, beach entries, outdoor grill areas, sunning patios, plunge pools, grottos, water slides, practice greens, and ruin walls.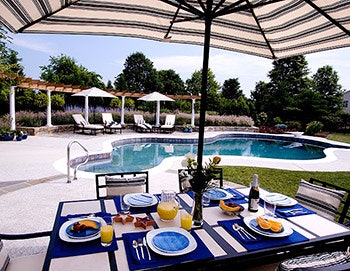 We have found that size is less important. The trends lean toward moderately sized pools with more sizzle. No longer is the 800-square-foot pool the norm. In fact, it has become the exception. (We still build large 800- to 1000-square-foot pools for a couple of clients each year, but more often than not, it's a 500- to 600-square-foot moderately sized pool with plush amenities.
Just a few years ago, the pool represented the largest portion of a project's budget. Now, the pool itself is often a much smaller portion of the project total, and the details around the swimming pool may be of equal importance to the homeowner. In these situations, the swimming pool represents one facet of the backyard entertainment area.
"Cocktail design" is a truly apt description of what is happening. It's a blending of ingredients that captivate all the senses: eye-pleasing environments, rich water sounds, warm toasty fires, fragrant blooming flowers and the alluring scent of steaks on the BBQ. In most cases, each element needs to be appropriately sized to meet a manageable budget — thus, the cocktail design. As designers at Browning Pool and Spa, we have become students of this style, learning its nuances and searching for materials and products that expand the pallet of options we can offer the customer.
It is important to offer and be well-versed in the gradations of any option you offer. For example, grill areas can range from a simple grill in a wheel cart with fold down sides to a grill built into a stone-faced enclosure complete with warming drawers, refrigerator, ice maker, burner trays, and a sink. Clients can select from that range based on their desires and budget.
We've found that being knowledgeable and skilled in delivering a variety of options enables our clients to incorporate something of each idea into an affordable mix, and ultimately achieve a project more precisely targeted to their original desire. The Cocktail has been mixed.
Chuck Browning, CBP, is owner of Browning Pool and Spa, a custom pool construction company in the Washington, D.C. metro area.