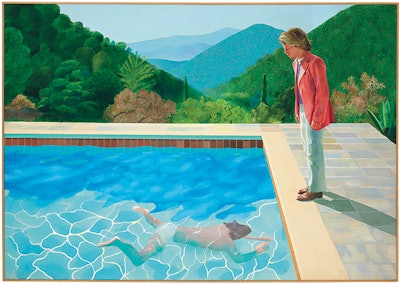 Monet, Van Gogh, Gauguin, Cezanne. The names conjure images of the starving bohemian, suffering for art, painting in obscurity and dying penniless, only to achieve the empty honor of posthumous fame.
David Hockney, an English artist who achieved international fame painting people and pools in Los Angeles, does not fit that mold. He's made plenty of money and achieved widespread recognition for his work. Soon, one of his paintings is expected to set a record for the highest price paid for a work by a living artist when his 1972 masterpiece "Portrait of an Artist (Pool with Two Figures)" goes up for auction at Christie's in November. It's expected to fetch $80 million, which would shatter the record $58.4 million paid for the Jeff Koons sculpture "Orange Balloon Dog" in 2013.
Related: The Artist Behind the Pool of Dreams
The painting features Hockney in the water, with his former boyfriend, artist Peter Schlesinger, looking down at him from the side of the pool.
Friends and relatives of Mr. Hockney will be disappointed to learn that he does not actually own the work and has little to gain by its record sale outside of personal satisfaction. The actual owner is believed to be billionaire Joe Lewis, owner of Tottenham Hotspur Football Club of the English Premier League. Lewis, who lives in the Bahamas and owns a $144 billion super-yacht, has an extensive collection of art rumored to be worth $1.3 billion.
Asked about the enduring popularity of his work on CBS This Morning, Hockney said, "I think it might be the space in the pictures. You don't know why things become memorable. If there was a formula for them there'd be a lot more of them, wouldn't there?"
UPDATE: The painting sold for $10 million more than expected at the auction.