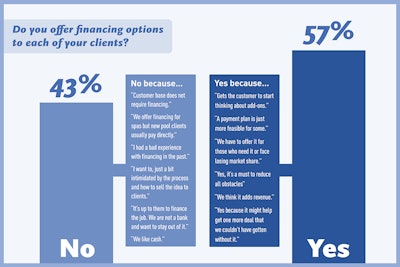 A few months ago, AQUA conducted our annual State of the Industry survey, which provides readers with up-to-date, insightful information on pool and spa builders, retailers and service technicians all throughout the United States. Located within the builders section of the survey, there were two questions related to financing pools and spas. The majority of respondents said that they offer financing because there are way too many benefits — all to the consumer, builder and financer — not to. However, some responded that they did not like, nor did they offer, financing.
We looked at their primary reasons and discussed them with three successful pool and spa builders: Jamie Braddy, growth consultant of Parrot Bay Pools & Spas in North Carolina, Joshua Culp, general manager of Crystal Pools in Pennsylvania and Scott Rhodes, owner of Rhodes Custom Pools in Missouri.
REASON NO. 1: "I want to, but I'm a bit intimidated by the process and how to sell the idea to clients."
Not knowing how pool financing works — especially when builders feel they're an expert in the field — can be intimidating and lead them to simply not offer it at all, so as not to be perceived as uninformed. However, Braddy says, the financing process is much easier than one might think.
"We offer financing through a few different companies, and we have links directly on our website so clients can apply to finance their projects right online. I usually ask a bit about their credit history to help steer them in the right financing direction."
It's as simple as presenting it as another beneficial option, she adds. "People like options and financing provides our clients with options."
It may also help to spin financing in a new light, adds Rhodes. Explain to customers how financing will allow them to build their dream pool — the first time around.
"A lot of our clients start out with just a simple pool in mind, one they could probably afford on their own," he says. However, they'll end up getting a loan for the non-simplistic upgrades. Maybe they want an automatic cover, or a saltwater filtration system, or a heat pump, whatever it may be, so financing allows them to obtain the more expensive products they desire."

REASON NO. 2: "We like cash."
Although cash upfront is nice, loans will increase your customer base and the scale of the project — and you only have to wait a short time to receive the payment in full.
"I think a major benefit to the consumer is not needing to come up with all of the money upfront and out of pocket, which is especially advantageous to them when the economy is down," says Braddy. "Let's say the customer has a $100,000 budget, but they really want expensive tile, stone and water features. If they can get financed for the difference between the cash they have on hand and the extra cost of the nicer features, it's a win-win for everyone involved. When you build a pool, there are certain things you can't add later and certain things you can. If there's something a customer really wants, and it would be a hassle to add it down the road, and they don't have enough cash on hand, then financing is a great option."
"Only 10% of our jobs include financing," adds Rhodes. "If we have a client who is building their home and pool at the same time, they often don't have as much cash on hand as compared to if they were just building a pool, so they will likely roll in the pool loan with their construction loan. I used to build pools in California, which is very different from Missouri. A lot of people ask me why I think the market is so different, and I think it's because everyone is moving here from the sunbelt states, so they've got a lot of cash on hand — but you never want to count someone out just because they don't have the full amount of cash."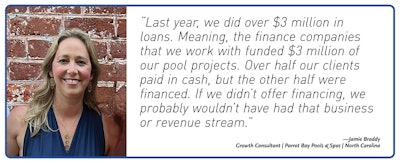 REASON NO. 3: "We offer financing for spas, but new pool clients usually pay directly."
Outside of pool financing, some manufacturers and dealers also offer hot tub/spa financing. "Around 30% of our overall sales come from hot tubs," says Culp. "Our spa manufacturers offer different financing promotions at different times of the year. Whether it's 0% for 48 months, 60 months, etc., a lot of people will take advantage of the deals available to finance their dream spa.
"It just makes purchasing the product more feasible and appealing to the customer. When it's laid out as a monthly payment instead of a $15,000 hot tub — regardless of how long the term is — the customer won't feel the cost all at once, which makes them happy and more willing to purchase a spa."
Effectively training your employees to understand and actively promote financing is the first step in the process, he says.
"We proactively train our sales reps to promote the financing deals when the manufacturers are running them. If the customer comes into our showroom to look at and discuss a midline spa, it's easier for our sales reps to sell a more expensive, top line model when it's a monthly payment and not a few thousand dollars more all at once."
REASON NO. 4: "I had a bad experience with financing in the past."
It may be important to note that not every finance company will work for every pool building company; however, it's crucial to keep testing out the "financing waters" until you find the perfect fit, as both you and your customers will be better off for it, argues Braddy.
"Eight years ago, we offered financing through a company we just didn't work well with and our business partnership ended poorly and abruptly," says Braddy. "It took us two years to offer any financing again because we simply didn't know there were other options out there and thought every company was the same. But then, we were lucky enough to get a call from a different company who wanted to collaborate based on the terms we needed and wanted to abide by. So builders, not every financing company may work for you, but there are an abundance of options — keep looking until you find one, or a few, that works well for everyone involved because I believe that financing is truly an asset to our company and could be an asset to yours, too."