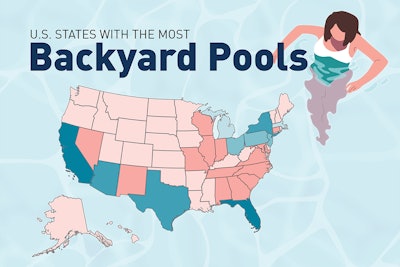 A number of organizations track pool building across the United States through various means. These charts and graphic depictions come from the internal data of provider recommendation company Angi (formerly Angi's List), and via Angi from www.PoolResearch.com.
The details provide food for thought, although the basic outlines are familiar to most pool industry people. California, Florida, Texas, New York and Arizona are the states with the largest base of installed pools, contributing over four million units to the total and thus, remain the most competitive, fertile grounds for builders, service companies and retailers alike. No surprise there.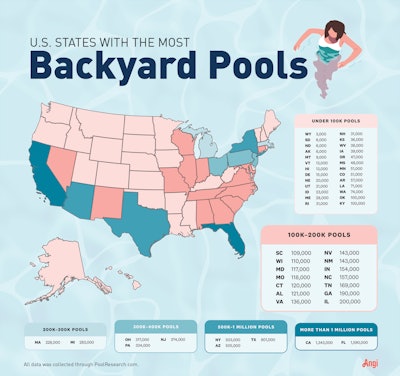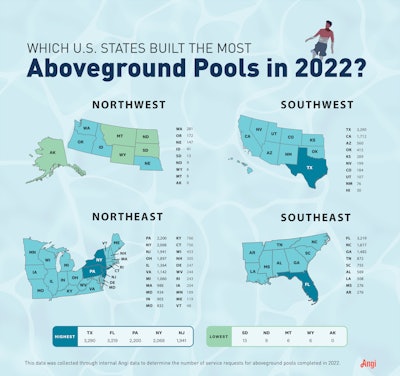 And the states with the smallest base of installed pools are those with the shortest swim seasons combined with low population density — the Dakotas and upper mountain west states, along with Alaska.
Northeastern states with relatively short swim seasons, such as New York and New Jersey, make up for that lack of swimmable months with high population density and thus, contribute a large share to the existing pool total.
The Northeast was also the heartland of aboveground pool sales in 2022, which will surprise no one who is familiar with the product, and follows a trend established decades ago. The attractive affordability of aboveground pools, combined with a large population and local distribution, drove pandemic sales to new heights. However, as the graphic above shows, Texas and Florida also contributed strongly to the surge in the category.
Check out the full report from Angi (available here) for more information. A final nugget: The states with the fastest-growing rate of pool maintenance requests since 2020 are generally the states with the smallest pool installation density. These include: Iowa (147%), Nebraska (633%) South Dakota (473%), and North Dakota (655%). Definitely some service money on the table there.