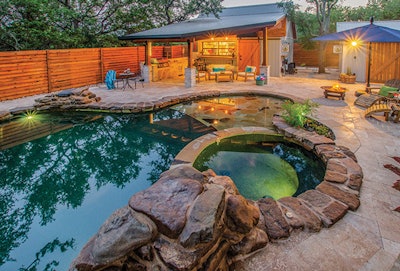 Designing and building beautiful aquatic spaces is often about reflecting the clients' personalities — at least it should be, according to Dennis Loy of Loy Custom Pool Designs in Austin, Texas. The project you see here offers a perfect example. The husband brews his own beer under the brand name Splash Craft Brewery, and his wife is an arts-and-crafts and gardening enthusiast. Loy's design integrates these passions into a one-of-a-kind outdoor living space that includes a backyard brewery (which doubles as a cabana complete with a shower), a craft shop with ample work space and more.
"I really love what I do because I meet so many different types of people," Loy says. "These clients are a classic example. They're fun-loving and creative with a lot of different interests, and they love to have a good time."
In addition, the clients have another interest Loy describes as an important part of their lifestyle. "He is a bit of a nudist," he explains, "and tends to enjoy the environment 'unencumbered.' I knew that privacy was going to be an important element of this project."
For that reason, the acre-sized lot is surrounded by a custom-designed 6-to-10-foot-tall wooden fence installed by the clients and handcrafted with western red cedar. "It's a work of art," Loy says, "and not something most clients would have had built on their own. But it looks professional and adds to the serenity and beauty of the project. It's something everyone notices."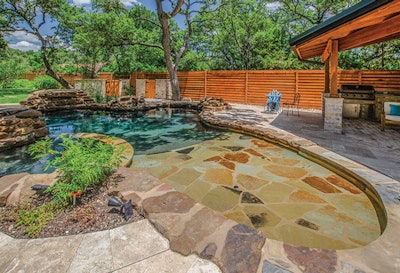 All photos courtesy of Loy Custom Pool Designs
ARTISTIC PROMISE
Loy admits that although these clients are unique in some ways, he's learned to expect the unexpected in the Austin market.
"This is a very special place," he says. "There are people from all different cultures from all over the world with tremendously diverse interests. The tech industry here is huge, there's a great art and music scene and you meet a lot of very creative and interesting people. It's the kind of place where you can be yourself and easily fit in."
RELATED: The Secret Behind Emotionally Compelling Landscape Design
In addition to being able to accommodate the clients' unusual set of interests, this project was special for Loy because it was one of his first since embarking on a new direction in his career. "I used to be a designer for another pool company, but this year I decided to branch out and take on both design and construction," he says. "In this case, I was referred to these clients by a former client. So as I was starting my own company I reached out to them."
The move into building was motivated by Loy's growing frustration with subpar builders who sometimes botched projects, which reflected poorly on his design work.
"I look at my designs as works of art. Instead of working in paint on a canvas, I'm working with stone, water and landscaping," he says. "It's an art form that becomes part of people's lives and will be there for decades, even generations.
"That's a promise I make to my clients. And when the project isn't built correctly, I feel that I'm not delivering on that promise. So my goal is to take my work from the design phase right up to when it's filled with water, and oftentimes beyond that. This project is a great example because it was, and still is, a wonderful collaboration with these amazing clients."
All photos courtesy of Loy Custom Pool Designs
ORGANIC SENSIBILITY
The pool itself is also a direct result of the homeowners' desire for a relaxed and welcoming setting. The small freeform pool is clad in Oklahoma taupe stone, a black pearl Pebble Tec interior surface, a broad beach entrance, a circular waterline spa and four large stone waterfalls. "There is no tile and no steps," Loy explains. "It's very much a lagoon-style pool."
The pool measures 31 by 24 feet and varies in depth from the beach entry to 6 1⁄2 feet. The equipment is located nearby on a pad hidden by a stone wall. The equipment is all from Pentair, including a cartridge filter, variable-speed pumps and an ozone/UV treatment system.
RELATED: The Unreal Future of Pool Design
The 9-foot circular spa, level with the surface of the pool, is separated by a low dam wall. It seats six and is fitted with a variety of Waterway jets for feet, legs and backs. It has LED lights and can be heated to over 100 degrees in 20 minutes, courtesy of the 400,000-Btu heater. "Because the pool is small, you can heat the entire thing to spa temps in a short period of time," Loy says. "That enables the clients to enjoy their pool and entertain more comfortably in the winter."
The brewery, workshop, pool and surrounding deck are all situated away from the house. The space between is being further developed with a series of waterfalls, streams that will also include a koi pond, several decorative retaining walls, a fire pit and more. Loy reports the owners are even considering installing a zip line between the back of the house and the pool area.
"They want the area to be heavily planted and have an almost tropical feel," he says. "With these clients, I can see how that process will be ongoing and probably with more interesting surprises to come."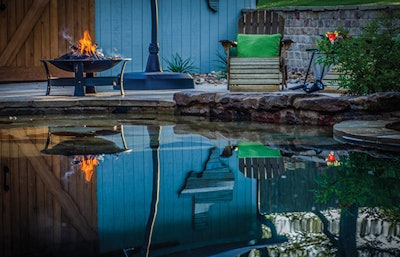 All photos courtesy of Loy Custom Pool Designs
ELIMINATING THE MAIN DRAIN
While Loy takes the creative and fun aspects of his designs very seriously, he's equally focused on the technical aspects of his projects. One of his key recommendations is to leave traditional main drains behind.
"It's something I offer every client," he says. "I've come to believe that main drains are completely unnecessary if the pool is designed correctly. And in fact, there are several key advantages to going to a no-main-drain pool."
For starters, he explains, the local ground conditions where he works render main drains largely impractical. "Here in Texas especially, pools are built over bedrock in most cases. So why place the main drains under the pool with over 100 pounds of weight on the lines? If the pool settles, it could cause a cracked or separated pipe and possibly become a major repair issue. That's why our plumbing is in the walls — if a leak occurs, it's easy to fix."
In terms of maintenance, Loy explains that pools do not need main drains should they need be emptied for repair. In terms of circulation, his systems use two skimmer and six to eight returns. Using the variable-speed pumps, clients are able to affordably run the system at a low speed 24 hours a day, which dramatically improves water quality. An automatic pool cleaner handles cleaning the bottom of the pool.
Finally, eliminating the main drain dramatically reduces the risk of suction entrapment.