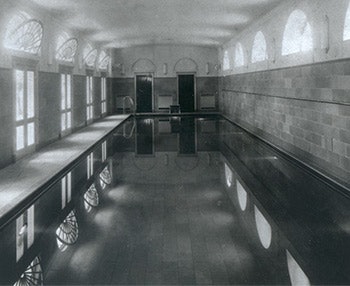 Everything about the White House is historic. From the silverware to the furniture in the Oval Office, 1600 Pennsylvania Avenue is not only the seat of power in the free world, it's also one of the greatest repositories of American history.
Naturally, the same can be said of its two swimming pools.
The first was an indoor pool built for Franklin D. Roosevelt, who often swam to help ease crippling symptoms from polio. The pool was located in the west terrace between the White House and its West Wing. It was surrounded by an arched ceiling and row of high half-mooned windows.
It remained in service for nearly 40 years. Presidential families including the Roosevelts, Trumans, Eisenhowers, Kennedys and Johnsons frequented the private natatorium.
In 1969, Richard M. Nixon decided to decommission the pool and construct a pressroom above the vessel to accommodate the growing demand for television news. Since then, the space, now known as the James S. Brady Press Briefing Room, has served as a theater for the White House press corps' daily briefings, typically delivered by the administration's press secretary.
The old pool is still in place below the pressroom floor and can be accessed via trap door.
With Roosevelt's pool decommissioned, however, the White House was left high and dry. Being a residence for first families, it only made sense the White House should have a working swimming pool to go along with its bowling alley, tennis court, movie theater and jogging track. So in 1975, President Gerald R. Ford, an avid swimmer, had a rectangular pool installed outdoors in a relatively private area shielded by trees and shrubs on the south lawn. Later a luxurious cabana was installed.
When it was complete, Ford showed off his diving and swimming skills for the press corps. Since then, every First Family has enjoyed the pool, including Amy Carter, who swam almost everyday, as did Barbara Bush and Hillary Clinton, who also had a hot tub installed.