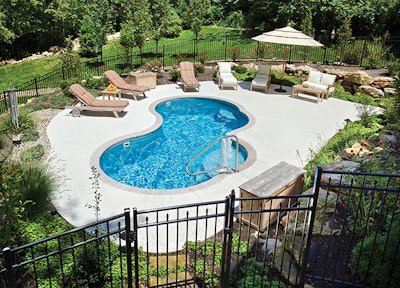 Although fiberglass pools, for all of their advantages, are not typically associated with high-end clients and custom landscapes, proponents of pre-manufactured shells say the time has come for that to change. In this pictorial, AQUA offers a peek at fiberglass installations that are not only affordable and functional, but eye-catching as well.
For years now, the fiberglass segment of the pool and spa industry has made significant inroads in markets traditionally dominated by concrete and/or vinyl liner pools. The reason for their growth in popularity boils down to a familiar and compelling set of customer-friendly features combined with greater design flexibility.
Fiberglass pools are relatively easy and quick to install. Although builders report that installing these pre-manufactured shells requires a fraction of the time compared to a gunite pool of equal size, many caution that the process does require specific know-how in order to avoid problems down the line.
Beyond the relative speed of installation, the smooth finish on these pools appeals to a class of homeowners that are concerned with the abrasive feel of concrete and pebble surfaces. That said, many models can be delivered with tile or exposed aggregate surfaces for clients who want the look and feel of a concrete pool with the convenience of fiberglass.
Ease of maintenance and durability are also big factors, say fiberglass proponents. The gel coat surface is highly resistant to staining and offers little purchase for algae, two factors that ease the burden of upkeep. Being a non-soluble material compared to traditional plaster, fiberglass is said to be more resistant to the effects of sanitizers and acidic water conditions. Of course, builders and servicers are quick to point out there's no such thing as a completely maintenance-free pool.
Comments or thoughts on this article Please e-mail eric@aquamagazine.com.