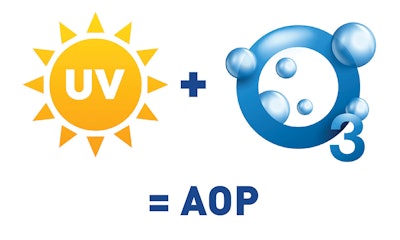 As pool disinfection technology evolves, and pool maintenance for complex systems becomes more and more challenging, pool owners and pool professionals continue to seek solutions for chlorine-resistant pathogens as well as the reduction of chemical use. This edition of Tech Notes examines Advanced Oxidation Process systems, also known as AOP systems, and their use in modern pool maintenance.
WHAT IT IS
AOP systems are classified as a disinfecting device or equipment that treats pool and spa water through generation of hydroxyl radicals3 . Disinfection efficacy (inactivation of pathogens) for AOP systems may be validated by the applicable disinfection testing requirements of NSF-504 inactivation of pathogens; however, a specific test for hydroxyl radical concentrations has yet to be developed for swimming pool/ spa applications. Federal law, AOP systems are required to be manufactured in an EPA-registered establishment; however, similar to electrolytic chlorinators, they are not EPA-registered products.5 AOP systems may be NSF-50 certified as combination systems, either as supplemental disinfection (validated for inactivation of Enterococcus faecium and Pseudomonas aeruginosa), secondary disinfection (additional validation for inactivation of Cryptosporidium parvum), and/ or reduction of chloramines and chlorine use per the requirements of NSF-50 for water conditioning devices.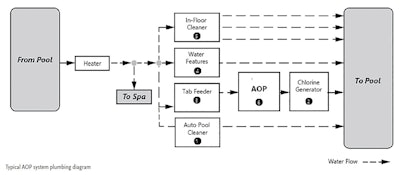 WHAT IT DOES
By injecting Ozone (O3 ) into the water and exposing it to UV light, AOP systems create hydroxyl radicals in the pool water. Hydroxyl radicals are unstable hydrogen-oxygen molecules (OH-) that are highly reactive. These molecules combine with and break down organic materials in the pool water (bacteria, viruses, oils, sweat, etc.).6
WHAT IT DOES NOT DO
AOP systems do not provide a sanitizer residual; therefore they must be used in conjunction with an EPA-registered sanitizer, or chlorine generating device. Minimum sanitizer residual levels should be maintained in accordance with EPA and local health department regulations, as well as EPA-registered sanitizer label directions.7,8,9
INSTALLATION
AOP systems are typically plumbed in-line as the last piece of equipment on the main pool return. When an electrolytic chlorine generator is used, the chlorine generator should be plumbed after an AOP system to prevent the accumulation of trapped hydrogen gas. Electrical installation should be done in accordance with all national, state, and local regulations, and a GFCI must be used when required by local code.
OPERATION
Follow the manufacturer's operating instructions for use. The operating instructions typically include:
1. Start-Up
2. Water Balancing
3. System Maintenance
4. Winterizing
5. Equipment Head Loss (pressure drop)
BENEFITS
1. Cryptosporidium parvum inactivation: AOP systems that are NSF 50-certified as Secondary disinfectants have been tested to confirm a minimum 3-log inactivation of Cryptosporidium parvum.
2. Reduced chemical use: AOP systems provide additional disinfection and breakdown of chloramines, which should reduce the amount of chemicals needed to maintain proper water chemistry. Validation of reduced chlorine consumption may be confirmed by testing per the NSF-50 requirements for Water Conditioning Devices.
SAFETY
As with all other pool equipment, installation and operation should be done by qualified professionals. Always follow the manufacturer's instructions, as well as federal, state and local regulations. UV light is harmful to eyes and exposed skin. When operating and maintaining UV light sources, care should be taken to prevent exposure to eyes and skin.
COMPATIBILITY
Always follow the manufacturer's instructions for compatibility to other pool and spa treatment products and equipment.
REFERENCES
1. NSF/ANSI/CAN 50-2020 – Equipment and Chemicals for Swimming Pools, Spas, Hot Tubs, and Other Recreational Water Facilities
2. UL 1563 – Standard for Safety, Electric Spas, Equipment Assemblies, and Associated Equipment.
3. Science Direct – "Advanced Oxidation Process" https://www.sciencedirect.com/topics/earthand-planetary-sciences/advanced-oxidationprocess.
4. NSF/ANSI 50 using the NSF Component Certification Specification 16534 (Ozone UV Combo Systems).
5. The Federal Insecticide, Fungicide, and Rodenticide Act (FIFRA), regulated by U.S. Environmental Protection Agency (EPA), https:// www.epa.gov/enforcement/federal-insecticidefungicide-and-rodenticide-act-fifra-andfederal-facilities.
6. Pool and Spa News – "The Next Wave: How AOP-bases systems treat water and why they are here to stay", Steve Berens, August 09, 2017 https://www.poolspanews.com/how-to/ maintenance/the-next-wave-how-aop-basedsystems-treat-water-and-why-they-are-hereto-stay_o.
7. ANSI/APSP/ICC-1 2014 American National Standard for Public Swimming Pools, Approved August 28, 2013, Pool and Hot Tub Alliance, www.phta.org.
8. ANSI/APSP/ICC-5 2011 American National Standard for Residential Inground Swimming Pools, Approved June 28, 2012, Pool and Hot Tub Alliance, www.phta.org.
9. ANSI/APSP/ICC-11 2019 American National Standard for Water Quality in Public Pools and Spas, Approved November 7, 2018, Pool and Hot Tub Alliance, www.phta.org.
The PHTA Recreational Water Quality Committee
Jody O'Grady, Taylor Technologies, Chair
Terry Arko, HASA
Kevin Cox, NSF International
Dr. James Egan, LaMotte Company
Philip Escobedo, Fluidra
Rich Gallo, Pure Swim
Kenneth Gregory, Pentair Water Quality Systems
Dr. Christopher M. Kareis, Axiall, A Westlake Company
Dr. Joseph Laurino, Periodic Products, PHTA Board of Directors Liaison
Touraj Rowhani, Sigura
Terry Snow, TLS Pool Service / Independent Pool and Spa Service Association (IPSSA) Representative
Dr. Roy Vore, Vore & Associates John Weber, BioLab
Voting Alternates:
Jeff Gaulding, BioLab
Ellen Meyer, Sigura
Consultants:
Jana Auringer, Pebble Technology International
Beth Hamil, MicroPlasma Ozone Technologies
David Oxley, Pinellas Aquatic Consultation and Education
Dr. Stanley Pickens, Swim-Chem Consulting Services
---
This article first appeared in the May 2022 issue of AQUA Magazine — the top resource for retailers, builders and service pros in the pool and spa industry. Subscriptions to the print magazine are free to all industry professionals. Click here to subscribe.