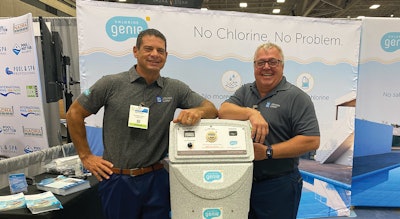 In a time of chlorine tablet scarcity, Ultimate Water, Inc. tried a little known way of generating chlorine using existing saltwater technology. Enter: the Chlorine Genie.
In 2020, Ultimate Water acquired existing patents for an "advanced chlorine generating system," essentially a process of water treatment by electrochemical disinfection. Primary inventor Daniel Tucker had successfully marketed the technology for decades, mostly concentrating in the Bay Area.
"Dan did a great job getting it to a certain point, and it was time to take things to the next level," says Gabe Giordano, president at Ultimate Water. "We've revamped, upgraded, and moved manufacturing, and really just brought things up to standard. Even though the product has been out there for a while, we're just now launching, because it's new in so many ways."
So — what differentiates the Chlorine Genie from other salt chlorination systems? "We're the only system that uses salt but doesn't put it directly in the pool," explains Giordano. "Instead, we are creating chlorine within our unit at the equipment pad, and then delivering it directly to the pool."
A typical salt chlorine generator system uses hundreds of pounds of salt poured directly into the pool and circulated through a cell to produce chlorine. The Chlorine Genie effectively downsizes this extra-large operation into a small but powerful box.
THE NITTY GRITTY
At its core, the Chlorine Genie breaks down salt with electrolysis, the same chemical reaction used in conventional salt chlorine generators. In the case of the Chlorine Genie, however, the process begins when a relatively small amount of tap water enters the unit and is immediately softened by reverse osmosis and water descaling. Cleaning the water before it enters the chlorine generation tank helps eliminate some of the usual salt water pool headaches.
"In certain climates, TDS just keeps rising and rising by itself, because you're evaporating about 2 or 3 inches a week in the summer. But the salt in the water stays there," says Ultimate Water's Patrick Lajoie, director of business development. "That increase in TDS throws off your water balance, and then you're going to get staining or residue."
Next, inside the brine tank, an electrolytic cell breaks salt down into chlorine and hydrogen gases. The chlorine gas is absorbed in a mixing chamber to produce the chlorinated water that enters the pool.
A special discharge valve puts the leftover hydrogen to good use: Opening the valve vents the gas to waste, lowering pH, while closing it sends the gas back into the pool, raising pH.
"We have that option to physically adjust pH without adding other chemicals, just by using the existing system," says Lajoie. "With a traditional salt system, you'd have to resort to muriatic acid or soda ash."
The Chlorine Genie's minimal dials simplify other adjustments. An amperage knob controls the levels of electrical current flowing into the cell, keeping chlorine production optimal and stable. The timer dial also controls chlorine levels. "The more hours it operates, the more chlorine we produce," explains Lajoie.
When running at an optimal 15 amps, the Chlorine Genie is capable of producing 5 to 6 gallons of chlorinated water per hour. It can produce sufficient chlorine for an average pool in a daily, single, 4 to 6 hour run cycle.
WORTH ITS SALT
From a labor perspective, the Chlorine Genie can eliminate a lot of hassle. For one thing, users no longer have to haul huge amounts of salt into the backyard on a regular basis.
"This system takes two to six bags a year to maintain, versus the 10 to 12 it would otherwise take to start up a pool and probably repeat once a quarter," says Giordano.
And the salt addition process itself offers flexibility, explains Lajoie. "The dealer, installer or service company can do it the way they prefer. Either they can come in on a weekly basis and add a little bit of salt as they go along, so it's always perfect, or they can just wait until it goes down, and add salt when it's needed."
The Chlorine Genie's steady chlorine production can also manage chemistry fluctuations that accompany heavy bather loads and once-a-week chemical service. "With our system, you're not having to shock the pool causing chemical levels to spike up and down," says Giordano. "You're going to have stable water, ultimate water, because the pool is getting the same chlorine dose every day, instead of once a week."
"It can be a hassle to clean most traditional cells," adds Lajoie. "You have to take it off, unscrew it, put it into a bucket of acid, get your goggles on, scrub off the scaling and put it back together...but you never have to take out our cell. It has its own acid reservoir and an air pump, and you merely pump the acid into the cell, and it self-cleans automatically."
LOOKING AHEAD
The Chlorine Genie's approach to chlorine generation has garnered welcome attention for Ultimate Water in its first foray in the national spotlight. Chlorine Genie was showcased in the Products Pavilion at the Pool | Spa | Patio Expo in Dallas, where it scored Best in Show.
---
This article first appeared in the January 2022 issue of AQUA Magazine — the top resource for retailers, builders and service pros in the pool and spa industry. Subscriptions to the print magazine are free to all industry professionals. Click here to subscribe.