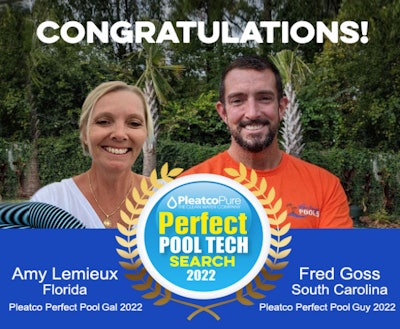 Pleatco, in partnership with Genesis / Pool & Hot Tub Alliance and AQUA, presents the winners of the Pleatco Perfect Pool Tech 2022 Awards. This year brought an outstanding field of entries: Please join us in congratulating these hardworking backyard heroes below.
Amy Lemieux | Englewood, Fla.
Pleatco Perfect Pool Gal 2022
"I am so filled with joy and excitement at winning such an honor among my peers! Winning the Pleatco Perfect Pool Gal of 2022 — I do not take lightly. I will uphold the 'perfect' every day of my life. I try so hard to show my love for the pool industry, educating and connecting to customers and learning from my peers. This is like winning the Super Bowl!"
Fred Goss | North Charleston, S.C.
Pleatco Perfect Pool Guy 2022
"I am completely honored to receive this recognition for my hard work in an industry that is more than my job but my passion! In my pursuit for continued education and knowledge in the pool field, I've had the pleasure of meeting so many amazing people, and to have the opportunity to represent this community is something I will forever be proud of and grateful for."
Kristine Blanchard | Hooksett, N.H.
Pleatco Future Leadership Award 2022
"I have been in the industry for the majority of my life, and for my work to be recognized in such a major way feels pretty incredible. Winning the Pleatco Future Leadership 2022 Award is a huge honor, and I could not be more excited for this opportunity! Thank you to everyone who got me to this point in my career, I hope I made you all proud today!"
Jason Scaramuzzi | Coventry, R.I.
Pleatco Industry Achievement Award 2022
"I am both honored and grateful to receive the 2022 Pleatco Industry Achievement Award. This recognition is appreciated, and I would like to thank the people within the industry that I have had the pleasure of working with and learning from. Although so much of this industry is old school, it is also ever-changing. I welcome the opportunity to continue my education while challenging myself to learn new skills and hone the ones that I have learned and work with on a daily basis."
MEET THE WINNERS
The Perfect Pool Tech Awards will be presented in-person at this year's PSP/Deck Expo in Las Vegas; everyone is invited to attend. Visit the Pleatco Booth (#4745) on Wednesday, November 16 at 1 p.m.