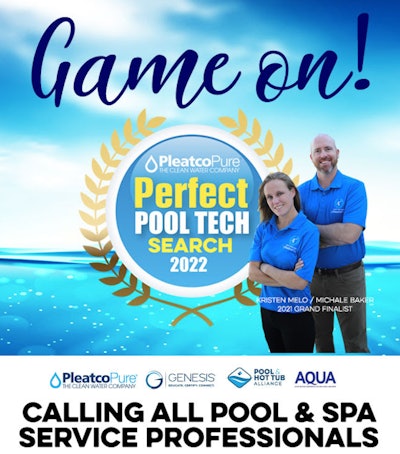 Pleatco and longtime co-sponsors GENESIS / Pool & Hot Tub Alliance (PHTA), along with AQUA Magazine, are proud to launch the 2022 search for the best-of-the-best pool and spa service technicians nationwide and extending as far as Canada.
Since 2007, Pleatco and its co-sponsors have been shining a spotlight on this segment of industry professionals who are more accustomed to working in the shadows. The contest is an innovative way to honor the hardworking men and women of the pool and spa service industry.
Pleatco is looking forward to its best contest ever and urges everyone, even if they have entered in previous years, to nominate themselves or a colleague for the reward and recognition they so duly deserve.
Nominations begin Friday, August 26, 2022.