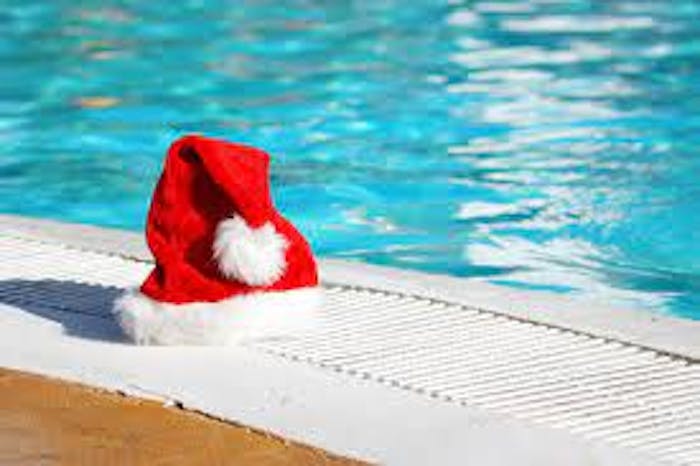 The holiday season is in full swing and parties are just around the corner. If a homeowner is lucky enough to enjoy temperate weather year-round, they have the option to not only host guests inside but also outside. Meaning, they can deck their halls and their backyard.
A decorated pool is a fun way to elevate the ambiance of any backyard party into a winter wonderland. Still, it is important to note the do's and don'ts of pool decorating to prevent unwanted items from getting stuck in the pool drain and damaging the pool walls. With over 20 years of pool maintenance expertise and franchise locations in 22 states, we have seen an array of holiday pool décor. I have pulled together some helpful tips below on how to spread holiday cheer through festive decorations that won't damage a homeowner's pool in the process. 
Do: Add floating candles to the water
Floating candles are a great way to add some ambience to your holiday party without harming your pool or its filtration system. These candles float on your pool's surface and burn safely as the wax will not overflow or drip into your pool. They burn until the bottom of the candle gets thin and the water then seeps inside to extinguish the flames, making cleaning up a breeze.
Do: Throw in some festive pool floats
Inflatable decorations are a fun and easy way to transform your pool into a winter wonderland. Try floating Christmas trees, ornaments, snowmen, or Santa himself! Just make sure you aren't floating candles and pool floats together at once.
Do: Set your swimming pool lights to the color of your choosing 
Adding colored lighting to your pool creates an aesthetically pleasing element beyond plain white bulbs. America's Swimming Pool Company suggests LED or fiber optic lights as they have the best lifespans and will help make your pool pop. 
Don't: Decorate with balloons
While balloons are a go-to party décor item, leave them outside of your pool at all costs. Floating balloons may look beautiful, but the clean-up will leave a mess to remember. Homeowners can risk the balloons popping in the pool and later getting stuck in the pool drain.
Don't: Leave your pool vacuum on
Pool vacuums are a popular item for owners to maintain pool cleanliness. They are also often kept in the pool at all times when they should really be taken out to reduce wear and tear and clear out the filter. Don't forget to remove your pool vacuum when decorating, so it doesn't tangle with any of the decorations or suck them up on accident.
In general, make sure to give your pool a deep clean before decorating by removing all leaves, silt, and other debris. Use a skim net to clean the surface and leave your pool vacuum running beforehand to remove debris settled at the bottom. Then, empty the skimmer and pump basket. Lastly, brush the surfaces and you are ready to show off your pool even in the winter months.
In addition to these decorating tips, homeowners need a pool safety plan in place. Be sure to remove any potential trip or fall hazards around the pool and deck and have a designated pool watcher to help prevent any accidents going unseen, and to ensure you have a wonderful and safe holiday season.
Stewart Vernon is COO and co-founder of America's Swimming Pool Company.