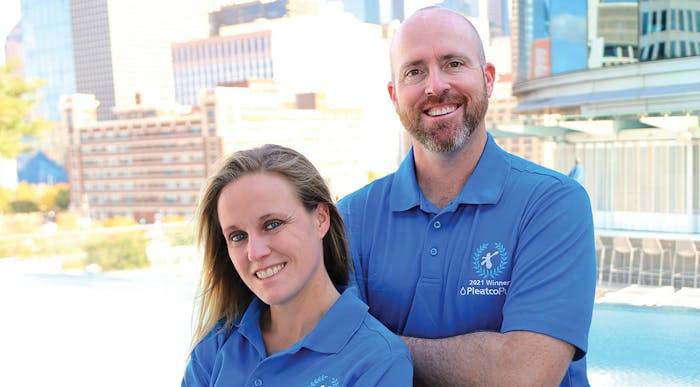 Photos courtesy Pleatco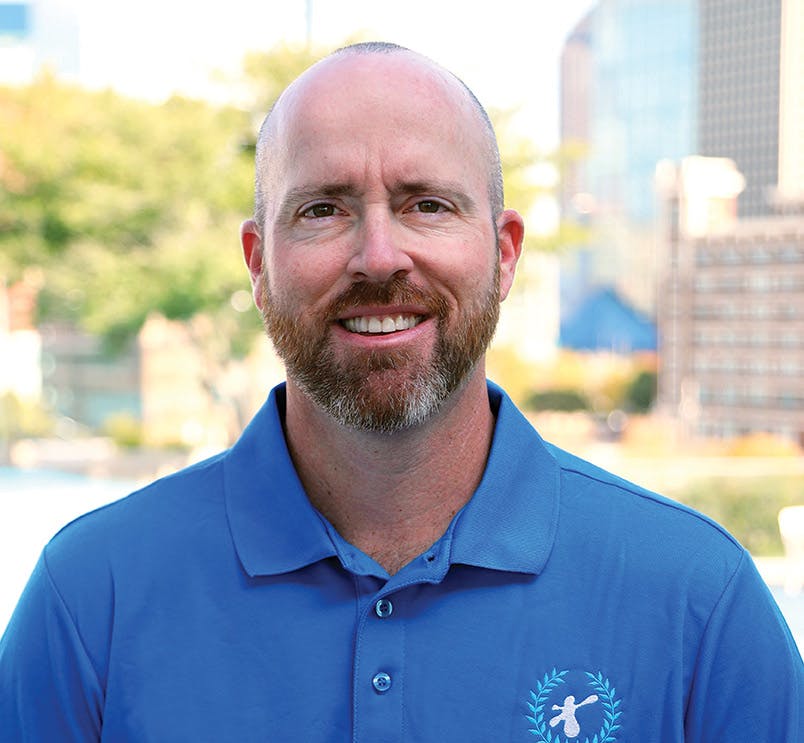 2021 Pleatco Perfect PoolGuy
MICHAEL BAKER
Ambiance Pool Service & Supplies
Tucson, Ariz.
Michael Baker is no  stranger to the Pleatco Award hardware: After landing the runner-up title last year, he was named 2021's Perfect PoolGuy.
"I was extremely surprised that I even got that far last year. So this year, I was just blown away," says Baker. "This award has really been the climax of my career...my original hope was to just be the best company in Tucson, so to achieve something like this is crazy. I'm super honored."
A down-to-earth attitude powers Baker's mission to break the competitive barriers that often divide service pros. "My goal is to get along with everybody around town, all the different pool guys. I like to see all of us succeed," he explains. "I try to take every one of their calls. I try to return their calls — just because I want to make the pool industry better."
With aspirations of advancing the industry as a whole, Baker sometimes shares the details of his own struggles. "Showing people what I've done wrong can help them avoid the same mistakes," he says. "I want the industry to be elevated, to the point where people understand that we need to be paid just as much as the plumbing and the HVAC guys. We have to know water chemistry, hydraulics, mechanics and so forth. There's a lot that goes into it."
This all began when Baker moved to Arizona about 15 years ago and started cleaning pools on a regular basis. Eventually, he started his own company and slowly built it up to 100 pools, which prompted him to hire his first employee. Today, Baker's 18-person team is full of dedicated office, service and repair specialists. "Our goal is to have happy customers, but also happy employees. How we treat our employees is important to us. I feel like we're a little family," he says.
"I'd like to thank my wife and my family for putting up with me over the last 10 years. I try to be as present as possible, but as a business owner, and especially in this business, it's hard to do that. If I didn't have people like them behind me, supporting me, it would make things a lot harder."
---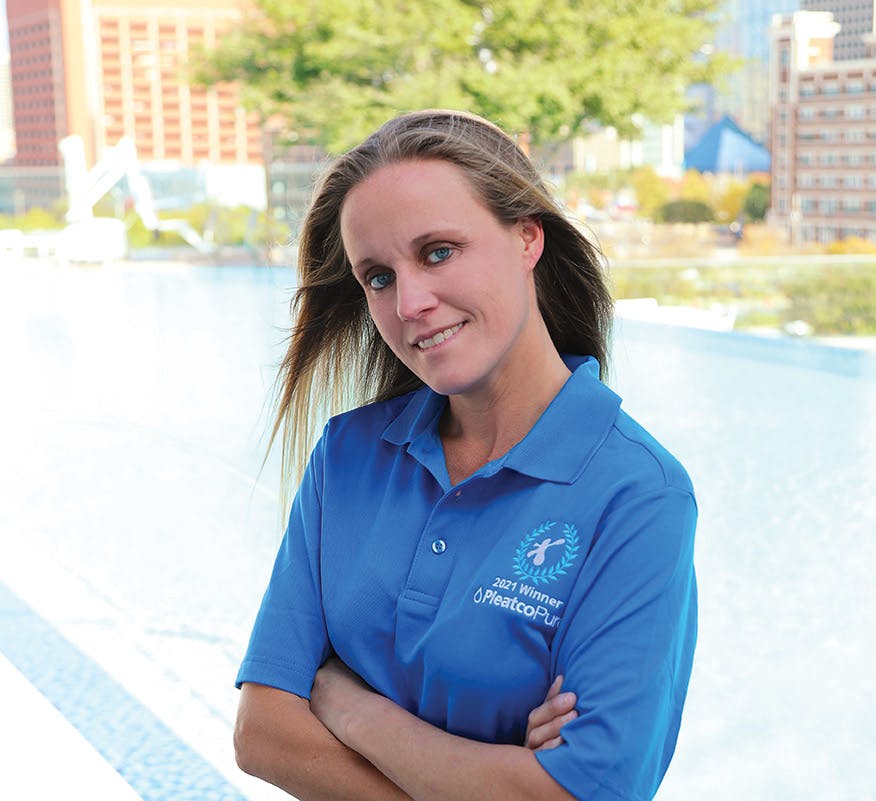 2021 Pleatco Perfect PoolGal
KRISTEN MELO
Preserve Pools
Summerville, S.C.
A community full of clients knows Kristen Melo as a dedicated pool pro — but first and foremost, she considers herself an educator. To her, the most important part of the job is helping people understand their pools.
"At the bare minimum, my goal when I get called out for a quote is to teach people something they didn't know before that might help them," she says. "If it comes down to the chemistry, and they learned something about calcium or high pH — or even just that their salt cell only produces chlorine — then I did my job."
Her company, Preserve Pools, is aptly named after a mission to protect those major backyard investments. "People spend a lot of money on pools. They deserve to have them taken care of," she explains.
Preserve Pools began after Melo suffered a back injury that left her searching for a way to provide for the family alongside her husband. At the time, he was juggling commercial and residential pool service jobs with another gig at Lowe's. "I was upset; I didn't think that I was contributing. He said to me, 'Well, why don't you start a pool company?' So we did," Melo says. "I got out in the field with him and just started watching everything he was doing. I was so intrigued. I went crazy over it. I could not get enough information."
Melo's passion for her customers' education reflects her own drive to learn and improve. "The guys in the industry, they kind of grow up knowing these [technical] things, and it's just second nature for them. But it's exciting for me," she says. "I did everything that I could to gain more knowledge, because it was just so much fun to me...If there was a class within driving range, I went. If there was a certification that I could get, I got it. And I'm still learning, I'm still growing."
She doesn't hesitate to tackle the tough stuff. "Heaters were my Achilles heel. I was scared to death of heaters," Melo says. "Don Mertz got me over that hurdle. He came down from Charlotte and broke down a heater. He went through it wire by wire, piece by piece with me. And I put in four heaters over this past week."
Melo entered herself into the Pleatco Perfect PoolGal contest, unaware that several of her employees had already done so.
"I never in a million years thought that I would have won. I've worked very, very hard, and to have my work recognized is absolutely amazing. I can't describe the feeling," she says. "To everybody who voted for me, and to my customers, my employees, to just everybody involved: I'm so thankful, I really am."
---
This article first appeared in the January 2022 issue of AQUA Magazine — the top resource for retailers, builders and service pros in the pool and spa industry. Subscriptions to the print magazine are free to all industry professionals. Click here to subscribe.