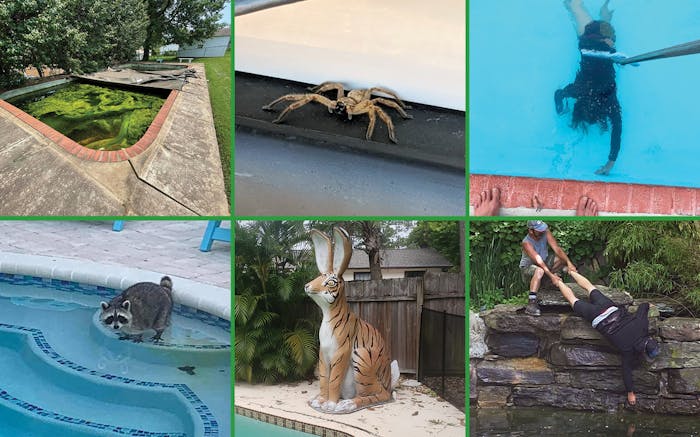 When a pool tech rounds the corner into a customer's backyard, they never really know what they're going to find. There are always surprises, sometimes when they least expect it, but pool pros know how to take the good with the bad.
We offer you a collection of photo-worthy moments sent to us from techs all over the country — from the funny to the unusual to the frustrating. No doubt, these techs have some stories to tell.
---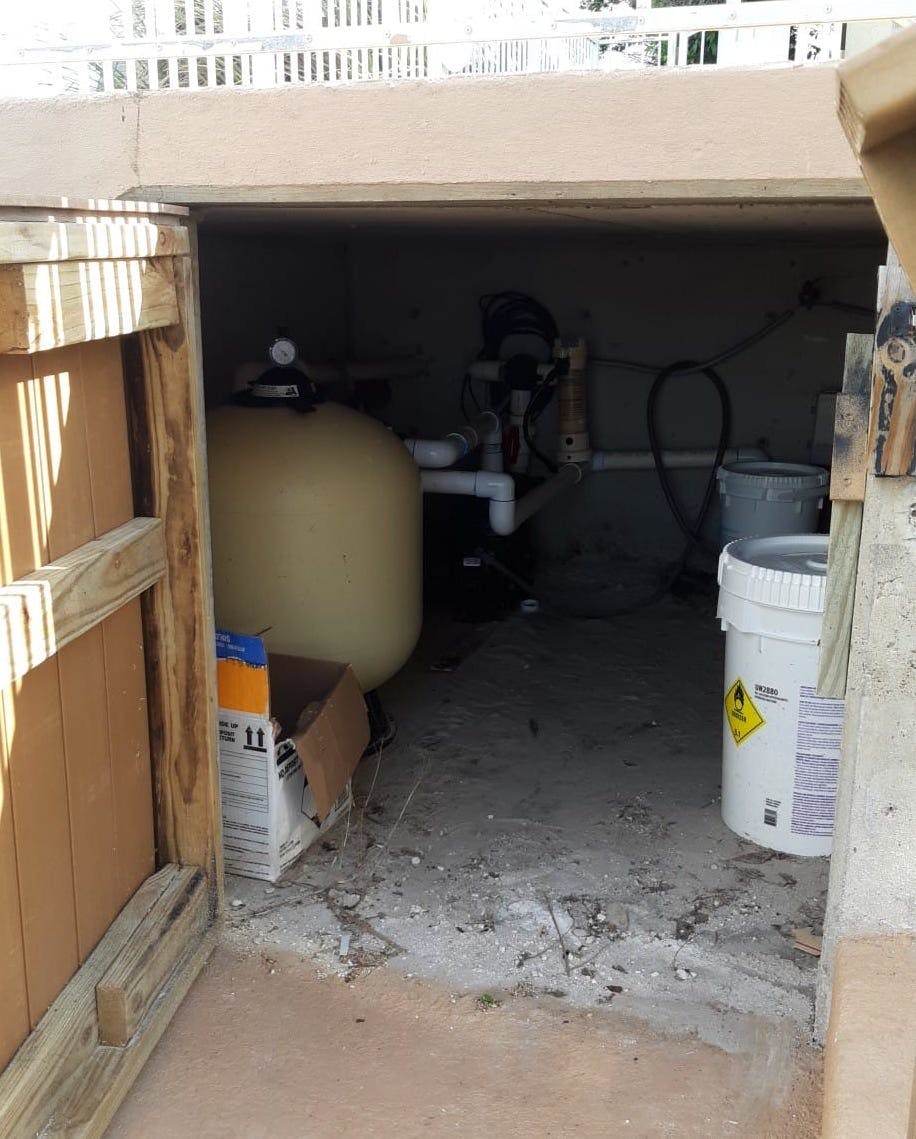 Photos courtesy Hailey Larsen
The Contortion Chamber Equipment Pad
When Hailey Larsen of Wade in the Water Pool & Spa Services (Padre Island, Texas) stumbled upon this equipment pad, her first thought was, "This architect must hate technicians."
The pump room, located below a 15,000-gallon condominium pool on the edge of a canal, was not built for comfortable maintenance. "I frequently bump my head on the ceiling," she says. "It's a service tech's nightmare — the below grade equipment is pretty dramatic in itself."
To add insult to injury, the canal is located 3 feet from the equipment door, so the room floods when the water rises. "It's definitely not my favorite account," says Larsen.
---
Hanging in the Balance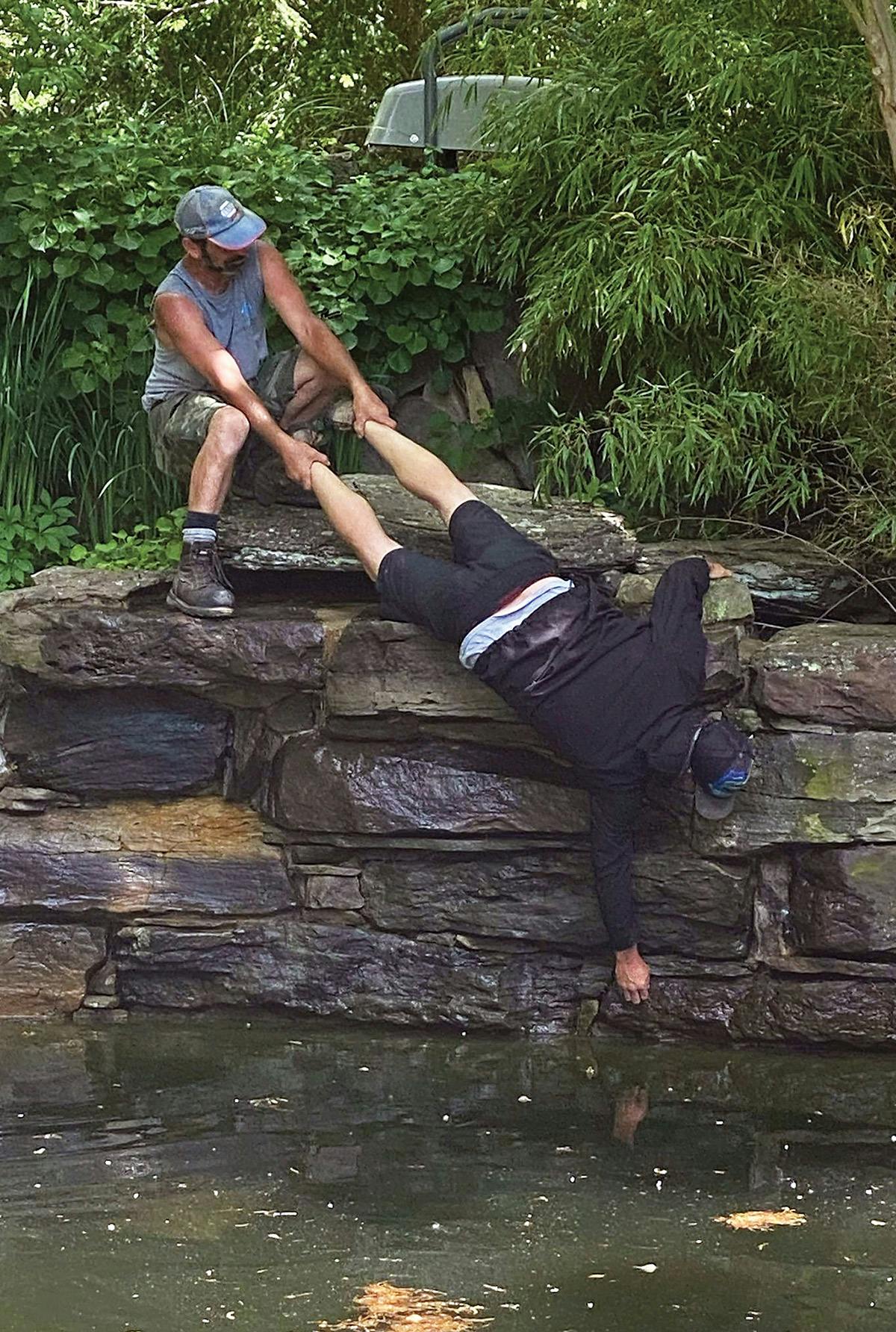 Photo courtesy Michael Walsh
It's not every day one has the opportunity to dangle their coworker over a body of water. In this instance, Jason of N.J.-based Blue Dolphin Natural Water Systems manages to hold on to the ankles of his colleague, Ryan, as he reaches for a safety cover waterfall cable system eyebolt to remove it.
"The picture doesn't do it justice. It was quite a drop," says Michael Walsh, who snapped the photo. "The last company used a boat," he jokes.
---
Pop!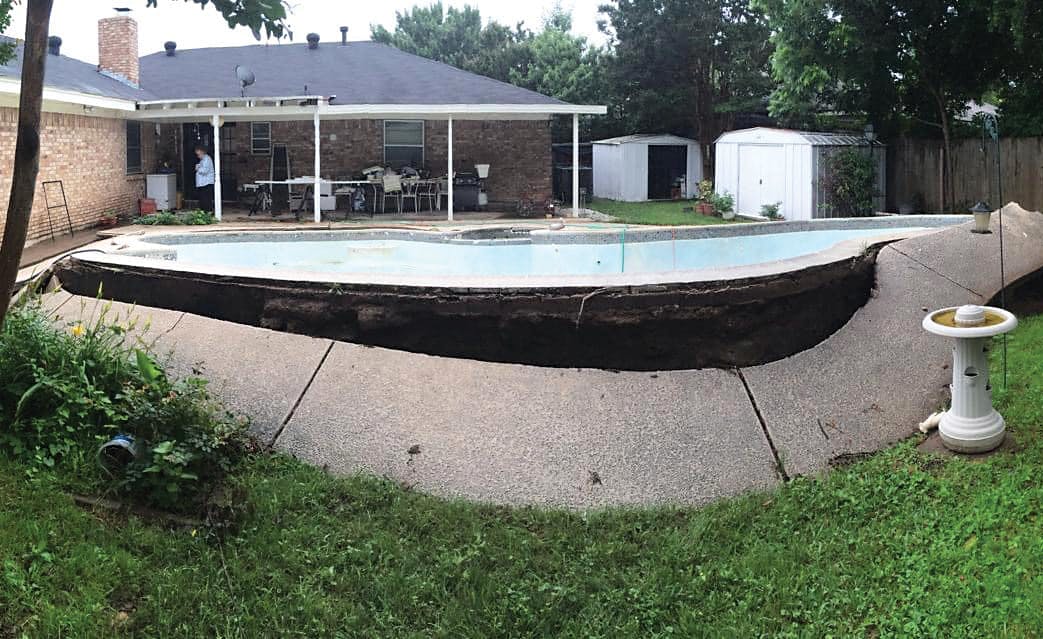 Photo courtesy Tony Keigley
Tony Keigley of Discount Pool Repair (Arlington, Texas) received a phone call no industry pro wants to get — behold, the dreaded pool pop. As usual, the damage caused was impressive, leaving the concrete deck in shambles and plowing up part of the yard. At least the bird bath and feeder managed to get away unscathed.
---
An Unwanted Friend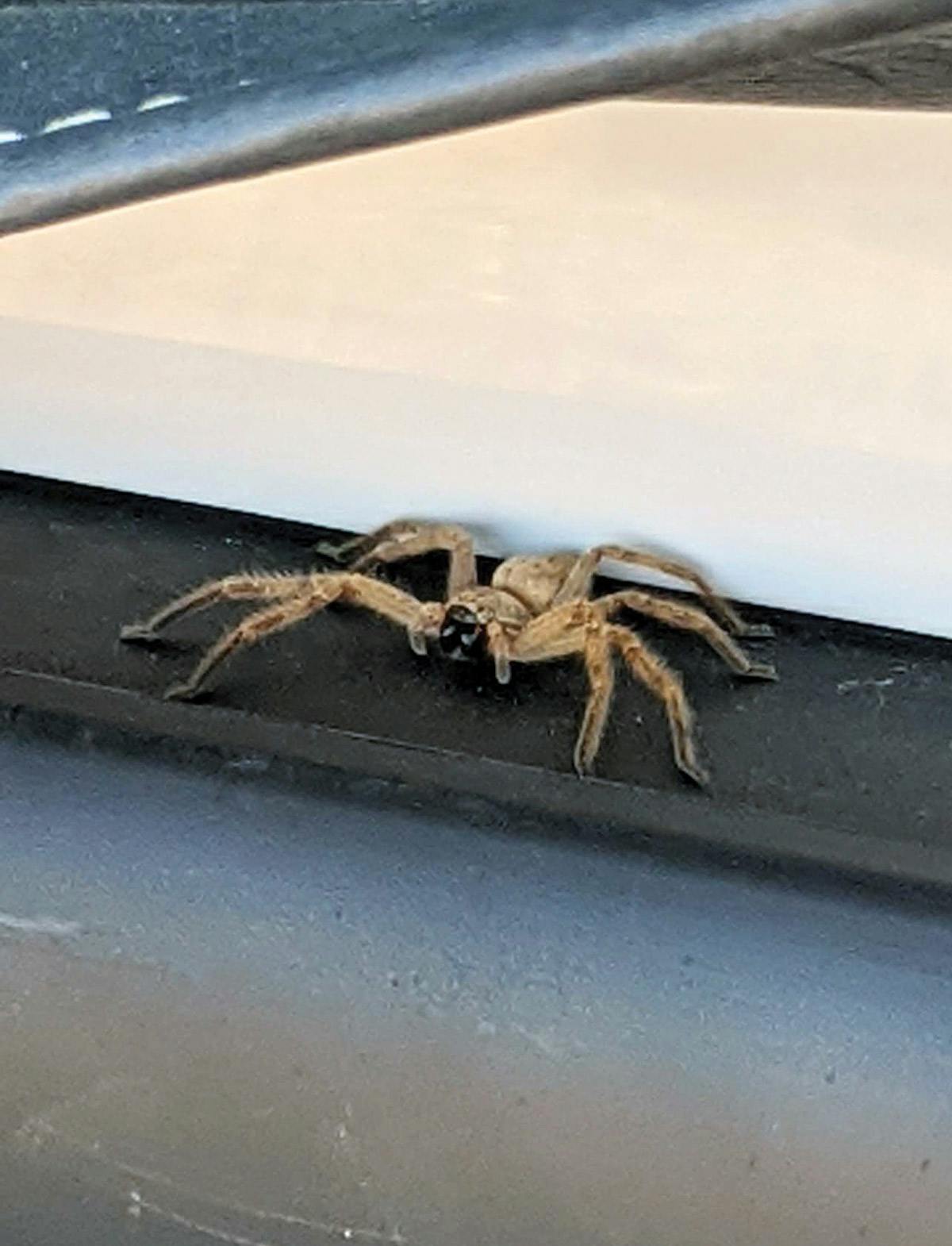 Photo courtesy Michael Burns
This spider is believed to be an Agelenopsis Aperta — also known as the desert spider. While bites from this species are typically harmless, it doesn't mean his presence was met with a happy greeting. Michael Burns of Perfection Pools and Spas, Inc. (Chico, Calif.) had a run in with this guy when lifting a spa cover. "Remember to always practice caution when lifting covers," he says.
---
A Most Unusual Quote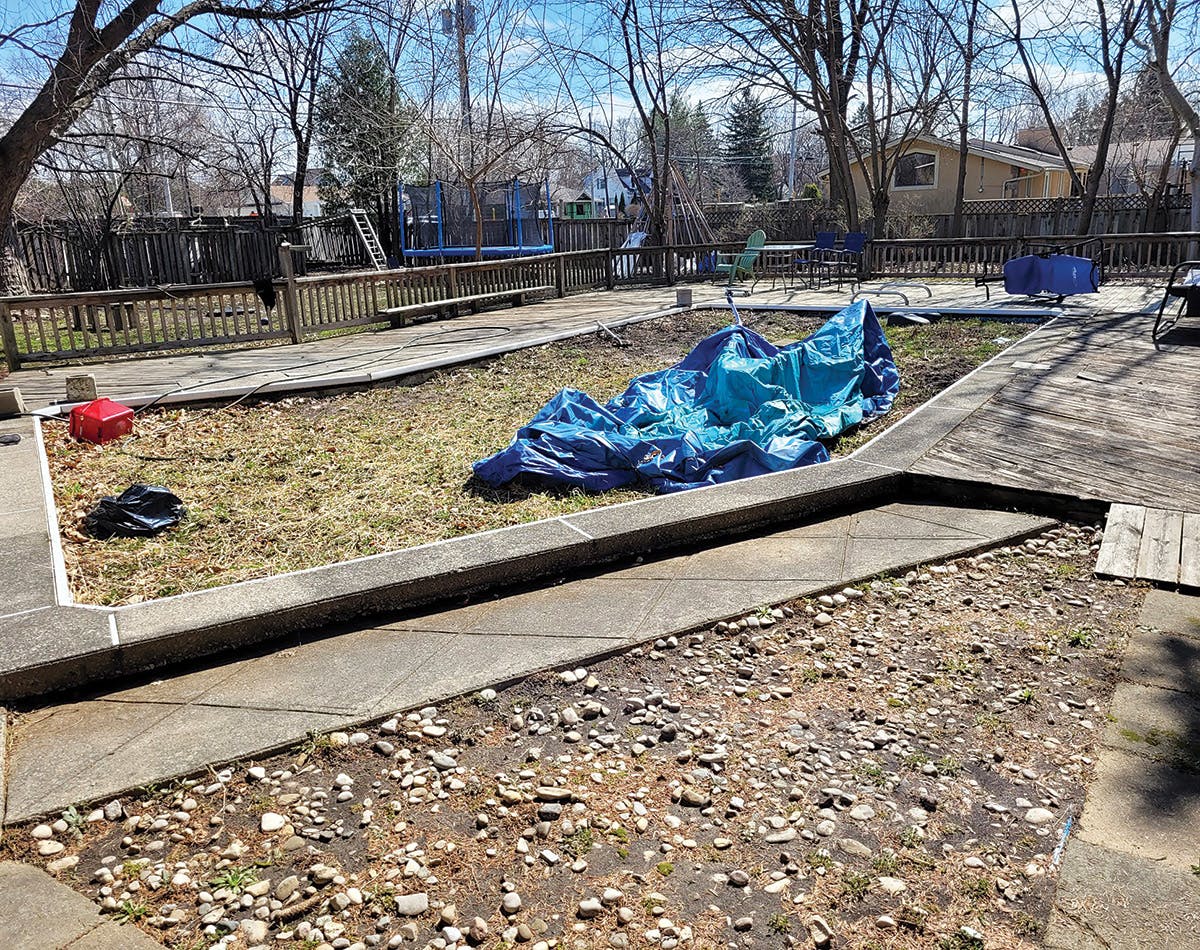 Photo courtesy Jeff Wilson
Jeff Wilson (The Pool Connection, Windsor, Ontario) was called to this property for a quote. "The homeowners wanted an estimate on how much it would cost to get their pool up and running, a pretty standard request," says Wilson. "But upon walking into the yard, it took everything in me to contain my laughter."
He estimated the refurbishment cost to be around $40 thousand, which was beyond the couple's budget. "Well, what if I dig it out myself?" countered the husband.
"My response was, 'Give me a call when you're done, and I'll revisit the yard,'" says Wilson. "I'm still waiting on the call."
---
A Surprise Hambush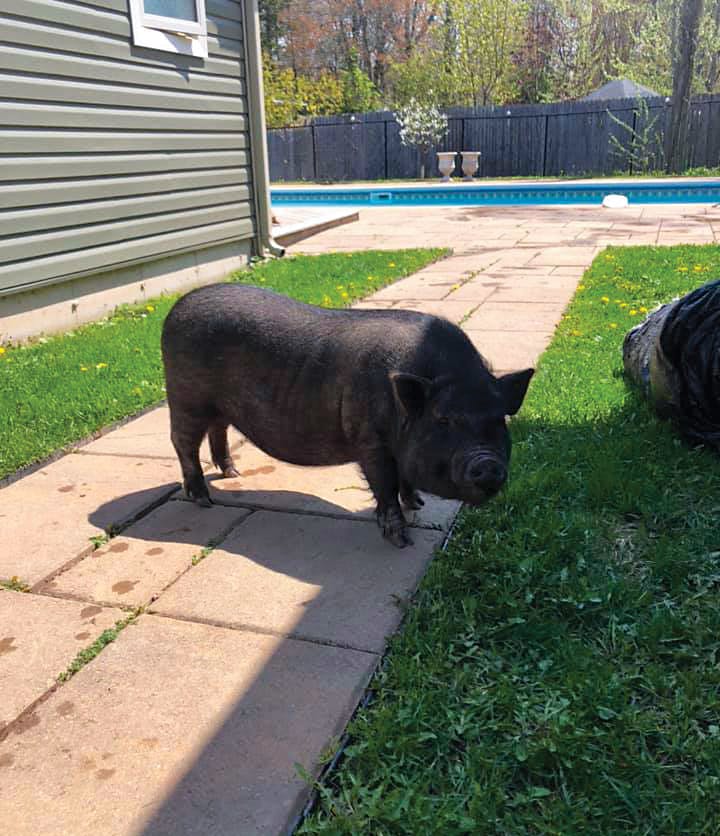 Photo courtesy Cory Eagles
This family's pet pig was there to lend Cory Eagles of Eagles Pool Services, New Brunswick, Canada, (and the 2016 Pleatco Perfect PoolGuy) a helping hand — though he wasn't much help at all. "He kept chewing on my shoe laces," laughs Eagles. "Not something you see on your everyday route."
---
Ready to Snap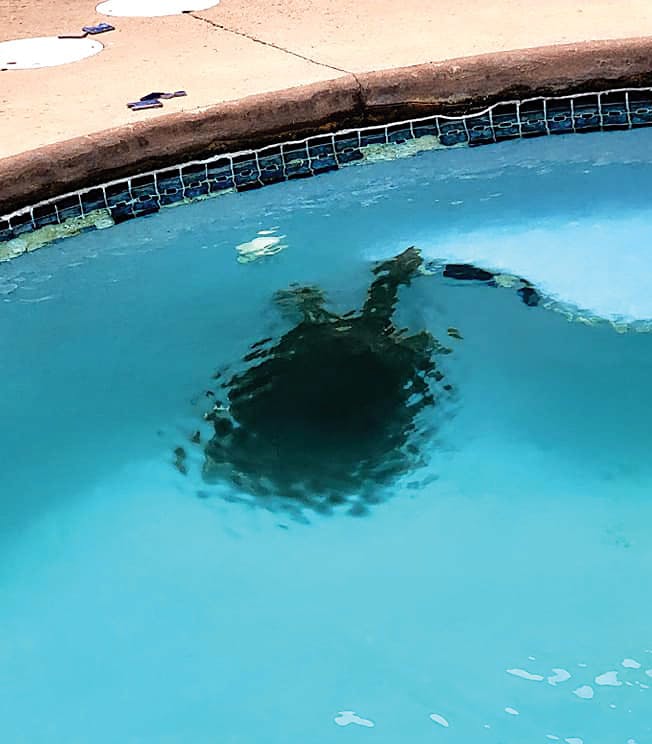 Photos courtesy Gloria Rodriguez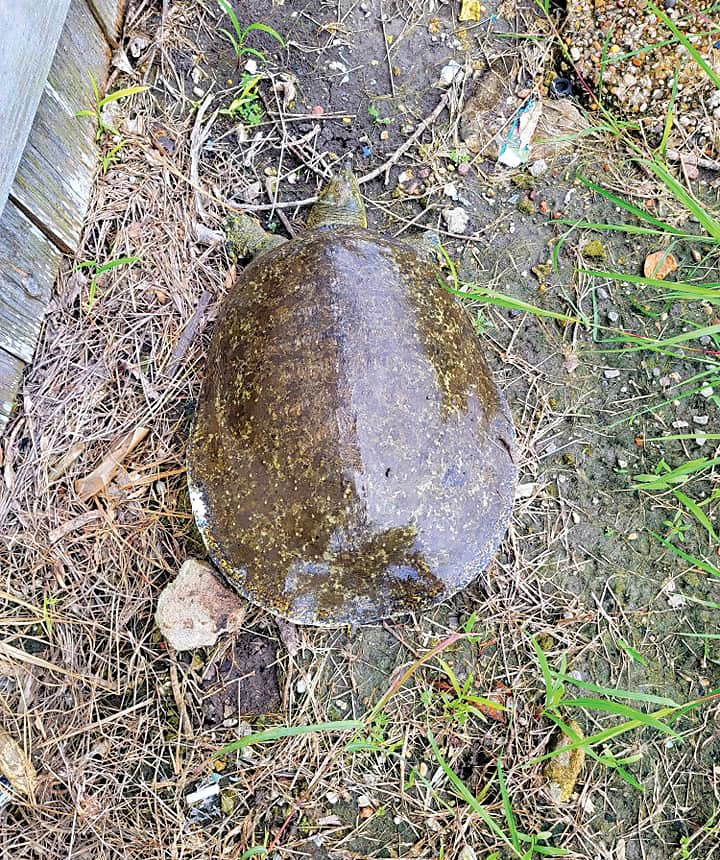 "My partner was the first one to arrive at this location and see the turtle in the pool," recalls Gloria Rodriguez (Your New Pool Girl in Corpus Christi, Texas). "When he was unable to catch him, he called me for backup."
Rodriguez arrived at the property expecting an average-sized, harmless turtle. "Little did I know, it was a snapping turtle, and he was huge!" she recalls. The two service techs worked together to get him out of the pool, which proved difficult because of the turtle's speed and weight.
"It was hard for me to carry him out, but once I was able to get a better grip on my pole, I was able to lift him," she says. The turtle was then taken behind the homeowner's fence and released into the grass. Will he be back to strike again? Only time will tell.
---
Humongous Hairball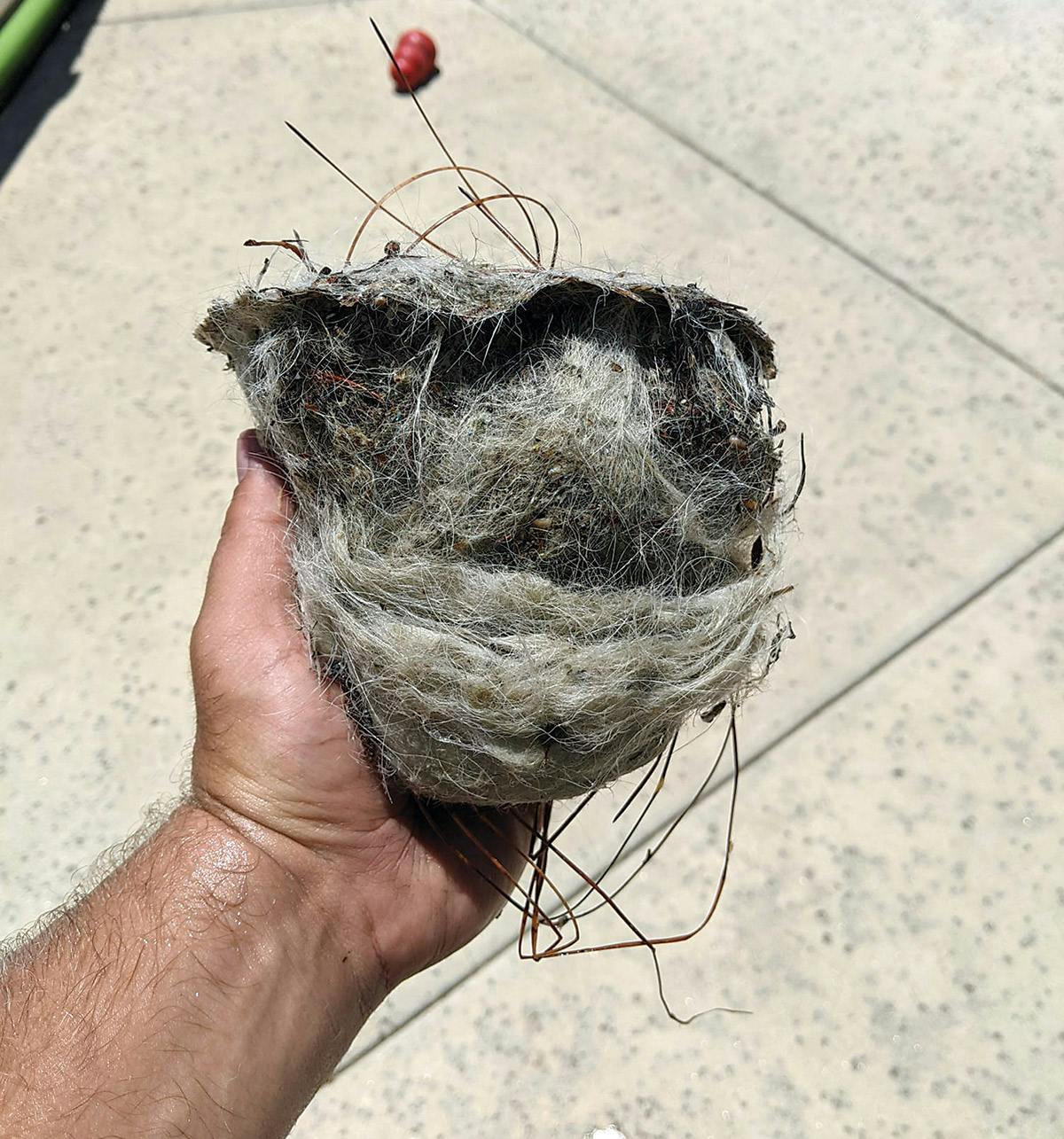 Photo courtesy David Rose
"This is normally a good customer," explains David Rose, owner of DCR Pool Service in San Diego, Calif. "But when all five of their kids come to visit — and bring three to four dogs with them — this is what I get every summer."
This particular ball of hair came out of the leaf catcher on the vacuum hose line, but there was a similar hairball in the skimmer and pump basket, too.
"Not pictured is the dead lizard I found in the middle of the ball, as if it was a bird's nest," says Rose.
---
It's Alive!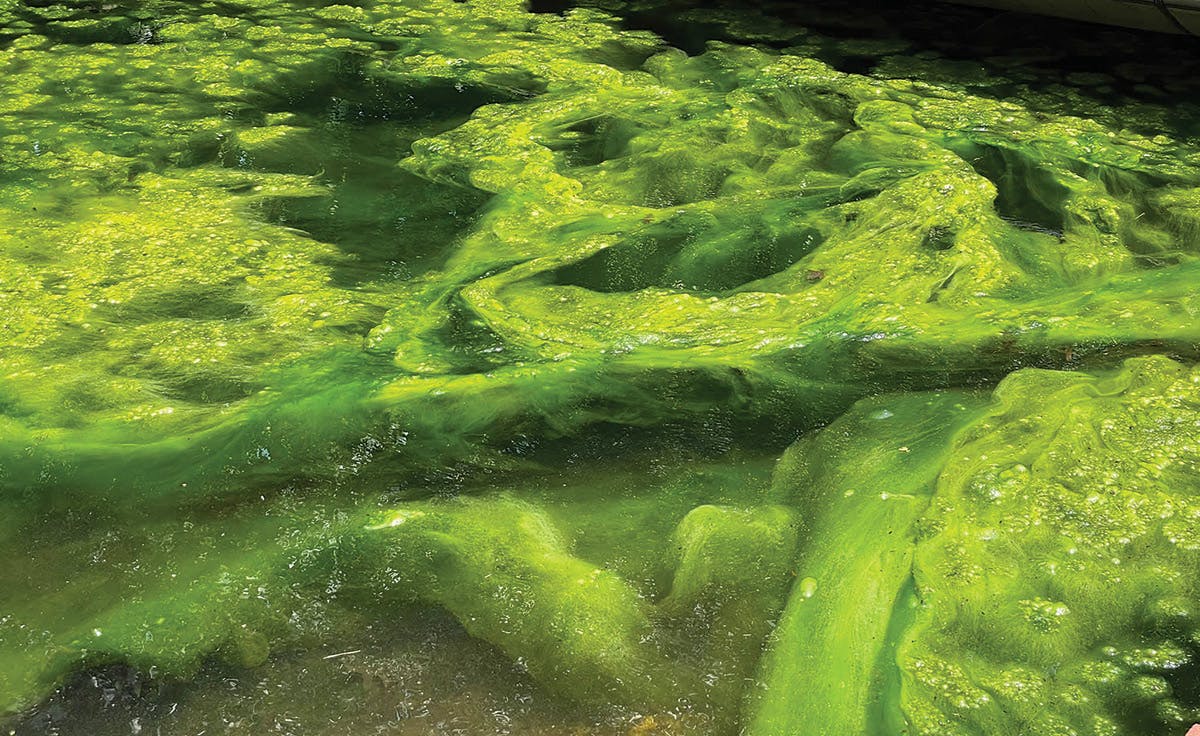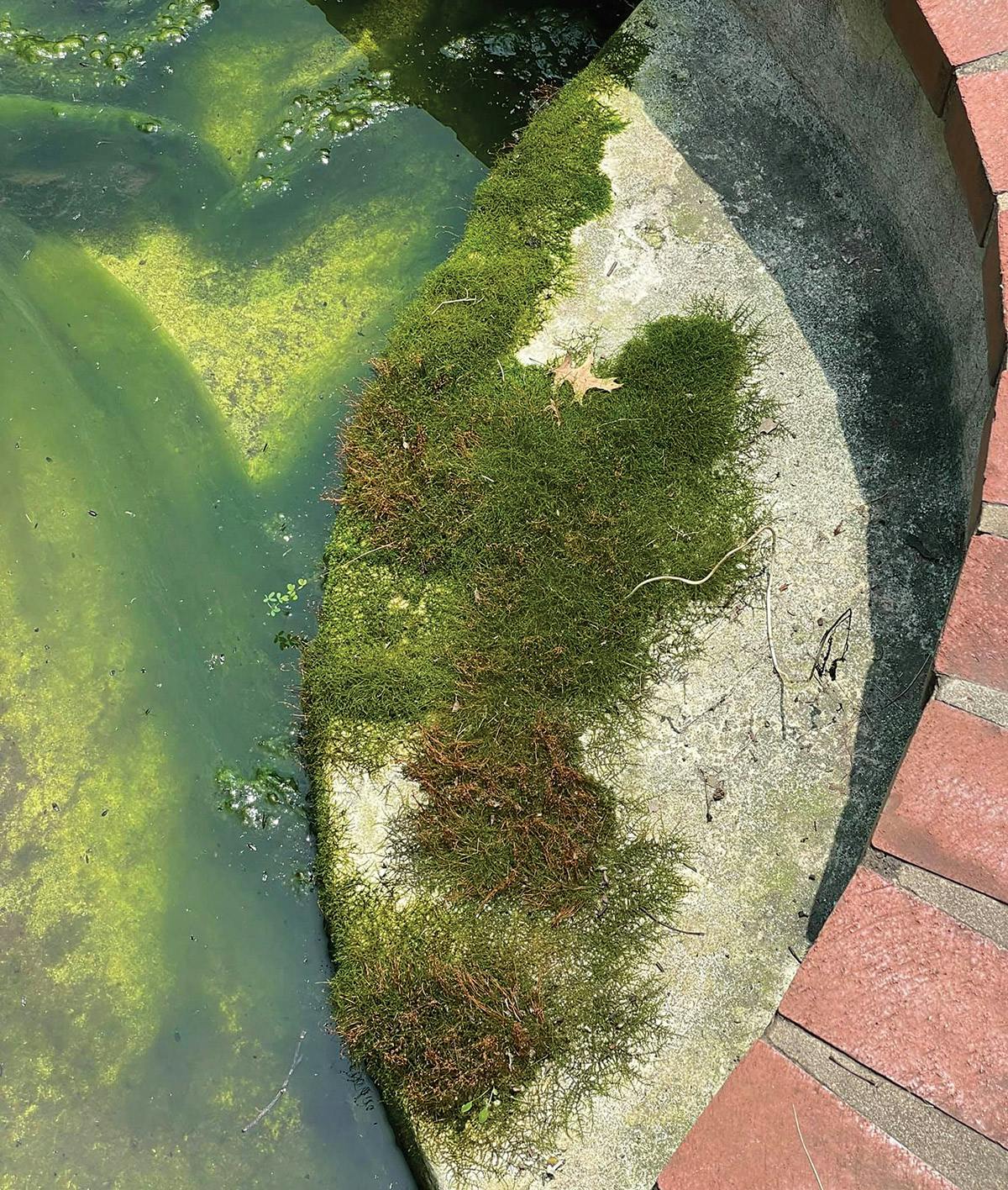 Photos courtesy Jeremy King
This swimming pool had been sitting stagnant for over five years when Jeremy King (St. Louis Professional Pool Inspections) was called to the homeowner's backyard for an assessment. "All I do anymore is swimming pool inspections. Once I am done, I put the cover on it, and it becomes someone else's problem," King laughs.
"I would suspect this pool would be a several month project, as it needed a complete rehab," he says. "Even if the pool was in good working condition, I think a drain and clean would be in order. That would be a several day process, I'm sure."
---
What Are You Trying to Tell Me?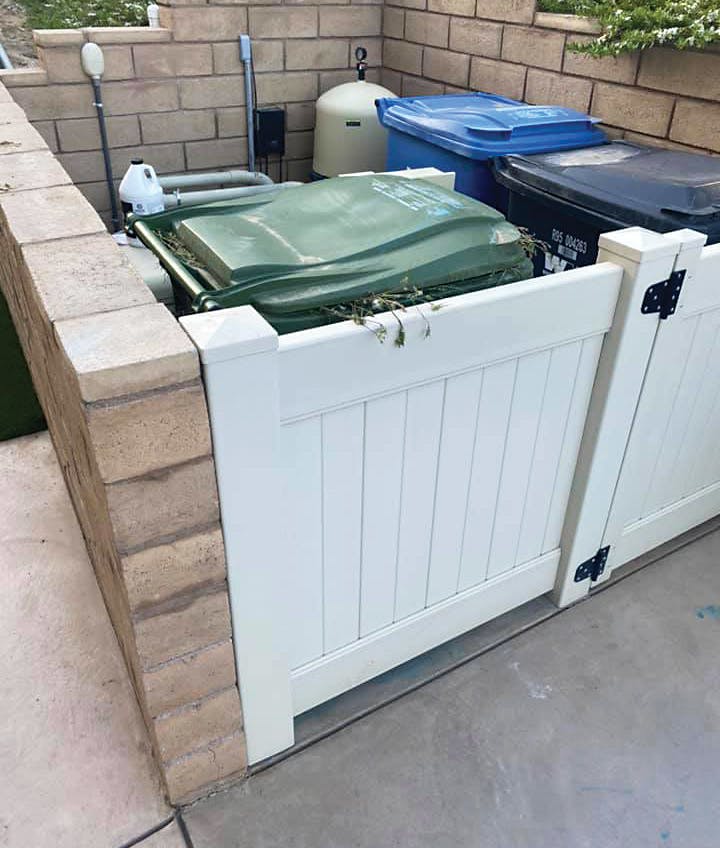 Photo courtesy Paul Rodriguez
This one needs no explanation. Paul Rodriguez has to share space with trash and recycling bins on this equipment pad, buried in the back of his customer's backyard and surrounded by brick walls.
---
One Trip Wonder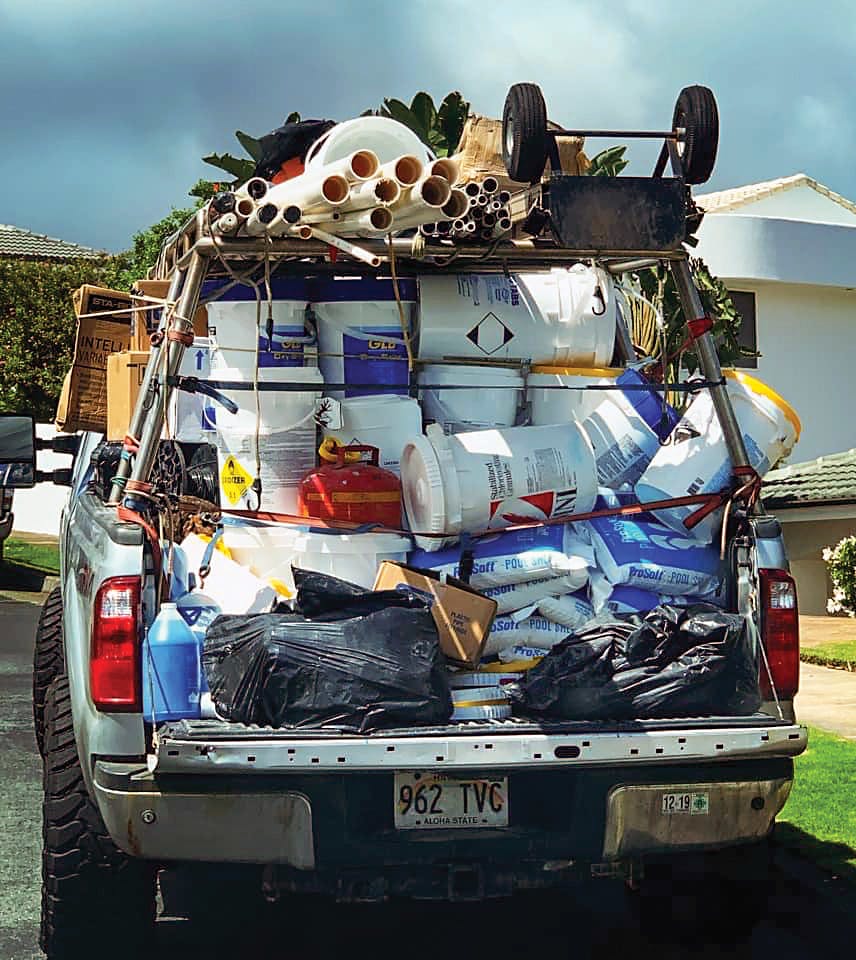 Photo courtesy John Silvestri
John Silvestri, a moderator of the popular industry Facebook group, "Talking Pools," snapped this photo while out and about this past summer.
It looks like this unknown service technician doesn't have much of a knack for safety and given the industry product shortages, is quite the daredevil. One pro commented, "Wow, by today's standards, all of that is worth more than the truck!"
---
I'm Watching You!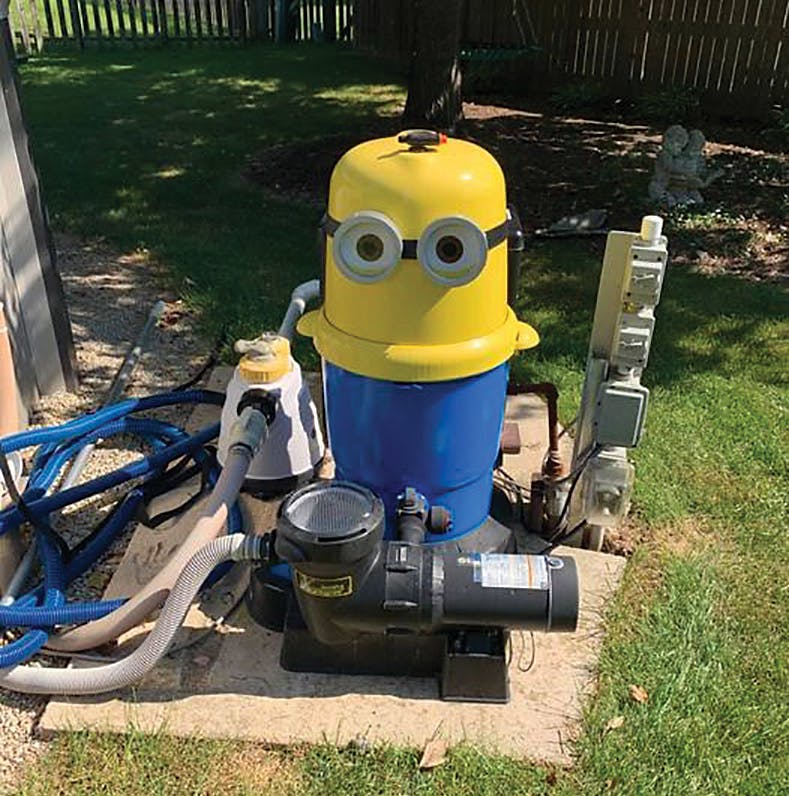 Photo courtesy David Ritter
David Ritter, of Chip and Dip Pool and Spa Service in Naperville, Ill., was closing down this account for the winter season when he spotted a watchful pair of eyes, the eyes of a minion (from the popular children's movie, Despicable Me).
"This is a brand new install, and the Dad painted the filter for his kids," says Ritter. The Minion certainly adds more charm to an otherwise plain filter.
---
Underwater Mission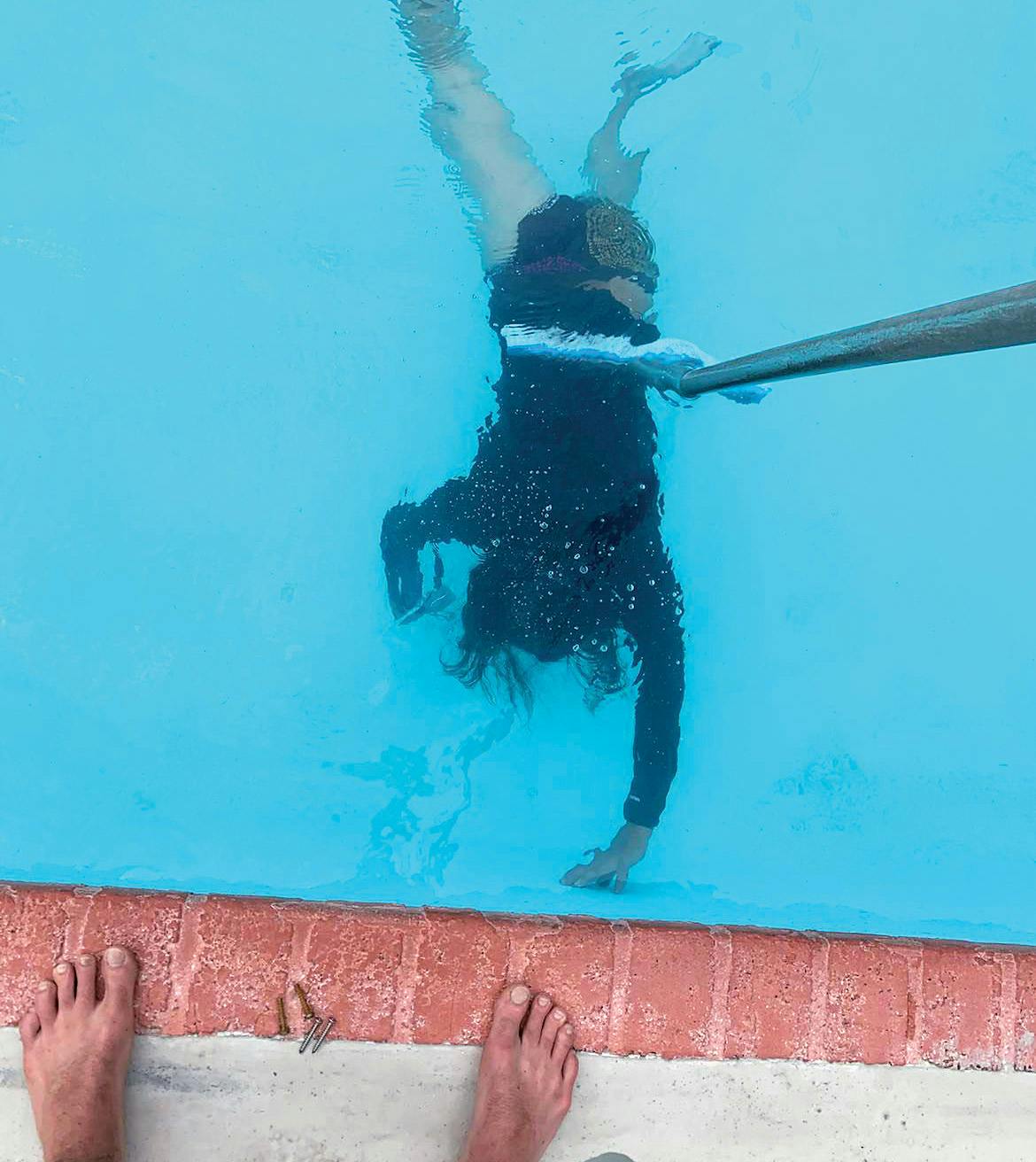 Photo courtesy Crisangela Neidlinger
"Very few jobs let you hold your boss underwater," says Crisangela Neidlinger of Best Pool Care in Ocean City, Md. In this case, it's Neidlinger being held underwater by her colleague of 10-plus years, Bryan Ginnavan.
"Underwater repairs, by nature, involve creative solutions," explains Neidlinger. "Mostly, I am successful without assistance, but securing this particular main drain cover required the use of both hands simultaneously — while also viewing and guiding the screw at a good angle."
It was a chilly May morning at this job, but Neidlinger does what she can for her commercial customers. "Bryan and I always have a sense of humor about the situations we end up in," she laughs.
---
Tiger Bunny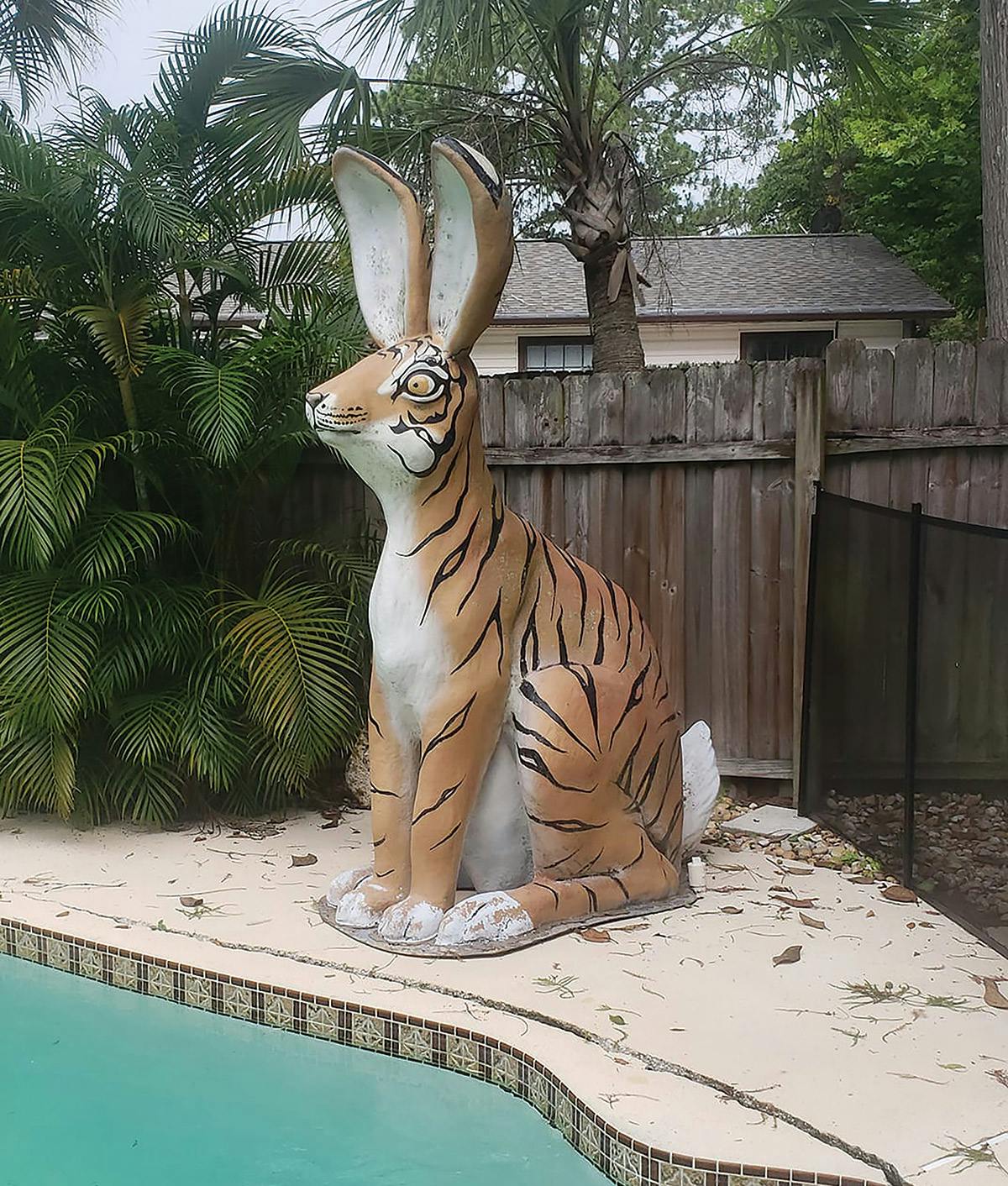 Photo courtesy Tra Miller
Is it a bunny? Is it a tiger? Tra Miller, owner of Astro Pool and Spa in Winter Springs, Fla., was left perplexed by this very large statue in his customer's backyard. At first glance, it was thought to be a fountain, but no. Each appointment it sits, an inbetween creature, waiting to greet him.
---
Challenge Accepted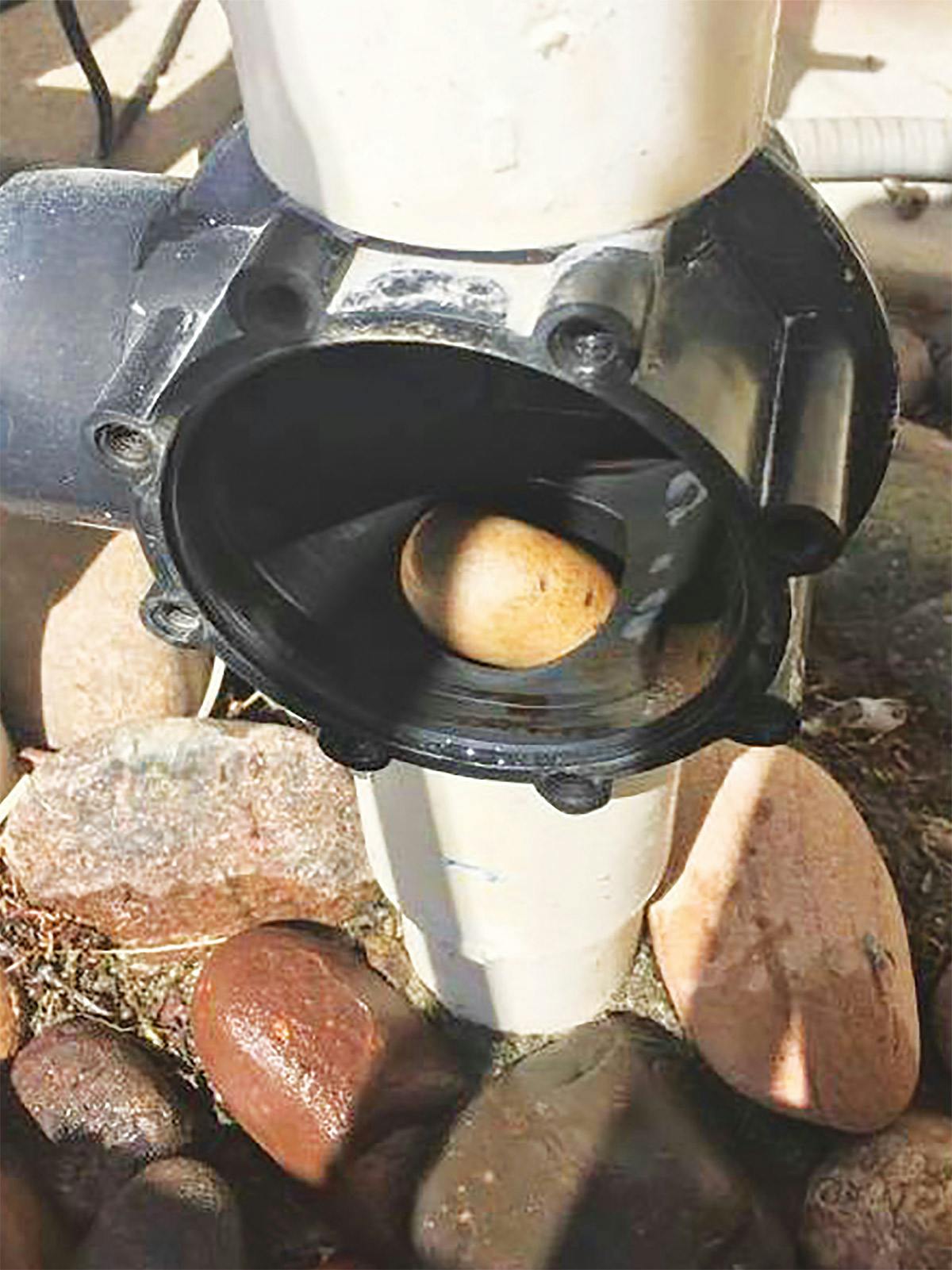 Photo courtesy Ryan Barlow
Talk about being stuck between a rock and a hard place. Many pool pros first thought this was either an egg or a potato; however, it's just a common, backyard rock in an uncommon scenario.
"I first noticed the suction was not working," says Ryan Barlow of Pacific Clear Pool & Spa, Inc. in Temecula, Calif. "So, I started to turn valves to investigate the issue further. This valve would not turn to isolate the skimmer from the vac line. I opened up the port valve and discovered a rock jammed in the line."
Among the less-serious suggestions on how to rectify the situation were dynamite, a sledge hammer or to simply shrink the rock (easy, right?). "I ended up getting it out with channel locks and a screwdriver," says Barlow. "It took 45 to 55 minutes."
---
You Mean, This Isn't a Toilet?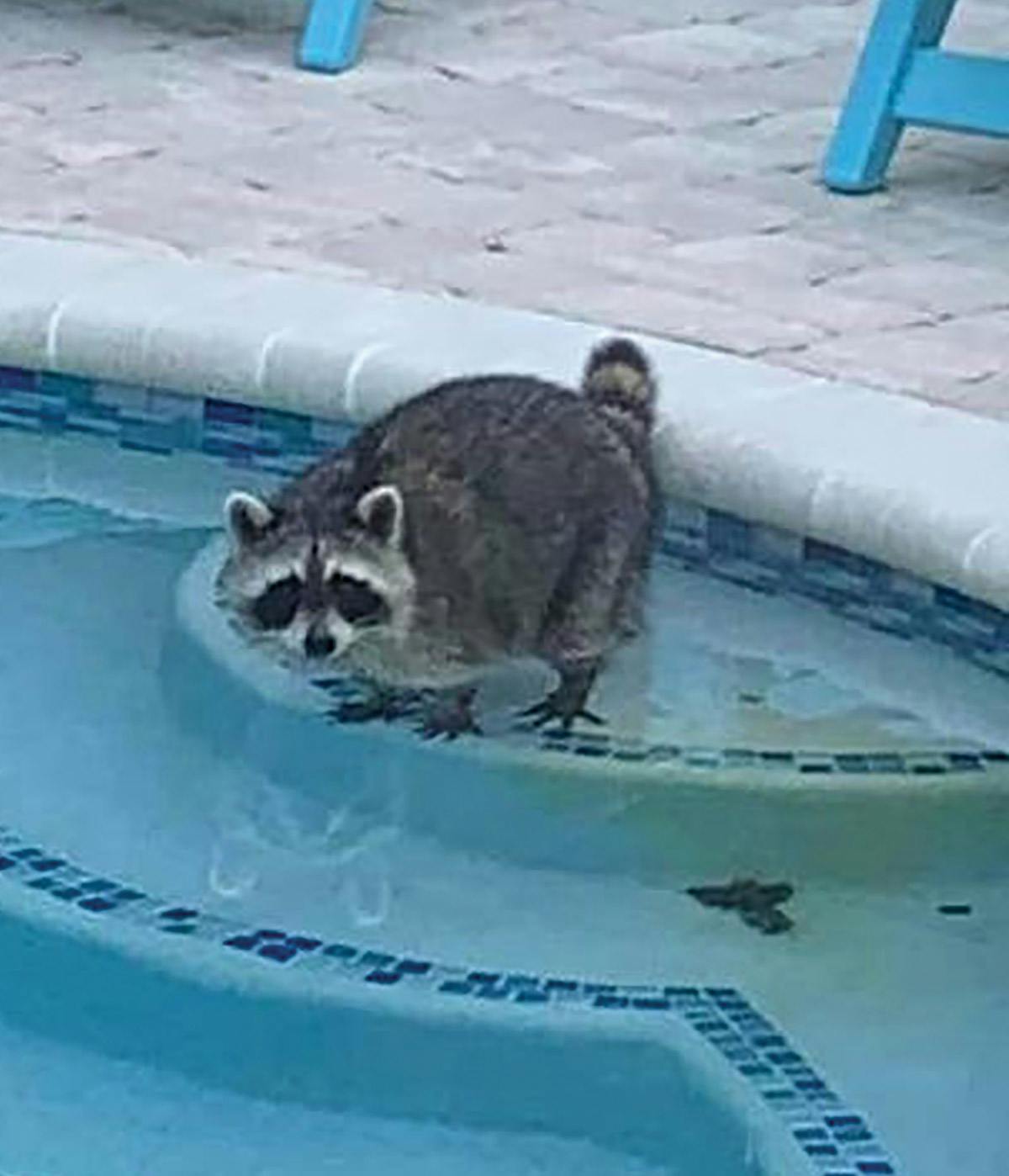 Photo courtesy Rob Estell
This raccoon was caught red-handed leaving a little surprise for Rob Estell, a retired Fla.-based pool contractor. If only he'd have fled the crime scene a few minutes sooner.
Estell, who now teaches pool education and is a broker of pool businesses, simply captioned this photo-worthy moment with a sarcastic, "Fun." I'm sure this was a fun cleanup indeed.