Ever get that feeling of triumph when you get something to work just the way you want it to? When you rig something with a rubber band to work better than before, or when you find a simple, time-saving shortcut that saves you grief down the line?
In modern parlance, these are called "lifehacks." Do a search for the term online and you'll find a thriving community of wannabe MacGuyvers finding clever ways to make their lives easier.
Lifehacking is all about creativity, and without a doubt, pool and spa service pros are a creative bunch. So we turned to a few and asked for their top tips and tricks to make each stop on the route just a little bit smoother: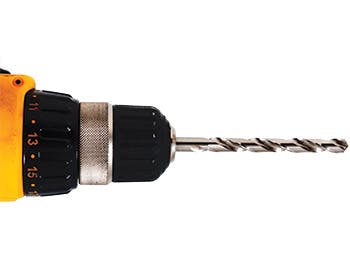 Holey Buckets!
"I drill a few small holes in the bottom of my pool caddy, the bucket that holds my tabs and my trash bucket. This allows any water that gets in to drain out easily and quickly. If I get hit by rain, I don't have to worry about any of those items getting filled with water."
— Michael Rodarte Co-Founder, Classic Pool Service | Scottsdale, Ariz.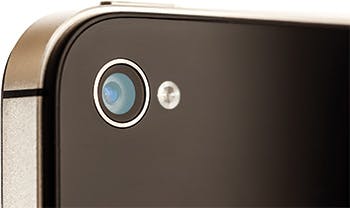 Show and Tell
"Cell phones. They have cameras on them now. If you've got an awkward part or something you need but you don't know what it is, pop of a few pictures of it and you can go to the supply office and say, 'Here, I'll need that,' instead of going over and trying to explain it to them."
— Bob Foutz Owner, Purity Pool Service | Huntington Beach, Calif.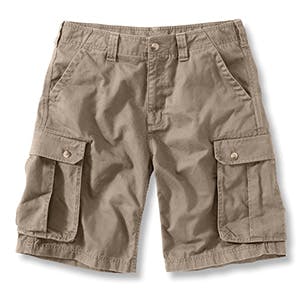 Extra Cargo
"My shorts are cargo shorts, they've got like eight pockets. I've got my cell phone in one pocket, test strips in another pocket, my money's in one — everything's got a pocket. That way, it makes it very easy to find stuff, because it's where it belongs."
— Bob Foutz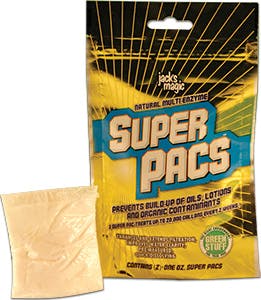 I-Pod
Instead of carting heavy bottles of chemicals from the truck to the pool, some service pros are opting for single-use chemical "pods," like those available from SeaKlear and Jack's Magic (shown). Each pod contains highly concentrated chemicals to keep them lightweight and small — you can slip a couple into your pocket. (Or, perhaps, a cargo pocket?) The water-soluble packaging allows you to drop one into the pool without mess or chemical splash, and the pre-measured sizes mean there's no need to measure chemicals, which saves you time on your route.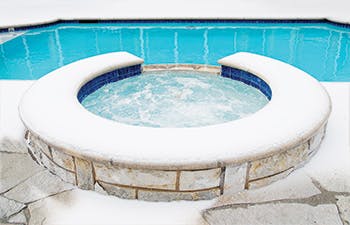 Clearing the Way
"While doing water changes in the winter months, I use discharge water to get rid of snow and ice that accumulates around a hot tub. Trust me, it allows better access for repairs all around the tub, it creates a safer environment for bathers and service staff and it looks great. The homeowner will love it, providing you didn't wash away his garden or fill his koi pond."
— Dan Stebner Owner, Sun Peaks Aquatics | B.C., Canada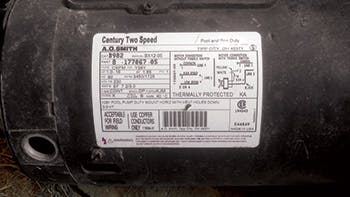 Photographic Memory
"Data plates wear over time. There is important information on them that is very useful to have when you need it. Take pictures of data plates when you put in new equipment and make several copies."
— Joe Andrews Toledo, Ore.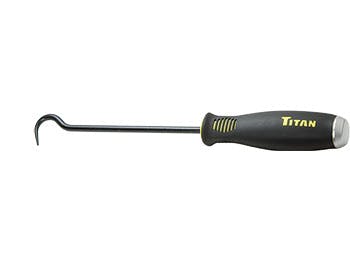 Trusted Pick
"I'm a car guy, so tools from the automotive industry have made their way onto my truck, like a small pick set. I bought them at Harbor Freight for less than $3. They make it very easy to pick out old O-rings, seals, clean junk out of impellers and get into any small space."
— Michael Rodarte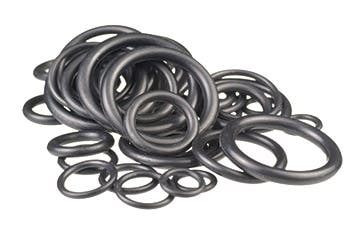 Rings and Things
"I keep a host of 2-inch O-rings of different diameter on my wrist — my daughter thinks its cool but she's seven. Right now I've got three on. I would feel lost without them there after all these years! But laugh as you may, they're right there when you need them, and you look pretty damn slick when you replace an O-ring in 45 seconds! It's kind of a functional fashion statement, something that tells people you didn't just fall off the turnip truck."
— Dan Stebner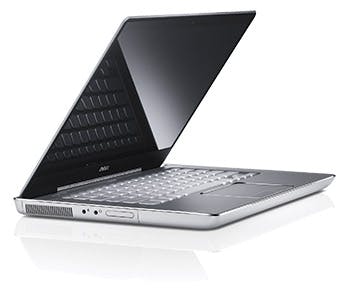 Hi-tech Help
Back in the day, if you wanted to make your route more efficient, you had to pull out a map and plot it out yourself. Luckily, those days are gone. Manufacturers like RB Control Systems and Zodiac offer software and online applications exclusively for service pros that not only help with route optimization, but also scheduling and record management. And as a bonus, these applications can be used on a desktop, smartphone or tablet, so you can stay connected no matter where you are.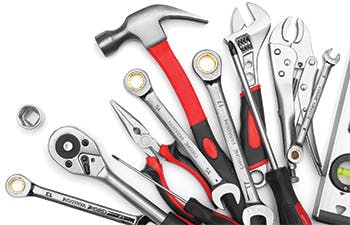 The Go-Kit
"In my quest for efficiency, I found that lugging around a full on socket set, wrench set, pliers, etc., was slowing me down. On a super busy week, I decided to take notes on what tools I used the most. With that list I put together a small bag of tools that I can carry in one hand. It has my most common sockets, pliers, screwdrivers, wrenches and so on. So far it has been much easier to carry around and in turn has made my repairs faster."
— Michael Rodarte
The All-in-One Tool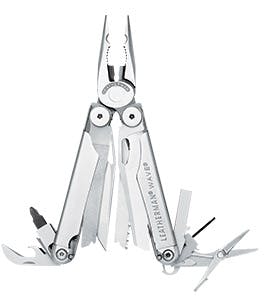 The Leatherman Wave. www.leatherman.com
"I have a Leatherman pocket tool — they're little metal things that unfold like a transformer; they turn into pliers, the handle is hollowed out so you can have screwdrivers or knives or files in the handle. They're not ideal for major repairs, but if you're on a jobsite, something's leaking and you need a screwdriver, you can slip one out of your pocket, turn, turn, turn, and the leak stops. You don't have to walk back to the truck, and it saves a lot of time."
— Bob Foutz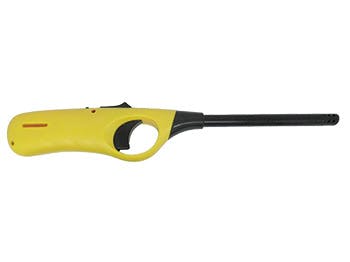 Light it Up
"Always carry a lighter to check proper temperature probe function. A little heat on those bad boys and you'll know immediately if they are working properly or not. Conversely, a handful of snow works well in the other direction."
— Dan Stebner
Cart it Away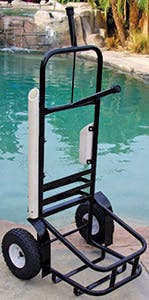 Powder Coated Steel Service Cart, Advantage Manufacturing.
"I do a lot of apartments and condominiums, and sometimes the pool is in the center of the property and my truck is in another zip code," Foutz says. Even if your truck is in the driveway and the pool is in the backyard, the time you spend making trips to and from the truck means you're at the job longer. When you can, try a pool cart — as the name implies, they cart around anything from filters and hoses to skimmers and chemicals. Better still, many can be customized with accessories that organize your tools in a way that works best for you.
What tips and tricks have you discovered while on the job? Comment with your ideas or email cailley@aquamagazine.com.