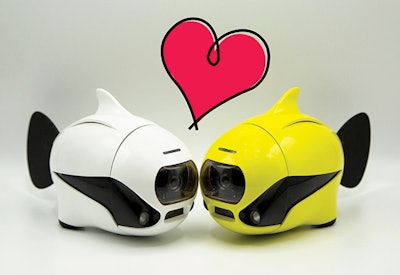 If you're looking for an underwater robot, it doesn't get much cuter than BIKI, a fish-shaped underwater drone that propels itself with a fin.
BIKI's features include an internal balancer, a 4K HD camera and wireless connection to a mobile device, where it can live-stream camera footage. BIKI can be remotely controlled, or it can swim around on a pre-planned route, making it a fun toy for children to chase in a backyard pool.
RELATED: This Household Robot Cleans Your Grill
BIKI can swim in just about any environment, from a backyard pool to the ocean, and can dive up to 200 feet. It's equipped with a GPS, so if it loses wireless connection, BIKI will return to the spot where it was placed in the water so it won't be lost.
Designed by Chinese company Robosea, BIKI launched on Kickstarter May 2017 with a funding goal of $20,000, which was met 10 hours after launch. Robosea was an honoree at the CES 2018 Innovation Awards for BIKI. It shipped to Kickstarter backers in January and is currently available on Amazon.