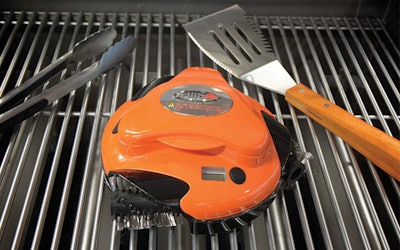 Robotic assistants for the home have been a fixture for quite some time now. It's only natural, then, that a robotic assistant would make its way to the backyard.
Enter Grillbot, a tool that, as its name suggests, cleans your grill so you don't have to. In other words, a Roomba for the grill.
Grillbot is equipped with a timer, so you can tell it how long to clean, and an alarm, so it can tell you when it's done. It also works on both hot and cold surfaces, so it can clean a hot grill surface while you enjoy your meal.
With a weather-proof carry case, replaceable scrubbers and a rechargeable lithium ion battery, it's a handy tool for grillers of all sorts.
RELATED: Up in Your Grill — The Basics of Selling Grills