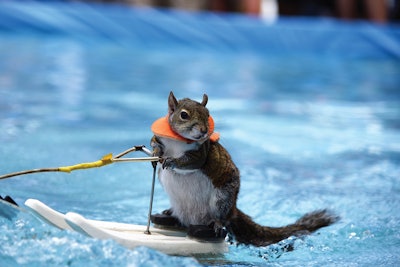 Photo courtesy Florida Chuck / Shutterstock.com
The year is winding down and a dozen or more industry events are sitting there on the calendar. Are you ready to take advantage of the chance to improve yourself and your business?
If your first thought when I said "trade show" was of manufacturer-branded beer koozies and free mints, then this column is for you. Don't get me wrong, schwag is great, I won't deny it, but do you really need 47 pens with different company names on them? I'm not saying skip the goodies altogether; I'm just saying grab the schwag strategically as you focus on other, more important goals. What goals, you ask? I'm talking about LASE (Learn, Attend, Strengthen, Expose) goals that will improve your business and you, as a professional.
In fact, I'll take it a step further, and you may not like hearing what I have to say, but if you go to a trade show and all you do is roam up and down aisles collecting tchotchkes — that doesn't count as going to a trade show. All you've done there is diminish the value of the trade show opportunity into a Dollar General shopping spree.
Harsh? Maybe, but to understand where I'm coming from, you have to understand swimming pool trade events, how they have evolved, and why you should care. Pre-pandemic shows were mainly about the haggling between manufacturers and pool company owners looking to secure the best pricing for the upcoming season, early buys, and 'try me' programs. If you never noticed that, you probably had your head stuck in the schwag bag. Yes, there was always education and networking, and some shows did a much better job promoting that than others, but none of them had the focus on increasing your industry acumen as they do today.
Of course, exhibitors still want to "hi and bye" the tire kickers, generate leads (hoping for a white whale), and gain greater product inclusion among existing clientele. However, attendees like yourself have had a significant shift in wants and have begun seeking more of a one-of-a-kind experience. This makes attending a 'Pool Con' right now the best time to do so. You have let your inner philomath show, and some trade show organizers, such as the folks at AQUA Magazine, have taken notice. Their events now have an amplified focus on providing higher-quality industry education.
In case I haven't made it clear, the trade show is all about you, but to take advantage requires you to do some homework. But don't worry, it's nothing too in-depth. Besides, I got your six. I'm gonna create a cheat sheet.
First of all, don't pick your trade show purely because of its location. That should NOT be the only driving factor in deciding which show(s) you'll attend. Yes, saving money is a damned fine reason to hit the local show, but don't discount the expositions that occur out of state, even if it's just because you always wanted to visit the host city.
The goal is ROI (return on investment); quite often, you'll see the added expense of a hotel and airfare paid back tenfold. With five or six major pool industry conventions each year and dozens upon dozens of regional and tabletop events, it makes choosing a little more challenging.
Don't axe the regional shows and tabletops from your list! I've been to many of these, and they offer a different vibe and a more 'hometown' feel to the event as a whole — and sometimes a better education lineup. I've also been to several that have been a total cluster duck. That's why it's always good to listen to the recommendations of pool people you know who have been to some of these.
Once you've narrowed your choices to a handful, go online and have a closer look at the education section for each one. I'm not going to lie. I never went to the education section first while coming up in this industry. I went to the list of exhibitors, thinking, "Is there anyone I should say hello to? Are there any new products I have been wanting to see?" I'd then compare that to the exhibitor lists of the other shows I was looking at, and then I would do the same with the educational sessions. Now I do this in reverse, and prioritize the education.
Determine which show has the classes you wish to attend, the speakers you would like to hear speak, the most booths you want to visit and the people you would like to see.
Now, grab that floor plan (print it out) and a package of highlighters! Take the list of exhibitors and prioritize them using a specific color for the 'Must see,' 'It would be nice to see,' and 'If I have time, I'll see.' After that, highlight the booths on the map where these exhibitors are located using the same color designation. Now, we do the same with the education schedule for the event. 'Must go,' 'It would be nice to go,' and 'If I have time, I'll go.'
The average conference in the industry is three to five days long, with the exposition hall open for specified hours on the final two to two-and-a-half days. The days before the expo are for pre-conference education sessions. The average trade show attendee spends 8.3 hours visiting booths and displays (Trade Show News Network). I could not find statistics on how much time an attendee spends in classes, but it is likely in the same neighborhood. Time will pass quickly, but if we focus on creating and sticking to that LASE strategy, you should, at a minimum, be able to:
Learn two to three new skills and two new technologies:
Swimming pool trade shows offer opportunities to learn water chemistry, pool repair, and customer service. This can be a great way to stay up-to-date on industry standards and best practices. These expos are the place to learn the latest technologies in the pool industry. This includes new products, such as automation, AI, robotic cleaners, and new techniques, such as using drones to inspect pools.
Attend at least one industry research session and one networking event:
Get insights into the latest advancements in pool technology, water treatment methods, safety practices, customer preferences, and other relevant topics. This knowledge can ultimately contribute to the success and growth of your pool service business. Connect with other professionals in the pool industry. Engage in conversations with fellow attendees, exhibitors and presenters. This can help you gain insights, share experiences, and learn about new approaches you haven't encountered before. They are a great way to meet new people and develop relationships that help you get advice, support and referrals.
Strengthen relationships with all your current vendors:
This can help you get better service and support, and it can also help you get ahead of the competition. New products may offer increased efficiency, improved performance, or enhanced features compared to existing solutions. Exploring these offerings can help you identify tools and technologies that streamline your processes. It's okay to reach out beforehand to set an appointment if you think that will help you manage your time more effectively. Your rep may even surprise you with an offer to grab dinner — take it!
Expose yourself to two to three new products: New stuff always hits the market.
The conference exposition hall is your opportunity to play 'Shark Tank' by listening to presentations and deciding if you will be an investor (well, maybe a customer is a better way to look at it). Regardless, you'll get to see some cool new gadgets.
Getting the Most Out of a Trade Show Means Coming Prepared
Bring all necessary materials to do calculations and take notes. This will help you remember the information taught in the class and specific, noteworthy topics discussed at exhibitor booths. Don't forget your business cards!
Bring a wing-man/woman. Bringing a friend to the show offers many benefits and makes the event more enjoyable. You can discuss the presentations and products you see and gain different perspectives and insights. If you can, attend more booths and education, you'll have the ability to divide and conquer. Most importantly, hitting the show with the buddy system can help to lessen the feeling of information overload because you'll be able to debrief and process the event together. This increases your ability to retain information.
Develop an elevator pitch: This involves crafting a concise and compelling message that quickly conveys who you are, what you do, and why it matters. The name "elevator pitch" suggests that you should be able to deliver your pitch in the time it takes for an elevator ride, typically around 30 seconds to one minute.
Don't be afraid to ask questions. You gotta speak up if you don't understand something. Practice what you learn. The best way to learn a new skill is to practice it. Learning a new skill takes time and effort. Don't get discouraged if you don't master the skill right away. Wear comfortable shoes, bring cash to buy lunch, and I'll see you at the show!