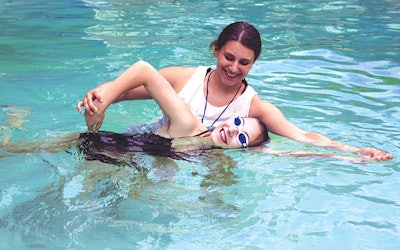 When Diana Goodwin first took swim lessons as a kid, she hated it. "I would sit on the edge of the pool and refused to get in the water," she recalls. "At first it seemed like I was a hopeless case." Her parents didn't give up and decided to give private lessons a try. "That was all I needed, just a little one-on-one instruction so I could gain confidence."
At the end of her first private lesson, the instructor threw Goodwin in the water in front of her parents. "I popped right back up swam back to the edge. From then on I've loved the water," she says.
As a teen, Goodwin worked as an instructor at a local community pool. Again, the setting challenged her. "I had about eight kids every half hour and it was tough. You had kids that were doing well and those that needed more attention. That was impossible in a big class and I saw the hit it would take on their confidence."
RELATED: Defeating the Fear of Swimming
At 19 years old, she started her own company, Swim For Life, providing swim lessons in people's homes and in her own home. That was the beginning of what would become AquaMobile, which she launched in 2012.
"After college I was working in management consulting but had burned out," she explains. "That's when I realized I had this business model in front of me, but hadn't paid much attention to it. That was when I decided to focus on what would become AquaMobile and do it on a large scale. I spent a year working on my MBA and developing a business plan. In 2012, I started the expansion throughout Canada and the U.S."
Based in Toronto, Goodwin's hometown, with U.S. headquarters in Deerfield Beach, Fla., AquaMobile now has more than 2,000 instructors on its roster, each of whom go directly to their clients' homes for private swimming lessons. In that respect, AquaMobile has been described as "the Uber of swim lessons."
In addition to the online-based platform, Goodwin believes the nature of both one-on-one instruction and the in-home, private setting are keys to the company's success.
"With kids, oftentimes they just need one-on-one time where they can progress and get that confidence boost. With adults it's often about the setting and comfort level," she explains. "Oftentimes adults are overcoming a fear from something that happened to them in the past. Many feel more comfortable overcoming that fear in a private setting instead of a public pool with other people splashing around."
For as far and wide as AquaMobile has spread, Goodwin doesn't lose sight of the fact that her life experiences in the water set the foundation for the company's considerable success. "It's all about confidence," she says. "With swimming, that confidence you gain in the pool will permeate into other parts of your life. I see how much I gained from learning to swim and I want other people to have that as well."