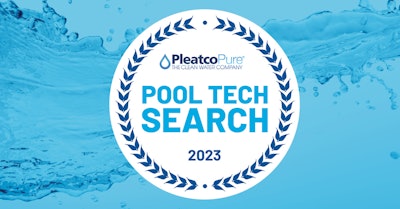 The next few days mark your last chance to earn a place among the greats: Nominations for the 2023 Pleatco Pool Tech Search must be turned in by 11:59 p.m. on Friday, October 27.
After its foundation in 2008, the Pleatco Pool Tech (formerly PoolGuy and PoolGal) Search has grown into a serious nationwide event. Industry professionals and homeowners alike can nominate anyone — from a seasoned pool veteran to an enthusiastic newcomer — for the prestigious award.

It's easy to enter. Simply complete the following steps:
Fill out the online form here and upload a good photo.
Tell Pleatco your story, in a minimum of 50 words.
Upload a video (optional, but strongly recommended).
Why enter? Take this previous winner's word for it:
"I am completely honored to receive this recognition for my hard work in an industry that is more than my job but my passion!" says 2022 Pleatco Pool Tech Winner Fred Goss of North Charleston, S.C. "In my pursuit for continued education and knowledge in the pool field, I've had the pleasure of meeting so many amazing people, and to have the opportunity to represent this community is something I will forever be proud of and grateful for."