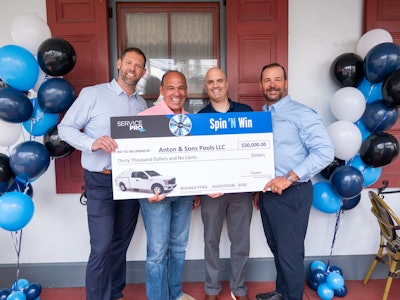 Fluidra North America, a leading manufacturer and distributor of innovative pool and wellness solutions, is thrilled to announce Philadelphia's own Anton & Sons Pool LLC as the winner of its highly anticipated ServicePro Rewards Program Spin N' Win Truck Raffle.
Each year, Fluidra awards the winner $30,000 towards a vehicle of their choice and provides a free truck wrap with the company's branding to assist with promotional outreach.
The raffle, which was first introduced as part of the ServicePro Rewards Program seven years ago, was designed to reward service professionals in the program for their ongoing loyalty and commitment to Fluidra brand products. Combined, the raffle has resulted in over $4 million cash prizes awarded to its members in that time.
"I thought it was just a marketing gimmick; I didn't really expect it," says Tom Anton of Anton & Sons Pools LLC. "It's an awesome gift and truly appreciated. We're a small company with seven trucks in our fleet and they get a great amount of use, so this will definitely come in handy."
"We couldn't be happier for Anton & Sons Pools," says Donny Cislo, sr. director of sales ops and trade marketing. "Their unwavering commitment and dedication to our industry and their customers embody the very essence of why we do this raffle — they deserve this."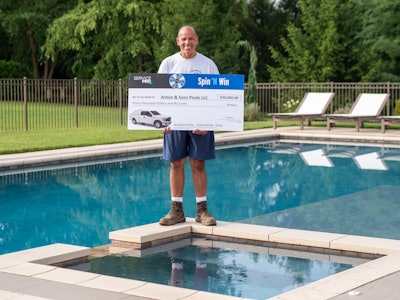 This year, the winning raffle ticket was drawn by David Van Brunt, host of the popular Pool Guy Podcast, adding an exciting layer of anticipation and celebration to the event. David's influential voice within the industry and his dedication to promoting excellence in pool service align perfectly with Fluidra's values.
"We were thrilled to have David join us to pull the winning ticket," comments Cislo. "As a respected service professional himself who has dedicated more than 30 years to our industry, it seemed fitting that he help us call out the well-deserving recipient of this year's raffle."
The annual Spin N' Win Truck Raffle is part of Fluidra's ServicePro Rewards Program — a comprehensive program designed specifically for pool service professionals to maximize their benefits based on how they do business. These benefits help save time and money while providing valuable resources pool service companies can utilize to grow their business.
When pool professionals join the ServicePro program they not only get cash back on purchases of Jandy, Polaris, Zodiac, CMP and select S.R.Smith products, they also get access to exclusive training opportunities, customer leads, cutting-edge marketing resources, industry-specific business management software, and customized promotions on Fluidra brand products. ServicePro members also receive extended limited warranties on all products — ensuring customer satisfaction while allowing them to remain competitive in the market.
For more information about the ServicePro Rewards Program visit https://www.fluidrarewards.com/en/servicepro and to learn more about Anton & Sons Pool LLC's journey, please visit https://youtu.be/46KMnd1fZdw.