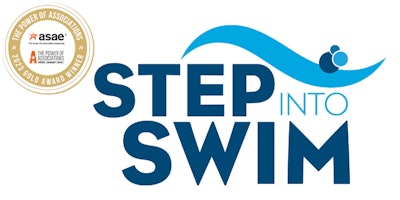 The Pool & Hot Tub Alliance (PHTA) earned a Power of Associations Gold Award from the American Society of Association Executives (ASAE) for its successful Step Into Swim initiative.
Step Into Swim is committed to creating more swimmers and raising awareness of the lifesaving skill of learning to swim. Step Into Swim provides grants to learn-to-swim providers across the country, including community organizations, parks and recreation departments, YMCAs, Boys & Girls Clubs, and more, to give children in underserved communities free or reduced-cost access to swim lessons. Grants are funded through donations made by PHTA members leaders in the pool, spa and hot tub industry who are dedicated to reducing childhood drowning in the communities they serve and who are passionate about providing safe swim education to all children.
Since 2012, Step Into Swim has funded swimming lessons for more than 300,000 children in almost all 50 states. 2022 was a record year, with $750,000 raised by more than 30 industry donors, which helped 23,500 children participate in swim lessons through more than 60 aquatics facilities.
"Congratulations to the Pool & Hot Tub Alliance for exemplifying the impact associations have on the industries and professions they represent, and on society at large," says ASAE President and CEO Michelle Mason, FASAE, CAE. "It's always so incredibly satisfying to see associations going above and beyond their everyday mission to change the world. We're very proud to spotlight this award-winning initiative."
"We are truly honored to receive the ASAE Power of Associations Gold Award for Step Into Swim," says PHTA President and CEO Sabeena Hickman, CAE. "This lifesaving program could not have the reach it has without the support of our amazing member companies, the Step Into Swim Champions Board and the PHTA Board of Directors. As pool, spa and hot tub industry professionals, drowning prevention is a cause we all can get behind."
"Drowning is more than a public health issue; it is an epidemic," says Olympic Gold Medalist Rowdy Gaines, PHTA vice president of partnerships and development, who runs the Step Into Swim initiative. "But we know the cure — swimming lessons. Learning to swim from a qualified instructor reduces the risk of drowning by 88% among children ages 1 to 4. PHTA is proud to have such strong member engagement with Step Into Swim."
To learn more about Step Into Swim and how to get involved, visit stepintoswim.org.