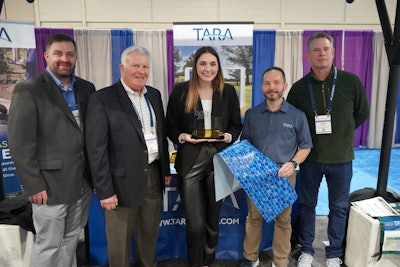 Tara Pool & Outdoor Products is pleased to announce their exclusive pattern, Cobalt, is the winner of the 2022 Golden Cylinder Award from the GAA (Gravure AIMCAL Alliance). The Golden Cylinder award is an annual recognition for various gravure operators most creative and highest-quality gravure print projects throughout the Americas.
Cobalt won the vinyl substrates product category. Continental Pool Liners produced the pattern, and the design resulted from a collaboration between Tara and the designer from Continental, Allison Jaggers. The Cobalt pattern is a unique design featuring circular tiles. The tiles are highlighted with iridescent gold streaks that create a stunning effect in the sunlight.
"Our goal in the design of Cobalt was to create a dynamic pattern to look at and inviting to touch and engage with," says Thomas Kennedy, marketing director for Tara. "We found inspiration images that we gave to Allison, and she took those ideas and transformed them into a magical design. We are very pleased with the result. It's the first time one of our exclusive patterns has won such a prestigious award."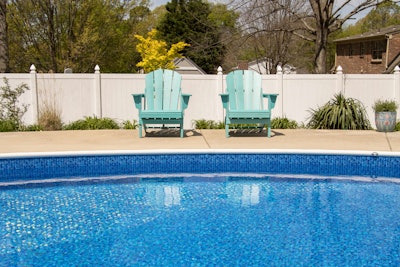 This is the second year in a row that Allison has won this award. Her Seaglass pattern was the winner in 2021. "I'm so excited to share this award and recognition for my work," says Allison. "I took this pattern from concept to production, working closely with Tara to bring the vision to life, and feel incredibly honored to have won a second Golden Cylinder."
Designing for pool vinyl presents a unique challenge. The substrate has a high degree of flexibility, making it difficult to hold registration. However, the Cobalt has a tight register maintained throughout the wide sheet, giving the pattern rich detail. This design and execution of the pattern convinced the jury that Cobalt was a worthy award winner.