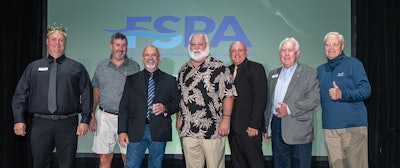 All photos courtesy FSPA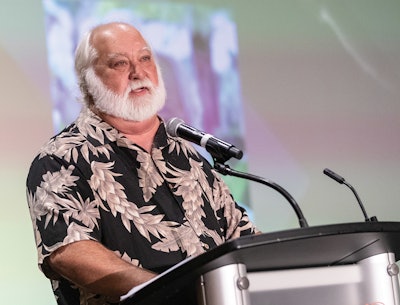 The Florida Swimming Pool Association (FSPA) recently welcomed John Garner, Sr. as the newest inductee into the FSPA Hall of Fame.
Garner is the proprietor of John Garner Pools, a family owned and operated company in Jacksonville, Fla., that has been in business for over three decades. He has been an active FSPA member since 2002.
During his time as a leader in the Northeast Florida Chapter, Garner has been president seven times — and he served on the State Board Executive Committee for nine years, during two of which he was the FSPA Board President. As a state Board Director, Garner has been and remains active on the following committees and task forces: Government Affairs, Pool Industry Political Action Committee (PIPAC), Building Code Task Force, Builders Council, Commercial Council, Energy & Sustainability Task Force, and more. He has also served as a continuing education certified instructor for FSPA.
"John epitomizes dedication to our association," says Elizabeth McMurray, FSPA executive director. "He has made a huge impact on so many in this industry through his willingness to mentor others as much as he honed in on his own craft, and he continues to do both consistently. We are so grateful to have someone give FSPA this level of commitment to our success."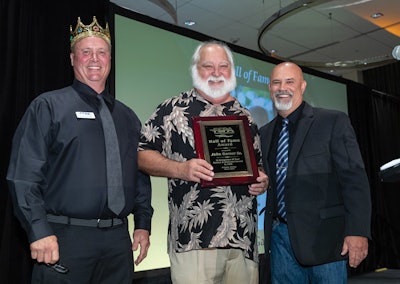 FSPA Hall of Fame recognition is bestowed to pool and spa professionals who have demonstrated their utmost commitment to the organization for a decade or longer. Inductees are trusted to provide exemplary service, go above and beyond the call of duty and serve as role models for future leaders during their tenure.
Garner received the Hall of Fame honor in front of a sold-out crowd at the Everything Under the Sun Expo in Orlando, Fla. The event, which began as a small tabletop event in 1972, has evolved into a trade show averaging over 200 exhibitors and 4,000-plus attendees each year. 2022 marked the Expo's 50th anniversary.
In his clear devotion to the FSPA, Garner continues to act as a mentor to other members, and is focused on the advancement of the swimming pool industry as a whole.
---
This article first appeared in the May 2022 issue of AQUA Magazine — the top resource for retailers, builders and service pros in the pool and spa industry. Subscriptions to the print magazine are free to all industry professionals. Click here to subscribe.