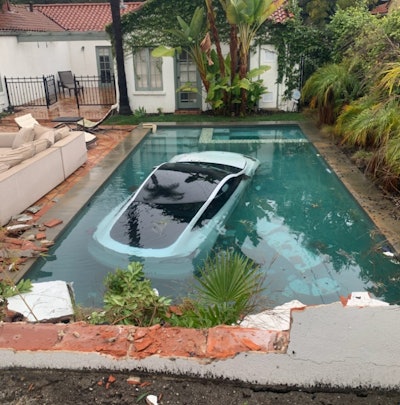 Photo Courtesy Pasadena Fire Department
Three people, including a 4-year-old child, were rescued on Tuesday January, 10, after a Tesla drove into a pool of a residential home.
Lisa Derderian, a public information officer for the city of Pasadena, said the driver of the vehicle hit the gas instead of the brakes due to the distracting weather at the time, causing the Tesla to go through a retaining wall and into the pool. Derderian said the three passengers were rescued within seconds by two staff members from the Pacific Oaks Children's School, which is located near the residence the incident occurred at.
The homeowners were at their residence at the time of the incident, which occurred around 9 a.m. They were unaware of what had happened, prompting one of the two staff members to dive into the pool and assist the vehicle's passengers before it began to submerge.
Following their rescue, the three passengers were evaluated on site by fire personnel, but luckily, did not require medical attention. Several hours later, a heavy tow vehicle was required to remove the Tesla from the pool.
A photo from the twitter feed of the Pasadena Fire Department detailed the aftermath of the incident, showing the white Tesla deeply submerged underwater in the pool with loose bricks surrounding it. The Pasadena Fire Department said in the social media post that "good samaritans jumped into the pool and rescued the occupants" and confirmed that both the Pasadena Police Department and the nearby school staff responded to the incident.
While Tuesday's event is believed to have been an accident, it is currently under further investigation by the Pasadena Police Department.