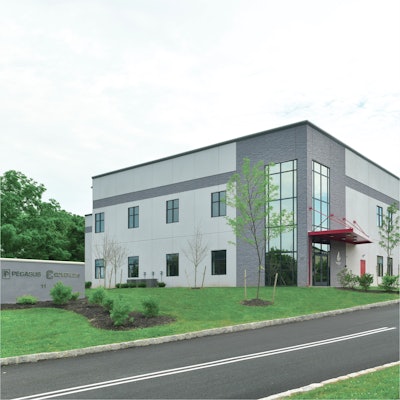 Pegasus Products
Back in 1982, Frank Patel — humble vinyl salesman, husband and father of three small children — had an idea about starting a business. To be accurate, the idea came from his boss who was about to retire. A grizzled veteran, with good intentions, goaded Frank to start a business of his own. Of course, it wasn't easy, bravado is great and determination is wonderful, but few vendors accept them as payment. Still, by living frugally, Patel was able to scrape together enough money to buy a vinyl heat sealing machine and put down the first month's rent in an 800-square-foot space — his first factory — and he was in business.
His first customer, Tom White of Monarch Pools, had been getting his vinyl liners from another company. Lead time and deliveries had been slow, and it was causing some problems. Patel saw an opportunity, and he went for it:
"I told Tom, 'Hey, I'll deliver to you very quickly.'"
"I didn't know you were in the business, Frank. Can you make liners?"
"I can try. If it doesn't work, don't pay me." That sounded like a good deal to Tom, so he ordered a liner on the spot. Patel dropped everything and went straight to his factory and made the liner, put it in his car and was back by noon:
"You're back that quick?"
"Yes, that quick. So give me some more orders."
"Nope, I'm gonna try this one out first."
Apparently, Patel's first liner, made quickly and under pressure, passed inspection. Tom was on the phone the next morning with more orders and Pegasus, the winged horse, was off the ground.
It was a competitive business then, as it is today, with manufacturers closely guarding their customer base and battling over market share. When one of the established vinyl companies' owners noticed the new kid on the block, Pegasus, he stopped by to notify Patel that his tiny factory and single machine was doomed.
"Years later, I bought some equipment at their bankruptcy sale," Patel says with a smile.
Before long, Pegasus had a steady customer base and had enough revenue coming in to buy a 12,000-square-foot building, which was expanded to 20,000 sq. ft. and then 30,000 sq. ft. Still, they ran out of room there and built a 50,000-square-foot factory on 11 acres of land. Patel added machines and employees to boost production to new heights. In 1990, the company diversified into safety covers, and in recent years, has added military contracts to their production.
Always thinking ahead, in 2005 Pegasus installed solar panels on the roof of its factory. As energy prices soared, and customers became more interested in buying from a sustainably powered company, the move proved more valuable with every year. "It's paid for itself many times over," Patel says. "Our electric bill was $3,000 per month before we put them in, and it dropped to $250 per month, and that was 17 years ago. They're still up on the roof, generating electricity every day."
Patel's daughters, Roshan and Shenaz, have been right there with Frank from the beginning, working together as a family to run the business and take care of customers. To this day, they are a family business in every sense of the word.
As the company celebrates its 40th anniversary, now with its place in the growing pool and spa industry secure, Patel remembers fondly the early days of struggle, when Pegasus was just a colt. "We didn't have anything at the beginning, but a few customers had faith in us and that really gave us our start."
A lifetime of work later, the Patels can feel proud of a thriving company created out of little more than family budget savings, determination and courage.