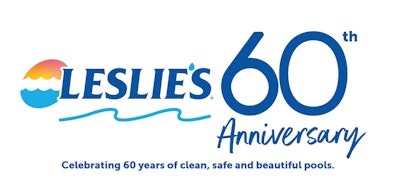 Leslie's is turning 60. In addition to celebrating six decades of success, the company also announced the opening of its 1,000th store, surpassing its 50-million water test milestone.
Leslie's was founded in 1963 by Phil Leslie Jr. in a single location in Los Angeles. The retailer has grown to a 1,000-store chain across 37 states, providing pool owners and professionals with everything they need to keep pools and spas clean, safe and beautiful. The company opened its 1,000th store last week in North Port, Fla.
"Leslie's has a well-earned reputation for superior customer service and high-quality products," the company says, "but its most valuable offering is expert pool and spa care advice from knowledgeable in-store team members and professional equipment installation and repair from more than 200 certified service technicians."
Helping pool owners achieve a clean, safe and beautiful pool is Leslie's top priority, and its proprietary AccuBlue in-store water test with customized treatment plan is an important part of that. Leslie's AccuBlue water test is a complimentary in-store service that takes 60 seconds to deliver a 10-point water test, a pool health score, and a corresponding treatment plan. The AccuBlue technology is a product of Leslie's 60 years of water test experience and the accumulated data from more than 50 million tests.
In addition to free water tests, Leslie's also offers:
Free in-store inspection and repair of pool equipment, such as pool cleaners.
Free Pool Perks Program – members receive 5% in rewards on all purchases and services, free shipping on lesliespool.com orders, extended warranties on select equipment, and exclusive offers and promotions.
Free advice from 3,500-plus knowledgeable associates, as well as helpful online resources.