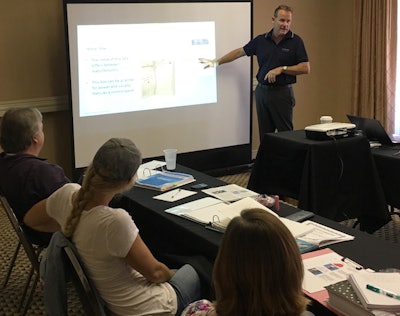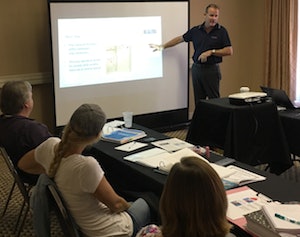 NSPF's certification program, the Advanced Service Technician Certification course, celebrated its first anniversary last month. The AST Certification course certified 53 students in its first year and will host an array of upcoming class locations throughout the country in the coming year.
AST Certification uses blended learning, where students complete the course with a mixture of classroom-based and online-based lessons. This allows students to learn at their own pace, on their own time, while also benefitting from interacting with peers in a classroom setting.
"Education assists in attracting new, young people to our industry, because the younger generations are very interested in advancement and what's next. They want to be trained, and the NSPF certifications assist in providing that training," says Darrel Doust, NSPF instructor and chief operating officer for Poolwerx.
Blended learning continues to grow in popularity. Through NSPF alone, this past training season saw 2,000 more online courses completed than the previous season.
"Before completing AST Certification, I had trouble explaining what I thought to be the problem with acid feeding at our university spa," says Cassie Honey, AST-certified assistant director of aquatics at Texas A&M University. "After completing the Advanced Service Technician training, I can communicate better with my service technicians and together we are troubleshooting the solution to a longstanding problem."