At the core of any pool and spa service is accurate water testing. "It always circles back to chemistry," writes chemistry expert Steve Kenny. "Testing is our eyes into the chemistry of the water we're managing."
But any service technician, whether veteran or novice, knows it's not always easy to keep pool and spa water perfectly balanced, and it's difficult to achieve accurate readings.
Luckily, top manufacturers have spent decades researching how to get it right. These water testing devices make it easier for service pros to achieve reliable results. From professional test kits to new monitoring technology, take a look at the products that are helping both pros and homeowners maintain crystal-clear water.
---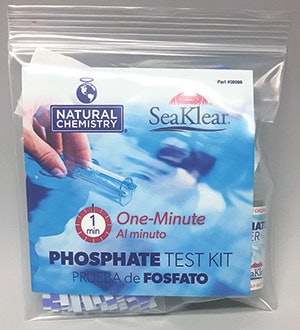 NC Brands
NC Brands is pleased to offer its dealers a free test kit designed to test for phosphates in pool water. The company understands the importance of knowing the phosphate level in pool water before choosing an NC Brands phosphate remover or determining the best course of action for water treatment. The custom test kit comes complete with a color chart, test tube vial and 100 tests for quick, accurate results. Qualifying dealers who purchase either Natural Chemistry or SeaKlear phosphate removers are eligible for the free test kit program. Simply email [email protected] or go to the website to fill out an online order form.
naturalchemistry.com | (800) 753-1233
---
RB Retail and Service Solutions
RB Water Lab Sync connects your point-of-sale software with industry-leading water testing software such as BioGuard ALEX Pro, LaMotte DataMate 10 and Home Port's the Wave. This powerful interface gives users the ability to look up past water test results directly from the point-of-sale software. It eliminates double-data entry into two systems and the need to interrupt your lab technician to view previous test results. View reports organized by your customer or employee to learn the profits earned and profits lost from water test printout sales. Contact RB Pool and Spa for an online demonstration.
rbpoolandspa.com | (866) 933-9099
---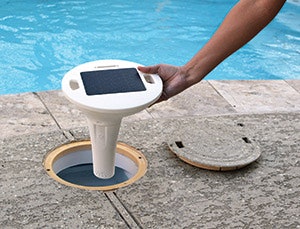 Keto A.I.
Keto is an innovative IoT hardware and software company that provides pool maintenance information backed by artificial intelligence. Its first hardware product, Plainck, is a smart skimmer cover plate that offers a new approach to monitoring water chemistry and water level. Due to its modular design, ability to fit all skimmers, direct connection to Wi-Fi and interactive features, users have real-time access to valuable water data to help avoid costly events. Plainck also uses a light bar that provides color feedback on pool water chemistry. It's designed for ease of installation with no pipe cutting and no base station, and includes solar charging for a true, wireless device.
keto-ai.com | (903) 392-6715
---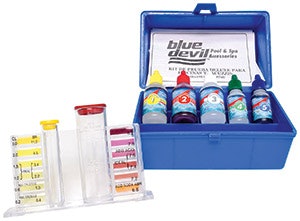 Blue Devil by Valterra Products
The Blue Devil 5-Way OTO Pool Water Test Kit tests chlorine/bromine, pH, alkalinity and acid demand levels. It includes testing vials with easy-to-read color charts attached. The instructions are compact and fit inside the kit for clear reference while testing. Keep supplies all together and organized with the sturdy plastic storage case.
valterra.com | (818) 898-1671
---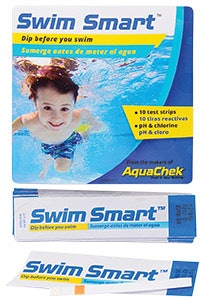 AquaChek
Every year, the Water Quality and Health Council (in partnership with the CDC) highlights the risks associated with public swimming pools through its award-winning Healthy Pools awareness initiative. In support of the 15th annual Healthy and Safe Swimming Week, AquaChek is proud to supply Swim Smart test trips for the free healthy swimming kit available on the council's website. Swim Smart, available for purchase on Amazon, is a quick, easy and travel-friendly way to test the pH and chlorine levels at hotels, waterparks and other public swimming facilities, helping swimmers stay safe and preventing the spread of RWIs.
swimsmarttest.com | (888) AquaChek
---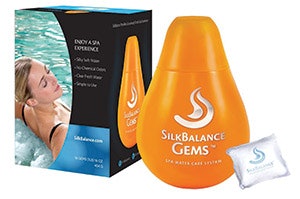 SilkBalance
Test water less often with SilkBalance Gems. The same trusted SilkBalance water conditioning formula that customers have enjoyed in their spas for more than a decade is now offered in a dissoluble gem format. These pre-measured packets keep pH and alkalinity balanced while neutralizing odors and leave the bather feeling silky and soft. Gems dissolve in seconds and work with all sanitizer systems, including salt.
silkbalance.com | (760) 567-0911
---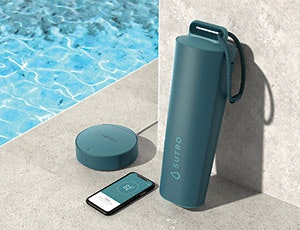 Sutro Connect
The Sutro Smart Monitor is a simple, safe and seamless way to manage pool or spa water with automatic monitoring and measurements that make sense. The Sutro app works with the Sutro Smart Monitor to easily measure pool and spa pH, free chlorine (ppm), alkalinity and temperature.
mysutro.com | (415) 501-0029
---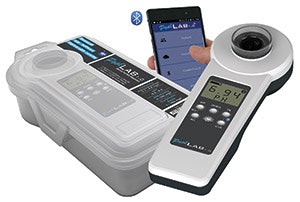 Water-i.d.
The new PoolLab 1.0 is a triple wavelength, IP68 waterproof photometer for pools and spas. A built-in but exchangeable cuvette allows quick water sampling. It is designed for instant access to all 11 water parameters. Bluetooth equipped, PoolLab connects to free software and an app, both synchronized via free PoolLab cloud. Reports and dosage recommendations, based on individual water treatment chemicals, can be created at the push of a button.
water-id.com | +497217820290
---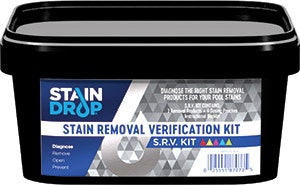 Pool Stain Drop
The Stain Drop Stain Removal Verification Test Kit uses four topical (pool surface) tests using three proven stain-removing products to determine the correct product(s) to remove the pool stain. It allows pool professionals and pool owners to verify the correct treatment needed for a particular pool stain without the guesswork. Each S.R.V. Kit contains three packets of three powerful stain removers and six dosing pouches (for wall or deep water stains). The package comes complete with a detailed instructional booklet.
poolstaindrop.com | (800) 333-0400
---
Industrial Test Systems
The eXact iDip Pool Professional Test Kit from ITS is the latest generation test kit that combines two state-of-the-art water quality test instruments. The first is the Level 1 NSF/ANSI-50 Certified eXact iDip Smart Photometer System, which integrates patented two-way wireless communication with any compatible iOS or Android smart device and has the potential to test over 40 water parameters. The second is the new eXact pH+ Smart Meter system, which capitalizes on electrochemistry technology combined with Bluetooth connectivity. This pre-configured kit comes with what's needed to start testing patented reagents and two meters (the eXact iDip photometer and eXact pH+ meter). Packed in a rugged and durable plastic case with secure closing fasteners and padded compartments, the kit offers poolside lab quality results in the palm of your hand at a fraction of the cost, the company says.
sensafe.com | (800) 861-9712
---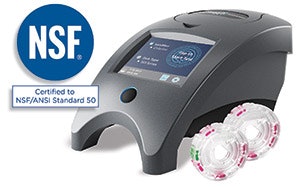 LaMotte Company
LaMotte Company recently received NSF/ANSI 50 certification level L1 on the WaterLink SpinTouch water analyzer designed for pool operators, service professionals and retailers. The WaterLink SpinTouch uses patented centrifugal fluidics photometry to measure up to 10 different tests in only 60 seconds. All test results can be viewed on the full-color touchscreen display or transferred into the LaMotte water analysis software program.
waterlinkspintouch.com | (800) 344-3100
---
Taylor Technologies
Pool owners and service professionals alike will find Taylor's new line of test strips to be both accurate and convenient, the company says. The strips have been engineered for accuracy and are a great option for low-cost testing. Simple directions prove approachable to novice users and results are ready in seconds. With superb color differentiation, it's easy to discern the correct value when color matching. Those looking to save time and money should have these strips in their testing arsenal. Pool, Spa, 7-Way, Service Pro, Borate and Salt test strips are available.
taylortechnologies.com | (800) 837-8548
---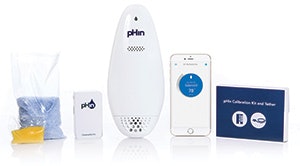 ConnectedYard
a Hayward Industries company

pHin simplifies pool and hot tub maintenance to keep water safe, healthy and clear. pHin continuously monitors pH, sanitizer and temperature 24/7 and notifies customers via mobile app when they need to take action. The pHin algorithm interprets the results to give customers better water quality readings so that they add the right amount of chemicals to their pool or hot tub. It also has tools for pool retailers, service techs and builders to help them monitor pools and hot tubs remotely. It works with all pools, hot tubs and swim spas, including chlorine, salt, bromine and other popular methods of sanitizing water. 
phin.co | (844) 755-7665