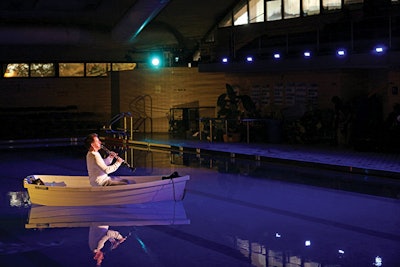 In Ricky Gordon's opera, Orpheus and Euridice, the protagonists must cross the river Styx — the traditional boundary of the underworld. To give the audience a true sense of this legendary watercourse, the Chicago Opera Theater turned to the 140,000-gallon Eckhart Park Pool to create one of the most unusual stages for high culture in the country.
Orpheus and Euridice tells the classic story of Orpheus, a talented musician, and his beloved wife, Eurydice. When Eurydice suddenly dies, Orpheus ventures down into the Underworld to rescue her. But, of course, there's a catch: While bringing her back to the land of the living, he must walk ahead of her and never look back. Just shy of the threshold between both worlds, Orpheus worries his beloved is no longer behind him and turns around — sending Eurydice back to the Underworld.
Actors performed on the pool deck and in boats, and special lighting and effects like fog machines were employed to transform the pool into the hellish River Styx and other settings in the performance.
The opera was so popular, extra performances were added at the Welles Park Pool, where advance tickets sold out in just three hours.