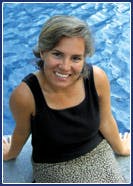 I just learned the latest information on implementation of the Virginia Graeme Baker Pool and Spa Safety Act directly from Scott Wolfson, the Deputy Director of Public Affairs for the Consumer Product Safety Commission, and attorney Shawn DeRosa of DeRosa Aquatic Consulting. I think it's fair to say that there's no better source of information on VGB available anywhere, and the 1,350 pool and spa professionals [many of them watching along with co-workers and colleagues] who learned along with me can consider themselves among those best informed on this far-reaching piece of legislation.
We were able to have this unprecedented access to Wolfson and DeRosa thanks to the first free AQUA webinar. A webinar is pretty much just what it sounds like: It's a seminar delivered live over the Web, and that's how we were able to bring 1,350 people together to get this vital information.
As you no doubt know, the VGB federal safety act went into effect in December 2008 and is now enforceable by the CPSC. We learned from Wolfson that the CPSC's enforcement priorities vis-à-vis the act are vessels that pose the greatest entrapment risks for young children-wading pools, kiddy pools and in-ground spas - especially those with single main-drain systems and flat drain grates. We heard legal opinion on the consequences of noncompliance from DeRosa. The two experts also addressed conflicts between state health codes and the federal requirements, described how a field-built drain can be certified compliant and answered questions from the webinar audience.
AQUA's parent company, Athletic Business Publications, Inc., has invested in webinar technology and we have plans to deliver additional webinars on vital topics in the future. It's another way that we can provide you, our readers, with the information that you need to be successful.
If you missed the Jan. 13 live webinar, don't fret! We recorded it and posted it at our Web site, along with answers to more than 500 questions from webinar attendees. I'd be interested to know what you think and how the Act has impacted your business, so drop me a line once you've listened to the presentation.