Clean & Green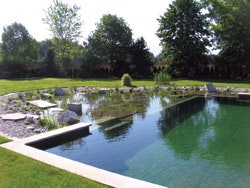 If all green products did was save our planet, they woldn't be so darn popular. Fortunately for Mother Earth, eco-friendly practices can make fiscal sense, as well. In 2008, American consumers doubled their spending on sustainable products and services to an estimated $500 billion, according to a survey of more than 1,000 people by Penn Schoen Berland Associates, a market research firm that studies the green economy.
Read more about green sanitizers.
ABC News Report Cites Unsafe Drains
A recent ABC News report warns that millions of drain covers in commercial and residential swimming pools were incorrectly tested and could result in injuries or death. The report, which was based on a confidential industry study the network obtained from an anonymous source, called out three brands specifically - AquaStar, Paramount and AFRAS. The results of earlier tests on drains manufactured by the three companies were deemed "unreliable" by the ANSI, according to the report.
ANSI supervised a re-test of the drains, the results of which, the report claimed, were at odds with the original published results.
Upon learning of the report, AquaStar voluntarily pulled its LP8AV low-profile drain from shelves.
"We said, 'Let's take it off the market and improve it and exceed the standard,'" AquaStar cofounder Wade Arens told ABC News, adding that he didn't believe the drain used in the re-test was properly installed.
The recall was limited to dealers and the distribution network; installed AquaStar drain were not included.
According to Paul Pennington, president of the Pool Safety Council and of Vac-Alert, which makes vacuum relief devices, the exclusion of drain covers in service was inadequate and that a nationwide recall of the cover was in order.
The other manufacturers cited in the yet-unpublished report have not issued recalls.
CVC Capital Partners To Invest In Leslie's
Leslie's and CVC Capital Partners recently announced that they have reached a definitive agreement, and CVC will invest in the company. According to CVC, existing equity holders will maintain ownership stakes in Leslie's, however terms of the transaction were not disclosed.
"We are delighted to have CVC as a partner as we enter the next phase of our company's growth," says Larry Hayward, Chairman and CEO of Leslie's. "A global leader in the private equity community, CVC has a very deep capital base, a long history of supporting leading businesses around the world, and significant expertise in the retail sector.
"Our entire management team is also excited to maintain a large ownership stake in our business and to continue our terrific relationship with our existing partners at Leonard Green."
"Leslie's is a very well-positioned business with a long history of sustained growth and remarkable consistent performance across economic environments," says Chris Stadler, managing partner at CVC. "We are delighted to add such a high quality business to our portfolio of U.S. investments, and to back Larry Hayward and the rest of Leslie's exceptional management team."
Swimming Pool Service Franchise Sees Dramatic Growth
A Georgia-based pool and spa service franchise has been named one of the fastest-growing private companies in America in the September 2010 issue of Inc. 500/5000 Magazine.
With new units modeled on a flagship service store started in 2002 in Macon, Ga., ASP Franchising, the parent company to ASP Pool and Spa Company, has experienced explosive growth since its founding in January 2006. The franchises emphasize repair, maintenance and renovation of residential and commercial swimming pools.
The company's goal of achieving 25 locations in 2009 was easily surpassed and by year's end it had 34 locations serving customers in five states. Such growth reflects the continued strength of the service sector of the pool industry, notes Stewart Vernon, President and Chief Executive Officer. "We are able to achieve a continued rise in sales year after year among our franchise locations. The service sector, even in the worst of economic times, is always going to have a strong demand," he says.
Since Vernon opened the original location in 2002, ASP Pool and Spa Company has now established franchises in Georgia, Florida, Alabama, Tennessee, North Carolina, South Carolina and Texas. Currently it has 56 franchise locations serving customers in 109 cities throughout the Southeast.
Call For Entries to the 2011 AQUA Choice Awards

Pool builders are now submitting entries for the 2011 AQUA Choice Awards, an annual competition that recognizes the most beautiful, challenging and intriguing pool projects. A panel of industry experts will judge entries, and winners will be showcased in AQUA Magazine and presented in a gallery on the AQUA Website. Entry deadline is Oct. 1. For more information go to www.aquamagazine.com or call Scott Webb 800/7228764 ext. 124.