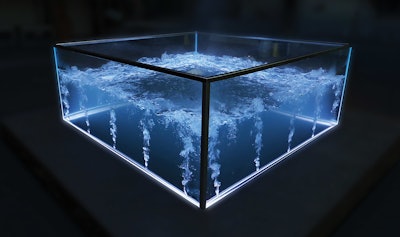 Photos courtesy ASB GlassFloor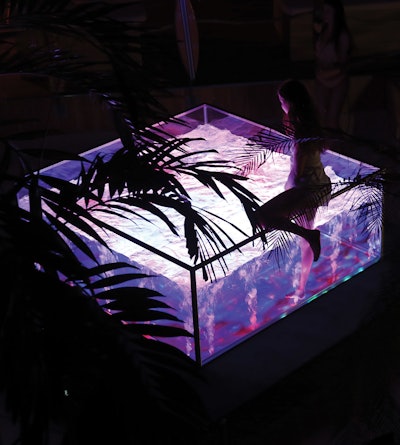 Thanks to the innovations of a German design firm, you can now own the world's first all-glass hot tub model — complete with a customizable LED lighting system.
ASB GlassFloor, a German manufacturer known for their glass sports floors, partnered with French industrial design firm Pooloop in 2018 to develop LED floors for swimming pools. This collaboration led to the creation of the ASB Nautilus, a hot tub made entirely out of safety glass with stainless steel corners. By day, the unique piece blends in harmoniously with its surroundings — but at night, its stunning LED system becomes a showstopper.
The ASB Nautilus is available in three different models. The company's most basic offering has an LED rail under the floor to create color accents. A second, upgraded version features a completely illuminated floor for more impressive color effects, while the most advanced model can even display a user's own choice of images. "Family pictures, underwater shots, whatever you feel like. The content can easily be controlled via an app," explains Christof Babinsky, managing director of ASB.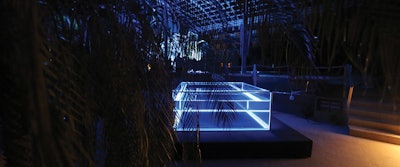 Designed for ease and flexibility of installation, the Nautilus model is delivered in one piece and requires less than an hour of set-up time. Each glass hot tub comes with an insulated cover and a waterproof heating system. A step on each side of the structure functions to conceal the lighting mechanism and other equipment below the tub.
Looking closer, one may notice that the Nautilus doesn't feature seats or benches. This was designed intentionally: "We believe that the concept of limiting the user to preset seating configurations takes away from the experience Nautilus is designed to provide," the company says. "[This is] an experience much closer to the Japanese Onsen culture, where one floats in hot water admiring the view and relaxing the weary body along the way. It is a ritual of indulgence and immersiveness."
---
This article first appeared in the May 2022 issue of AQUA Magazine — the top resource for retailers, builders and service pros in the pool and spa industry. Subscriptions to the print magazine are free to all industry professionals. Click here to subscribe.