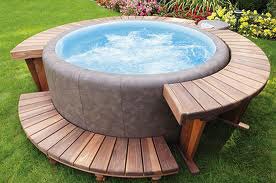 This year Softub, Inc., celebrates its 25th year providing lightweight, full-featured 120-volt portable hot tubs. Originally founded in a small shop in Los Angeles, Calif, Softub, Inc., now has factories on both coasts of the United States, distribution in 50 states and over 30 countries, and it pioneered the soft-sided hot tub that heats without a heater.
Tom Thornbury, owner and one of the original founders, attributes this great success to Softub's breakthrough product concept and the devotion and diligence of hundreds of talented, dedicated employees, dealers and distributors.
Softub says it ushered in a new era of relaxation and developed a reputation as a pioneer in a niche market. Softub introduced the industry to a go-anywhere spa that was efficient and affordable, with features and technological advances that made it comfortable, safe, and inexpensive to operate. In fact, Softub says it was "green" before being green was fashionable. Inside Softub Spas' deceptively simple appearance is a great deal of technological innovation, including its ingenious heat recovery system that keeps water at an ideal temperature using only a standard 120v outlet.
Today, Softub says it still enjoys record-breaking growth across the United States and around the world.