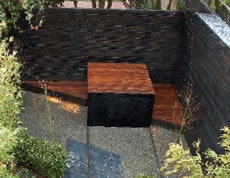 Seeking to transform a typical 25-by-50-foot backyard into a soothing garden retreat, Surfacedesign, a landscape architecture firm in San Francisco, had only two requests from the client: a hot tub and an easy-to-maintain space.
To maximize square footage, Surfacedesign organized the garden into three zones. First, a stone patio terrace off the rear of the house serves as a place for outdoor dining. Next, a path of black slate parallelogram stones helps define the middle zone, which also has a 20-foot-tall grove of bamboo underplanted with a dense carpet of mondo grass and an assortment of self-naturalizing spring flowering bulbs.
The third zone contains the hot tub, encased in an 8-foot-square, steel-framed cover made of ecosourced ipe. The manually moveable cover slides along stainless-steel tracks to become a spaside deck, and then can easily be pushed further along the 40 feet of track to the terrace where it doubles as a dining table. "It's very simple technology," says James Lord, one of the partners at Surfacedesign. "The notion was to get maximum usage out of the entire garden, and this cover was not just to hide things - it's actually a useable piece."
Lord, who says his firm enjoys the challenge of taking something off the shelf and making it really fit the space it's in, says, "The wood that makes up the platform [on both sides of the portable spa] actually continues vertically up the cover and down and back, so the slots read all the way through when it's in place. It matches up."
For the fence, Sufacedesign used variously sized conventional redwood planks, stained them black and intermittently canted them inward. As evening approaches, lights placed between the fence and the wall behind it glow like lanterns through the gaps. "The hot tub zone is very minimalist. It's just gravel and then the platform and three beautiful trees - the Japanese snow drops," says Lord. "They have these beautiful white flowers, and then they leaf out in the summer. The whole space is a piece of art." The American Society of Landscape Architects agreed. This project earned Surfacedesign an ASLA Residential Design Honor Award.