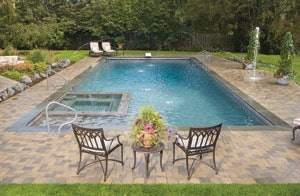 Every pool is a challenge. In this case, the competing exigencies were a finely appointed, yet multi-functional pool, a relatively small space, and a need to reflect the graceful character of the home and neighborhood - something understated, yet with details that satisfy the closest inspection.
The result is this fine example of classical architecture, a pool that would make any Roman patrician smile.
The basic lines were set in a classic rectangle, but the owners needed a venue for a variety of activities - soaking, diving, lap swimming, playing and sunning. Putting it all together in a simple design took some doing.
"Initially, the homeowner wanted to do a 20 by 40 with the spa on the outside," says Laural Gordon, Rosebrook Pools, who assisted owner Jamie Ori on the project. "That wasn't a great idea, space-wise, and they have kids so they wanted the auto safety cover over everything. That could be done on the spa separately, of course, but having the spa in the pool made it simpler. So we recommended making the pool 45 feet long and flipping the spa into the pool. That way the cover could go over both pool and spa and save space and complexity, and it allowed for a long swimming lane for anyone who wants to do laps. Then the cover was incorporated into the clean, classic look of the pool, with its hidden walk-on stone cover pit.
Putting together the color scheme was a similar process of harmonizing desires and constraints, Gordon says. "The walkway path with the tricolor scheme was already there to begin with. The house was very large, but the space in the backyard was really tight, so rather than make it look all chopped up, we went ahead with that same pattern on the pool deck, which gives it a more open look."
The bluestone coping and accent rock followed naturally with the gray in the deck pattern, Gordon adds, complementing it but also giving it a little spice. In keeping with that overall palette, a French Grey Diamond Brite finish was used on the pool and spa plaster.
"While the homeowner wanted it to be clean and traditional, she wanted some added interest, and that's where the hand-cut bluestone mosaic tiles came in for the spa and the tanning ledge. We cut the tiles and laid the pattern with the owner present, and created a unique and personal look just for her," Gordon says.
"This pool is very reflective of the home and surrounding area - clean, elegant, streamlined. Like the neighborhood, it's conservative and classic."
Comments or thoughts on this article? Please e-mail scottw@aquamagazine.com.
Rosebrook Pools
Category: Concrete Pool or Pool/Spa Combination
Project Location: Lake Forest, Ill.
Submit your pool project for the 2010 Aqua Choice Awards at www.aquamagazine.com. Deadline is Oct. 15, 2009.