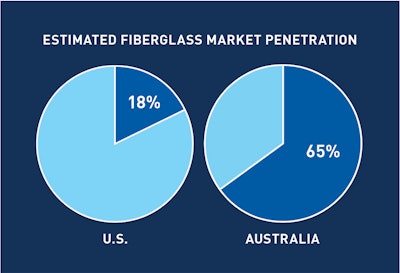 Although the US and Australia have many economic similarities, their pool markets have developed differently.
Current market share estimates for new gunite/concrete pools in the U.S. are generally in the neighborhood of 60%, with estimates of the fiberglass share ranging from 16% to 22%. That being said, fiberglass has grown steadily throughout the last decade, with many pool builders adding the product to broaden their range of offerings.
Fiberglass is gaining market share in the US due to a number of factors. Its price, speed-of-installation and dramatically expanding choice of products appeals to the mid-range pool buyer, while a host of attractive characteristics have drawn the attention of builders. These include:
Low labor requirements.
A decrease in project cycle time. Builders and contractors can be in and out of the backyard quickly.
A decrease in the complexity of the operation. The opportunity for things to go wrong is lowered, enabling a more dependable time sequence on the project.
Reduced warranty work calls or "go backs," especially for plaster finish issues. The fiberglass shell is manufactured in a controlled environment, which simply allows for better quality control and a more uniform product.
Ultimately, those factors make fiberglass builds and costs more predictable for builders, and thus more dependably profitable.
Word of mouth is largely responsible for the category's growth over the last 10 years. Homeowners get inspired by their neighbors' pools, while builders talk about projects amongst themselves and sift through the pages of this very magazine.
It should be noted that fiberglass gains in the US have come mostly outside the Big Four pool building states (California, Texas, Florida and Arizona). In those areas, the price differential with concrete/gunite is lower, and negative perceptions of fiberglass as a lower quality pool with less customization potential are more ingrained.
MEANWHILE, DOWN UNDER
The pool market in Australia, on the other hand, has followed a dramatically different path: fiberglass has seen explosive growth over the last two decades.
"The Australian fiberglass swimming pool market has rapidly grown over the last 20 years to now become the pool of choice. Fiberglass Pools have a larger market share of new pool construction than concrete pools and demand for vinyl liner pools is now virtually non-existent," says David Pain. Pain is CEO of Explore Industries, parent company of Leisure Pools, which started 21 years ago in Australia and expanded into 23 countries, including the U.S.
With a front row seat to that expansion, Pain says that the reasons for Australia's fiberglass surge are manifold, but are centered on pleasing customers and providing a more flexible, consumer-responsive product. In his view, some additional drivers of market share are:
"Innovation in the available color finishes. A little over 20 years ago, we moved from white and pale blue finishes to pools offering a variety of textured finishes from black, dark and light grey, dark and mid-blues, greens and ivories. This innovation was very popular with customers.
"Effectively, what was being built-in high-end concrete pools as a design was not being offered in fiberglass, so fiberglass manufacturers invested heavily in new modern swimming pool designs. Leisure Pools introduced the Elegance model in the early 2000's which had rectangle corners, a center entry and bench area, providing an overall modern design, which quickly became the most popular design in fiberglass pools in Australia. We and other manufacturers continued to develop new models with splash pads and integrated spas.
"The quality of both raw materials and the manufacturing process of fiberglass pools has generally improved over the last 20 years, enabling longer and improved warranties for both the pool builder and the end customer, and the peace of mind that goes with them. That is not to say all fiberglass pools are the same in quality and raw material selection, but overall, the quality of the product has improved.
"The very nature of a fiberglass pool — being manufactured in a controlled environment — means that less work needs to be completed on-site building and finishing the pool. This has enabled pool builders to build more pools with the same staff levels, compared to a concrete or vinyl liner pool. In addition, pool builders have been able to employ a small team that does the entire excavation, setting, plumbing and backfill of the pool without the need to contract out to various subcontractors such as excavators, steel fixers, plumbers, concrete spray teams and tilers.
"Over time, with more and more customers choosing to install fiberglass pools and having beautiful outcomes, word of mouth and referrals take over and the industry has grown."
Pain's comparison of the factors behind Australian fiberglass growth reveals many similarities to growth factors in the US market. One could summarize by saying that the same logic — greater consumer choice and customization, and a host of builder-friendly characteristics — has driven the expansion of the fiberglass market in both places, and the difference is rate.
In Australia, the fiberglass trend has spread more rapidly across a smaller overall market concentrated in coastal cities like Sydney, Melbourne and Brisbane, where entrenched building methods have been quickly overcome. The US pool market is more resistant to change (although that in itself is changing as the industry modernizes and consolidates), so the uptake of fiberglass has been more gradual. Still, the level of activity in the U.S. market, including innovation, marketing and training, suggests an upward-bending growth curve.
"So long as fiberglass manufacturers continue to invest in new designs," Pain says, "there is no reason to think that the fiberglass pool industry in North America will not continue to grow each year." 
---
This article first appeared in the February 2022 issue of AQUA Magazine — the top resource for retailers, builders and service pros in the pool and spa industry. Subscriptions to the print magazine are free to all industry professionals. Click here to subscribe.