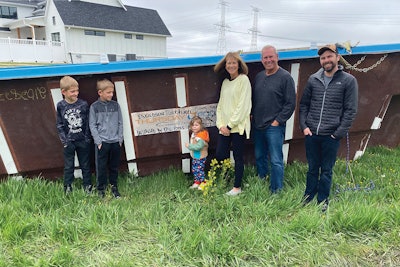 Photo courtesy Jonathan Weiss / Shutterstock.com
At Epic Pools of Central Illinois, customers are commemorating their new pools with a fun tradition: Each family member gets to sign the fiberglass shell before it goes into the ground.
It's an easy way for Epic Pools to get the whole family involved on installation day and create a lasting memory — and all it takes is a permanent marker.
"We take photos and a video of [clients] signing the pool before it goes in the ground. Then, we post it on social media and provide the photo or video to the client as well, for their personal memories," says Megan Elderzi of Epic Pools.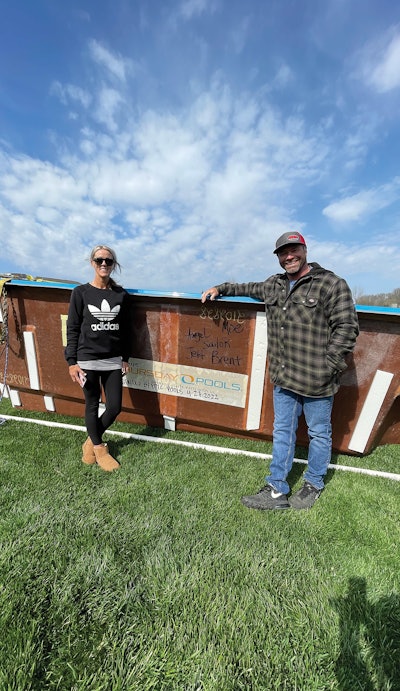 The idea was inspired by Elderzi's father, Joel Dryden, who one day left his own mark. "Like a kid, he put, 'Joel was here,'" says Elderzi. "Then he started putting the words, 'Installed by Epic Pools,' and the date on that big sticker…I knew he was onto something. We immediately got our customers involved and engaged by having them sign their pool while the hole was being dug in the ground."
"It's been a huge success for our social media engagement," she continues. "People have told me they love getting our notifications showing other families signing their pools and their excitement over having it installed."
"It's kind of like putting a handprint or signing your name in concrete," explains Shelby Bubnick, social media manager at Thursday Pools, the fiberglass manufacturer that supplied the pool for the photos in this article. "The signature lasts forever."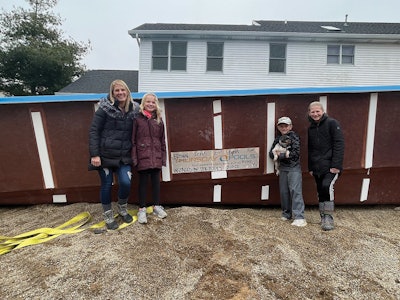 Several other Thursday Pools dealers have hopped on the trend in their own areas, she says. But for Epic Pools, the autographs are just one part of the "dig day" fanfare.
"We found that clients are so excited when they know their pool is going to be installed, and so we work to really celebrate the installation," says Elderzi. "We make it an official celebration. Every time we install the fiberglass pool, we make a parade out of the day. And I always encourage the customer to have the entire family be home and take the day off of work."
This article first appeared in the September 2022 issue of AQUA Magazine — the top resource for retailers, builders and service pros in the pool and spa industry. Subscriptions to the print magazine are free to all industry professionals. Click here to subscribe.