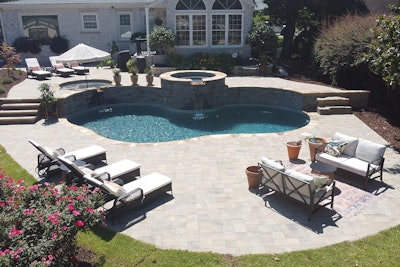 Photo courtesy True North Pools (Mooresville, N.C.)
The pool and spa industry has experienced rapid growth over the past few years, as consumers the world over have invested in their backyard spaces, ensuring a comfortable safe haven during the global pandemic. And while many believe the worst of the pandemic is now behind us, pool construction continues to soar.
For a prime example, look to the Southeast, one of the hottest and fastest-growing pool markets in the nation — and in a few short weeks, thousands of industry professionals will gather right in the heart of it for the debut of AQUA Live in Charlotte, N.C.
What's driving the area's booming pool market? If anyone has a pulse on current conditions, it's Lyon Financial, based just outside of Charlotte. The company has over four decades of experience specializing in swimming pool loans, which can gauge a good picture of trends and growth early on.
"We are really excited to have AQUA Live in our backyard," says Britt Godfrey, advertising manager at Lyon. "The pool market in the Southeast and the Carolinas is as hot as it is in the summer here."
She points to the following influential factors:
1. Population Growth.
North Carolina saw the third-highest migration in the nation between February 2021 and February 2022, behind only Florida and Texas. During that time, the state gained 64,970 residents, according to Moody's Analytics and the Wall Street Journal.
"Lots of people are moving to this area from places that have a higher cost of living," Godfrey explains. "People are experiencing the sense of more value for their money here. And when people feel that way, they're going to spend more on things that they saw as a luxury before, like pools and extended outdoor living spaces."
2. Temperate Climate.
North Carolina and its neighboring states enjoy an extended pool construction window, Godfrey says. "There's a big appetite here for pools and outdoor living because we do have a longer season to enjoy time outside."
"We get a ton of rain in the spring, but this area can usually begin construction earlier than the Northeast. And it can typically go through the year…so the industry benefits from the weather here."
3. Shifts in Discretionary Spending.
"Everyone's been affected by the rising prices of gas and just about everything else — that includes taking a vacation," says Godfrey. These days, "homeowners would rather spend money on the more long-lasting value that a pool adds to their home. Instead of taking a week off once a year, they've got a vacation just about any time, right outside their back door.
"The Southeast is, compared to other regions, quickly becoming a region where a pool and a complete outdoor living space is a necessity rather than a luxury. This has been the norm for a while in states like Texas, California and Arizona."

More Money, No Problem
As the pool market continues to grow, consumer budgets for their backyard spaces are also expanding.
"Our average pool loan is now in excess of $76,000, up from $58,000 last year," says Godfrey. (That's a 31% increase.) "Some of that is accounted for by an increase in material and building costs, but a lot of that is due to just more extensive projects."
Specifically in the Southeast, where fiberglass and vinyl-liner pools — the more budget-friendly and weather-hardy options – have ruled, Godfrey reports an increase in gunite pools. Projects using this higher-end build material have been accompanied by features that allow for more year-round pool area use: think outdoor kitchens and fireplaces.
"The six-figure outdoor living spaces that we used to see mainly in the Houston or LA Metro areas are becoming more popular in places like Atlanta, Charleston, Charlotte, and even up in D.C. and Virginia," Godfrey says.
Money for these higher-end projects is more easily accessible to homeowners via steady finance rates. "When loan rates are low, homeowners can be more open to the possibility of going forward with a pool," says Godfrey. Lyon, in particular, has been able to maintain their loan rate at 4.99%. "Having that stable rate range allows homeowners to better gauge what they can actually afford, which is usually more than they think."
Partnering with a financial institution that understands the pool industry makes all the difference for builders and their clients alike, adds Godfrey. "Overall, the homeowner feels that the builder isn't getting paid in advance of any work being done. So that's comforting for them. And the builder has this impartial party that is paying them directly, so they don't ever feel like they have to hassle their customer for a payment. If there's any friction between the builder and the homeowner, [a financial partner] can step in as necessary to move things along and make sure things run smoothly."
AQUA Live
Scheduled for October 5-7, AQUA Live is right around the corner — and Lyon Financial is gearing up to host a Welcome Reception for the books. On Thursday, October 6, at the NASCAR Hall of Fame, attendees can enjoy music, dancing, food and drinks, and plenty of good times to be had with friends new and old.
"We're really excited to be the sponsor for the Welcome Party at the NASCAR Hall of Fame," says Godfrey. "And we hope everybody will come stop by our booth to say hello and pick up some goodies. We really look forward to it."
This article first appeared in the September 2022 issue of AQUA Magazine — the top resource for retailers, builders and service pros in the pool and spa industry. Subscriptions to the print magazine are free to all industry professionals. Click here to subscribe.