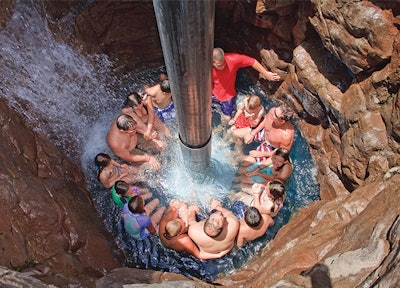 Maui's Grand Wailea Resort, Hawaii's second-largest hotel, is a getaway packed with aquatic adventure.
The Grand Wailea's 25,700 sq. ft. Canyon Activity Pool area is a labyrinth of nine individual pools across six levels. At 770,000 gallons total, the pools are connected via intertwining slides — and the world's first water elevator.
Built in 1991, this water elevator is the only one of its kind in the world. Its exterior, situated within one of the swimming pools, looks like a volcano surrounded by lava rocks. Inside, a cylindrical, cave-like chamber can transport 10-plus people at a time to the top of the waterpark.
RELATED: Award-winning Hawaiian poolscape
Here's how it works: Riders enter the bottom of the "volcano" through a small door and arrange themselves on a metal platform with a giant metal pole in the center. Once everyone is on board, the door is closed by an attendant. Water begins to rush in and fill up the cave, slowly lifting and spinning the metal platform in the process.
After about five minutes, riders reach the top and can exit down another slide. The water in the chamber is then drained out through a nearby pool fountain feature, and the platform lowers back down. The whole process of raising and lowering the elevator requires around 16,000 gallons of water.
---
This article first appeared in the June 2021 issue of AQUA Magazine — the top resource for retailers, builders and service pros in the pool and spa industry. Subscriptions to the print magazine are free to all industry professionals. Click here to subscribe.
---