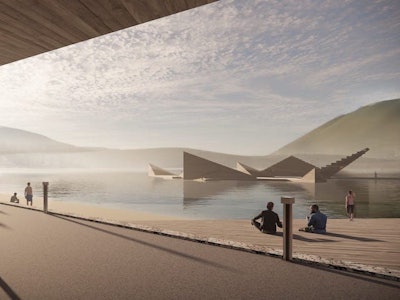 A stunning, sustainable proposal by a Scandinavian architectural practice was selected in a competition to design a new beach park and sea bath in Bergen, Norway.
In the competition brief, the municipality of Bergen requested an identity-creating public space to become "Bergen's best park for 100 years." White Arkitekter's winning proposal True Blue blends beauty with sustainability in a water-centric architectural approach. It will offer a variety of activities and recreation areas alongside solutions for environmental and climate adaptation.
"Water is Bergen's elixir of life — from the estuaries, fjords and ocean as well as from the sky. It therefore characterizes our entire proposal," says Niels de Bruin, lead architect at White Arkitekter. "The vision is to create an attractive and inclusive meeting place for movement, recreation and events of various kinds all year round."
The proposed beach park stretches over one kilometer and is divided into three zones based on experiencing urban and natural components. The fi rst zone begins in the city's center with a beach, floating sea bath and space for sports activities and events. The remaining zones shift to nature and recreation, eventually focusing on life under and above the water. The park will feature both fixed and floating structures including islands, bridges and bathing jetties enabling people to venture out on and into the water.
Designed for long-term social and ecological sustainability, the proposal implements a robust base capable of withstanding all kinds of weather conditions. Focusing on improving the area's water quality, White Arkitekter developed measures to increase life and biodiversity in the underwater environment as well as a system for natural purification of supply water.
"We are pleased to have been able to interlace a concept of design excellence, sustainability and local engagement," says de Bruin. The new beach park and sea bath are set to be ready by 2023.