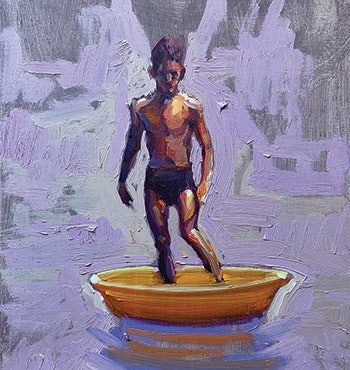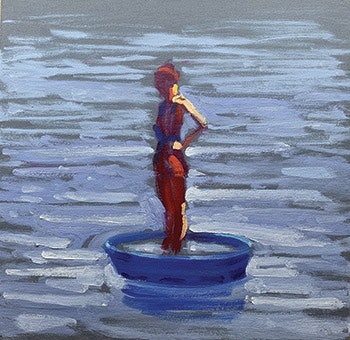 Ohio-based painter David King's latest art series "Social Distance" visualizes times of quarantine by interpreting kiddie pools as symbols of the separation people have experienced during the global pandemic.
King was struck with inspiration at the Cleveland Public Library where he accessed public photographic references — some were as old as the 30s and 40s — about Edgewater Beach in Cleveland. One photo in particular caught his eye: a photo with a kiddie pool visible. In an earlier art series King had painted a fisherman casting his reel in the classic yard toy's shallow water, so kiddie pools already intrigued him.
"I looked at the kiddie pool in the old photograph and thought it would make an interesting visual analogy for social distancing," says King.
He scanned the photographs and took photos on his phone of the people on Edgewater Beach. Each person then received their own kiddie pool in his "solo" interpretation of them. "It's really interesting looking at the old photos and dissecting them. Every time I look at these photos — there are probably about 300 people in the pictures — I see new things. They're all in black and white, so I also invented my own colors and created my own narratives based on the people I selected."
King's depictions have stark, textured features, but he keeps the people's faces softly unrecognizable. Their isolation is amplified by the vibrant confines of the plastic pools they wade in: not quite solemn, but not quite content.
"I think everybody's kind of in their own little bubble, so that's what the kiddie pool represents," he says. "That we're all in our own personal little space or pool. And that's the safest place to be right now, I think."
Reflecting on how the new world order has affected his creative process, King notes his profession's age-old familiarity with the art of solitude.
"It's interesting to see how other artists are interpreting things," he says. "An artist is used to a solitary kind of life, in that they spend a lot of time in their own studios and then get out of the studio and experience life and get back to the studio and interpret it."
RELATED: Svarbova's Swimming Pools
With more time on his hands, King has made a few socially distant trips to Edgewater Beach and can experience solitude in his own backyard. "We don't have a kiddie pool per se, but we have a hot tub that we've turned off the heat to and we've been using that to cool down for the summer. That's our private little beach, I guess."
"Social Distance" can be viewed along with David King's — who received his MFA from Kent State University and now teaches painting and drawing at Case Western University — other works at davidkingpainting.com.