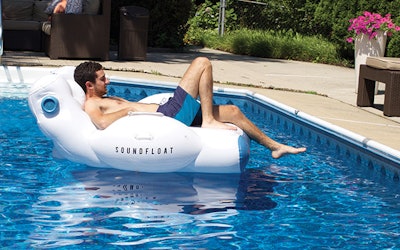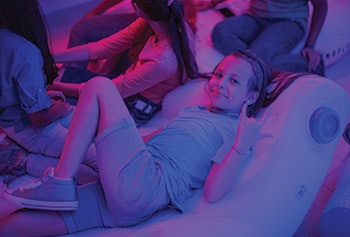 While pool floats epitomize fun, their currently popularity has created somewhat of an arms race among manufacturers. Who can create the biggest pool float? The most Instagram-worthy pool float? The wackiest, high-concept float?
Sound Float, from Spika International, is targeting another subcategory: luxurious pool floats. With a design inspired by the 1961 Shelby Cobra, the Sound Float includes Bluetooth-enabled speakers near the headrest, enabling pool-goers to take their relaxation to the next level.
RELATED: The Most Expensive Pool Float in the World
Users have two options. Sound Float comes with a touch-sensitive, waterproof pouch, so those who don't like to be separated from their phones can take them into the pool. Alternately, the floating speakers can connect to a Bluetooth hub that reaches 75 feet, meaning others can leave their phones a safe distance from the water without any irritating signal interruption.
The speakers come with a 20-watt amplifier, powered by a detachable battery that can double as an extra power bank in case your smartphone loses power.
The floats start at $149 for an armchair float and go up to $329 for a two-person lounger.
Did we mention there are cup holders, too?